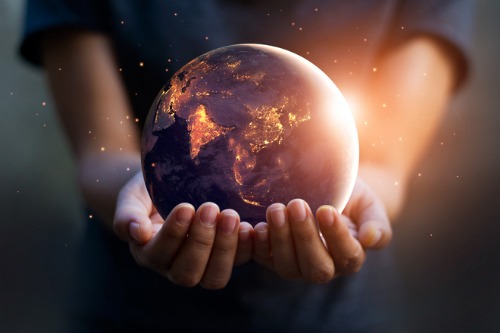 Thousands of Australian students will skip school today to protest the environmental, economic and human impact of climate change, prompting a mixed reaction from governments, schools and organisations across the nation.
The protests, taking place in more than 150 countries, are part of the Global Climate Strike and are gaining significant media traction three days out from the UN Emergency Climate Summit.
Earlier this year, on March 15, more than 150,000 students marched in protest around Australia, with 1.6 million students on strike worldwide. A second global strike is planned for September 27.
Prime Minister Scott Morrison says he wants "less activism in schools", but some principals are throwing their support behind the striking students.
Principal supports student protests
In a statement posted on Newington College's website, principal Michael Parker said the College's students have "put their money where their mouths are" by participating in the climate change strikes.
"They are scared about their future. Students who have shown they care about this should be able to march about it. If their parents have allowed them to be absent to go to the strike, then the least we can do is give them the school's support too," he said.
Parker said the College also "accepts the reality of climate science".
"We consider that climate change caused by humans is an urgent issue, particularly for young people. We understand the importance of student critical thinking and student voice in addressing this singularly important issue," he said.
'Leaders should see this as a positive thing'
Finnish education expert, Pasi Sahlberg, said Australia's youth protest movement calling for rapid action on climate change should be seen as a positive thing by leaders.
"For years now here in Australia and around the world we have insisted that young people need to learn the '21st century skills' that include critical thinking, complex problem solving, effective communication, active citizenship, and other desired features," Sahlberg told The Educator.
"Now they show us what they look like in practice. I think we should cheer and celebrate that, not to deny and ban it."
To Sahlberg, it only makes sense that schools and governments support students who protest over this important issue.
"Many schools are already teaching children about the civil rights, freedom of speech, democracy, how to influence decision-making and debate eloquently about important issues like climate change," he said.
"If schools are not able or willing to accommodate these issues more in what they do and teach kids how they should use their rights in good way, we will see many more walk-outs, strikes, and even riots in and out of schools. That is what we need the least."
'The biggest threat to human life and health'
Today, the Australian Education Union (AEU) in Victoria threw its support behind the students who are joining the strikes, saying young people will "bear the brunt of the climate crisis".
"This is about their future and the AEU supports students and educators who take action today, AEU Victoria branch president, Meredith Peace, said in a statement.
"Many members have told us they want to stand side by side with students who are striking and we fully support and commend members who are choosing to do that or to support their students in other ways."
Peace called climate change "the biggest threat to human life and health of our time".
"The Morrison Government needs to listen and act now," she said.