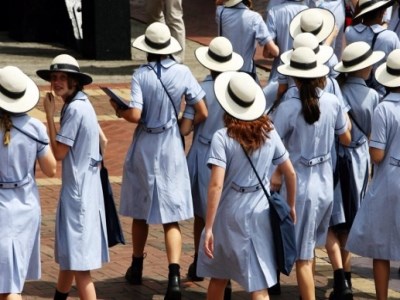 According to the CEO of a 'big four' bank, single-sex schools could be contributing to the lack of women in senior executive roles.

American-born Brian Hartzer, who has been Westpac's chief executive since 2014, told The Australian that when he moved to Australia in the mid-1990s, he was surprised at the lack of women in senior leadership positions in business.

"Growing up in the US, education is almost completely co-ed," he said.

"There are very few same-sex schools left. As a result, I was constantly competing against and learning from women."

Hartzer added that Australia's business culture is much closer to that of Britain, where the elite schools are also mainly single sex.

So what implications might this have for narrowing the gap when it comes to the ratio of female principals to male principals in Australia?

Studies have shown that when it comes to women holding senior roles in schools, Australia already ranks dead last. While 57% of upper-secondary teachers are women, only 39% of principals are female – the lowest proportion among all countries surveyed.

However, it's not all bad news. In the corporate business sector, this trend appears to be reversing.

A 2016 report from the Australian Institute of Company Directors (AICD) found that the percentage of women on the boards of the top 200 ASX-listed companies rose from 8.3% in 2009 to 23.6% in 2016.

Meanwhile, efforts are underway to inspire young women to consider leadership positions after school. The Aspiring Women Leaders conferences aim to provide relevant training and preparatory experiences in leadership and to demystify the application and interview

The conference's program is specifically designed to support women aspirant leaders and is aimed at women who wish to make the next step from head of department or coordinator to assistant principal, Dean or deputy principal.

According to Hartzer, one way to ensure this gap is narrowed further is for business leaders to focus on the role of "unconscious bias" and how it works in corporate sector, including in promotion decisions.