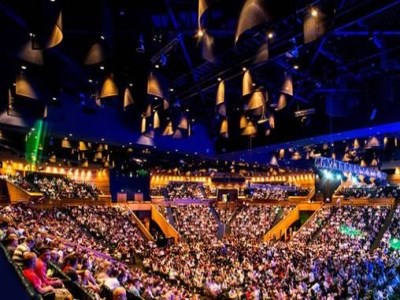 The world's biggest names in education and technology convened at this week's
EduTech
conference in Brisbane to share their take on how schools can thrive in a rapidly transforming educational landscape.
Michelle Jensen, president of the School Library Association NSW, said the 21
st
century changes facing schools is not coming, but rather, has already arrived.
"It's no use deciding whether we should or shouldn't use technology – that ship has already sailed," Jensen said.
"Teachers should be looking at what is happening out there in the world and asking 'how can I replicate this in my classroom?'"
Keynote speakers at the event included maker space advocate, Super Awesome Sylvia, curriculum mapping expert, Dr Heidi Hayes Jacobs and award-winning principal, digital leader, Eric Sheninger and Harvard professor and technology entrepreneur, Eric Mazur.
While the use of technology in the classroom was the key theme of the three-day conference, some of the most prominent voices in pedagogy encouraged reflection on issues such as whether mobile devices matter, how schools should interpret technology in the context of learning and the impact screen-time has on health and well-being.
Mazur encouraged teachers to focus on how emerging innovations can enhance best practice in the classroom rather than simply relying on the technology itself to engage students.
"It's not about the technology, it's about the pedagogy," Mazur said.
Mazur also highlighted the importance of focusing on skills rather than content, saying that assessment in the classroom should be designed to prepare students for the real world.
Joachim Cohen, education outreach programs manager at Intel, urged schools to make sure their infrastructure is already well-prepared to accommodate mobile learning devices before they launch into technology-based initiatives.
"There is an opportunity for schools to Choose Your Own Device (CYOD), but unless schools can facilitate Wi-Fi, their devices will essentially be giant paperweights," Cohen said, adding that more outside-the-box thinking is needed.
"I like to say, 'don't reinvent the wheel – enhance the wheel'."
Another highlight of the event was a presentation by EduTech's youngest ever keynote speaker, 13 year old, Super Awesome Sylvia.
Super Awesome Sylvia asked whether maker spaces could be the classrooms of the future, illustrating the rise of maker spaces in schools via a series of videos showing how the phenomenon has electrified Science Technology Engineering and Maths + Art & Design (STEAM) education around the world.
Speaking on the importance of getting more female students into STEAM through engaging with maker fairs, Super Awesome Sylvia pointed out its positive impact on girls' self-esteem.
"It helps girls feel a sense of pride and accomplishment," she said, noting some of the websites helping students to get involved, such as
instructables.com
,
DIY.org
and her own website,
sylviashow.com
.
Educator, writer and international keynote speaker, Dan Haesler encouraged educators to explore the full potential of the devices they are using, adding technology helps children discover "real meaning and purpose" in their lives.
"If we really understand the potential of these technologies, we can really unleash and empower our kids," Haesler said.
"It gives kids an opportunity to find real meaning and purpose in what they're doing beyond just chasing a grade."