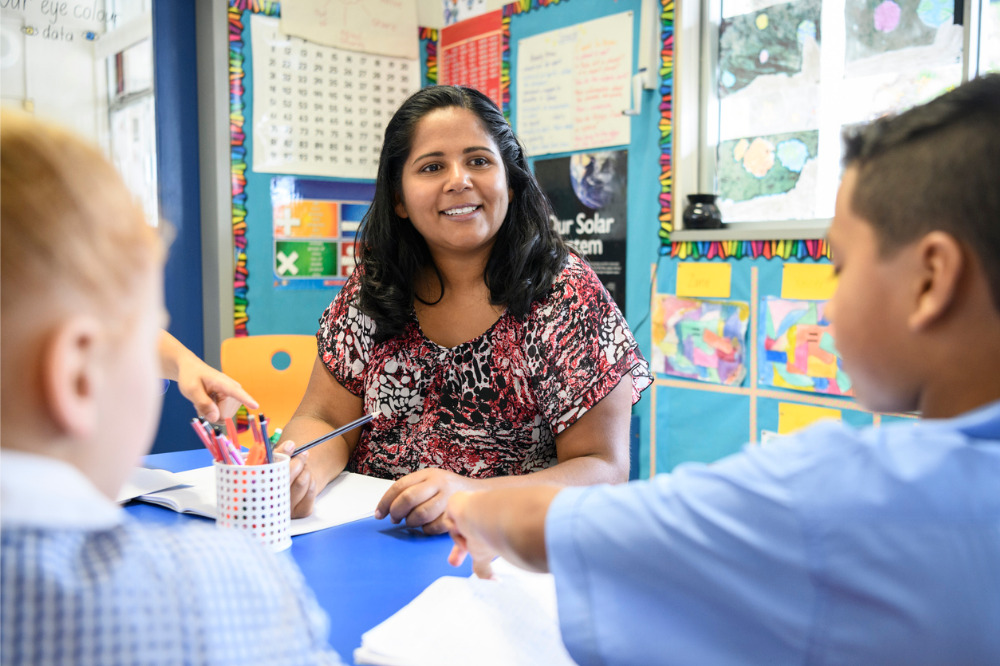 Despite the cost-of-living crisis, many Aussie teachers are spending hundreds of dollars per year of their own money to make sure kids don't miss out on vital education activities, new polling from the Australian Education Union (AEU) reveals.
When it comes to forking out for classroom supplies, a whopping 85% of principals, teachers and support staff spend an average of $885 a year, with those in NSW, WA and the NT spending more than $1,000 each a year. Based on the national average, the total spending by teachers is $159.5 million a year.
The AEU's research also shows that 72% of public school principals have undertaken fundraising in the last year, with 80% saying fundraising is an important part of their budget. According to the survey, most of the money raised by principals goes towards classroom equipment.
The most common items teachers buy are stationery, classroom equipment, library resources and textbooks. Teachers report that the top reasons they are spending their own money is that it is the only way to deliver a lesson (44%) and students would miss out if they didn't (40%).
"This spending reflects the dedication and commitment of teachers in public schools who do whatever it takes every day to deliver a high-quality education to children across Australia," AEU federal president Correna Haythorpe said.
"Unfortunately, it also reflects the failure of the Commonwealth and state and territory governments to fund public schools to their own funding standard."
The AEU is running the national For Every Child campaign to secure new funding agreements between the Albanese Government and state and territory governments that will deliver 100% of the SRS to all public school systems by 2028.
"The fact that teachers and principals are running sausage sizzles to pay for the basics is a sad reflection on the current priorities of governments in this country," Haythorpe said.
"Fully funding public schools is an investment in our future. It would allow schools to cut class sizes and provide more individual attention to students while also giving teachers more time to plan high-quality lessons and collaborate with their colleagues."
The AEU's survey follows a global report released earlier this week that shows Australia continues to significantly underperforms against most OECD countries when it comes to investing in public education.
The OECD's latest 'Education at a Glance' report, released on Wednesday 13 September 2023, found Australia spends just 1.5% of total government expenditure on upper secondary school education, 28.6% lower than the OECD average of 2.1%. This is despite spending more than twice as much as the OECD average on funding schools in the private schools.
Pasi Sahlberg, professor of educational leadership at the Melbourne Graduate School of Education, said the OECD's recent statistics are nothing new in that "Australia has been a lone wolf in the field of economics of education for quite some time now."
"We invest significantly less in public education than other rich countries and spend more money on private schools than any other wealthy nation. On top of that, one fifth of total spending on pre-university education comes from private sources, mostly from households," he told The Educator.
"Consequently, we are suffering from chronic educational and social inequities that have only got worse during the past decade."