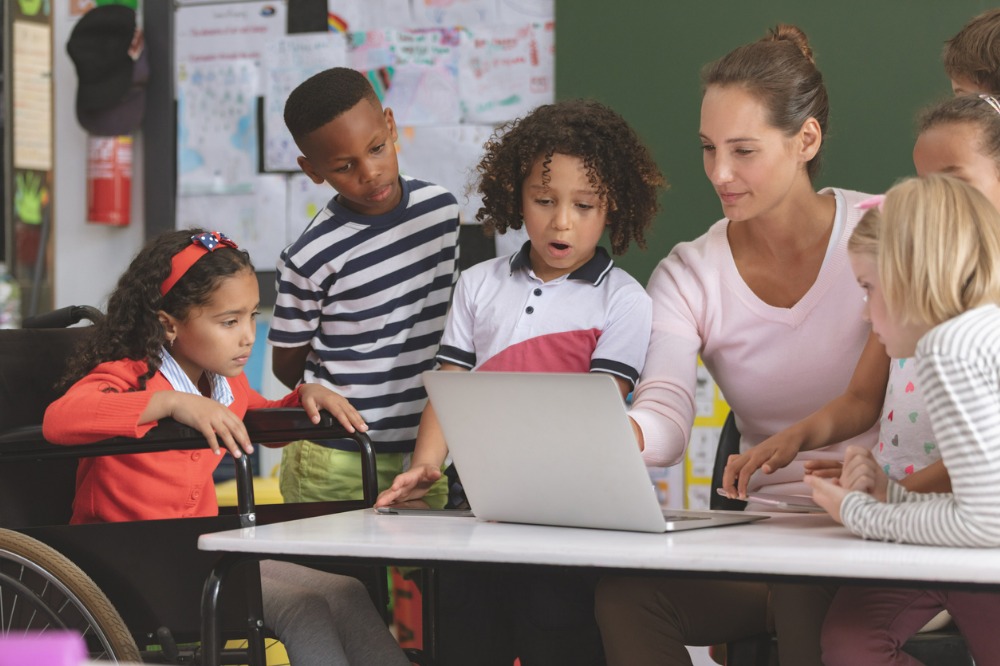 For children from disadvantaged backgrounds, the return to school this year may be their toughest yet.
According to The Smith Family's Chief Executive Officer, Doug Taylor, persistent gaps in learning between children experiencing disadvantage and their more affluent peers has been compounded for some young people because of long periods of disrupted learning over the past two years.
Taylor said the charity is particularly concerned about the students whose education has been significantly impacted during those critical transition years of early primary school and between primary and high school, and who've spent more time learning remotely than in the classroom, as they are at greater risk of disengaging with their learning.
"The Grattan Institute's analysis of the 2021 NAPLAN results shows that students from disadvantaged backgrounds are not performing as well as other students in reading and numeracy," he said.
"On average, Year 9 students from a disadvantaged background are more than four years behind their advantaged peers in reading in both NSW and Victoria."
Taylor said this "can and must" be addressed through the use of evidenced-based initiatives involving students, parents, schools and community organisations.
Below, The Smith Family highlights five key things that children and young people need to help them meet the challenges of the new school year.
1. School essentials. Children experiencing disadvantage can sometimes miss out on things that are essential for their learning, such as uniforms, books and school supplies, a computer or learning device, internet at home, and school excursions. Providing access to the tools and resources they need, helps students to fit in and keep connected to their learning.
2. Targeted learning support. Even before the pandemic, research showed that young people experiencing disadvantage can be as much as three years behind their peers in core subjects like literacy and numeracy. When children living with disadvantage have access to additional support for their learning, it helps them to catch up and keep up at school.
3. Support and engagement from parents and carers. All parents want to help their children be the best they can be. Helping parents to gain the skills and knowledge to successfully engage in their child's learning, will make a big difference to their child's success at school and future employment opportunities. When parents are engaged, they can actively support their child's learning, celebrate their progress, reinforce the value of learning and better understand their child's educational needs.
4. Digital access. Many students across Australia sit on the wrong side of the 'digital divide', meaning they don't have devices or adequate data to access the required or necessary online learning resources, which immediately puts them at a disadvantage to their classmates. The move to remote learning during COVID and its reliance on online resources, has only increased the gap between advantaged and disadvantaged students. We need to ensure all students have equal access to adequate data and devices.
5. Having their voices heard. Students may be feeling heightened levels of anxiety about returning to school and we need to ask and then listen to what students are telling us they need, to make this next school year a success. We need to speak to children to really understand the issues they are facing, including issues around their mental health and emotional wellbeing.
'Student wellbeing must be prioritised'
Andrew Pierpoint, President of the Australian Secondary Principals' Association (ASPA), stressed that priority needs to be given to children's mental health and emotional wellbeing in the new school year.
He said the principal's role in the education of young people has always been critical.
"This has never been so important with the increasingly complex role of principals due to the pandemic," Pierpoint told The Educator.
"Mental health of students is now, more than ever, of paramount importance. Having students mentally fit and ready to learn is clearly important in our schools."
Pierpoint said principals play a critical role in supporting students with modified curriculum, support programs and putting students and their families in contact with specialised support as required.
"As we approach a new school year, we must focus on supporting those students who have fallen behind to help them recover lost learning," he said.
"But it is also vital that we provide the mental health and emotional wellbeing support that some students need, not just to adapt post lockdown, but to thrive. As a society we must recognise this need, work together and have ready to go support in place – now."