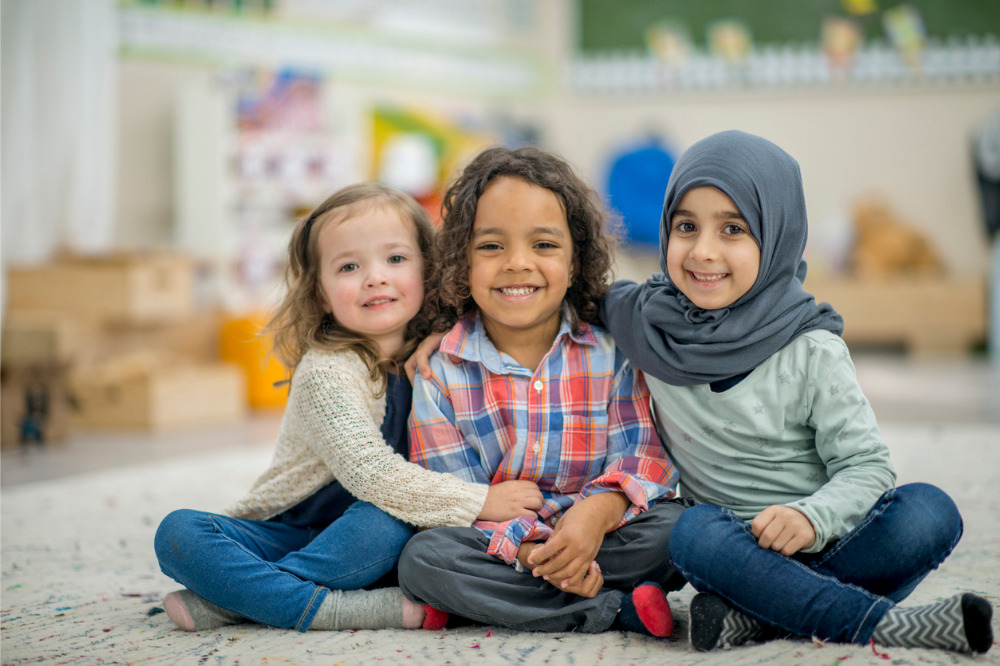 Today, the world is marking the United Nations' International Day of Peace, an occasion devoted to strengthening the ideals of peace by observing 24 hours of non-violence and cease-fire.
The United Nations said this year's theme, 'Actions for Peace: Our Ambition for the #GlobalGoals' is "a call to action that recognises our individual and collective responsibility to foster peace." Even a brief glimpse at the geopolitical situation in the world today shows why this has never been more important than it is now.
As the places that help to shape the minds of our future generations, schools have a uniquely powerful role to play in making sure they cultivate respectful relationships with their peers, irrespective of their race, culture, background or creed.
Indeed, it is these meaningful connections that form the basis for how young people will approach their interactions and relationships with others when they leave school, become adults and blaze their own trails in the world.
The unrecognised potential of schools
John Hendry OAM, an educator with more than 50 years' experience, has presented at National and International conferences on Education, Restorative Justice, Trauma, Relationships, Forgiveness, Performance, Flow, School Culture and Resilience and Meditation.
He says the pivotal role education has in enabling people to contribute to a better world more effectively is still not recognised.
"Schools are, as I have said often, now the only legally compulsory community activity. No one can avoid it. The cultural input from education in schools is overwhelmingly significant," Hendry told The Educator.
"Surely, we must not only recognise this but allocate the attention to such that will constructively lead to peace for individuals within their relational matrix, will lead to a more constructive and forgiving approach to difference and dispute, and will reduce harm."
Pointing out that every aspect of life is relational, Hendry said schools play a pivotal role in enabling all people to develop the capacity to understand and establish quality relationships.
"Peace within each rational matrix ensures not only better health and wellbeing but it advances each person's capacity to contribute and perform at their best in all activities and circumstances they experience."
Helping schools be powerful cultivators of peace
Elise West is the founder of Teachers for Peace and the executive officer of Medical Association for Prevention of War, which founded the Nobel Peace Prize-winning International Campaign to Abolish Nuclear Weapons.
"We are building on the long history of teacher advocacy for peace and disarmament, and – in our specific goal of eliminating weapons company influence in education – on the work of organisations Medical Association for Prevention of War and Wage Peace," West told The Educator.
"We are currently pursuing our strategy for change, building connections, and growing our membership – current and former teachers, education workers, and students are all encouraged to join us."
Pointing to today's precarious geopolitical climate, West said there is perhaps no better time than now for schools to ramp up peace education than now.
"There is a long tradition of Australian educators teaching the importance of peace across the curriculum. Schools' focus on things like tolerance for difference, or restorative approaches to conflict, are also great examples of how education contributes to a more peaceful society," she said.
"In our current geopolitical climate – with the prospect of war looming – we think there's also a need to loudly and explicitly challenge the normalisation of war, examine the underlying causes of conflict, and to ask who suffers – and who benefits – when war happens."
West said rejecting the influence in education of corporations that profit from war is "a concrete action" schools can take to foster future leaders who can take up this challenge.
"School principals play an absolutely definitive role in eliminating harmful influence in education, and we're here to help them do just that," she said.
Building interfaith and intercultural understanding
Another organisation helping to drive peace education in Australia's schools is Together For Humanity (TFH), which works with school communities to foster intercultural understanding and help students learn how to deal with differences.
"Our work is not about spreading a message, rather it is about encouraging awareness, empathy, connection, respect, and curiosity between people of different cultures, ethnicities, and faiths," TFH founder Rabbi Zalman Kastel told The Educator.
"This is important because prejudice and racism harms both its targets and those whose worlds are smaller because of their misunderstanding of precious people and potential friends."
TFH recently held its inaugural Victorian Youth Summit at the University of Melbourne, with students from 15 schools from across Victoria's Government, Catholic and Independent sectors attending.
While the summit was the first to be held in Victoria, five summits have taken place in NSW since 2016 and another NSW-based summit is scheduled for Thursday 19 October 2023 at Parliament of NSW and St Stephen's Uniting Church, Sydney.
Kastel said there have been three successful outcomes of TFH's mission.
"Firstly, young people grow up strong in their identity, free from the harm of being misrepresented and enjoy a feeling of belonging with everyone around them," he said. "Secondly, people understand their neighbours accurately, rejecting racism and prejudice; and thirdly, communities coexist with goodwill."
Integrating values into education
In 2021 and 2022, a series of 'Values Education Summits' were organised and held by the Universal Peace Federation Australia together with the International Association of Academicians for Peace Oceania.
At the summits, two questions were asked of presenters: 'Why is values education important', and 'What should values education look like in 2021 and beyond?'.
On Monday, Universal Peace Federation Australia released the Educating With Values report, based on the findings of these summits.
The Values Education Summits concluded the importance of integrating values in education, with nine key recommendations.
These included a 'renaissance in values education' across sectors; allocating funds for professional development to integrate values in teaching; offering funding for projects promoting values in various industries; emphasizing universal values through foreign language and global citizenship; fostering values through community service; building trust relationships among students; raising awareness about sexual ethics; respecting cultural pluralism; and providing funds for projects emphasizing indigenous values and safe digital technology use.
The report's co-editor Dr Joy De Leo said senior school leaders play an essential role in fostering and promoting values across all aspects of school life.
"This role includes governance, policy, teaching and learning, relationships, and by creating a safe, supportive and conducive environment within which agreed values can thrive," Dr De Leo told The Educator.
"Leaders can be most influential when they model the agreed values when relating to staff, students and parents, build values-based relationships based upon trust, mutual respect, and care, and focus on quality learning outcomes."
Highlighting the symbiosis between leadership, values, and teaching, Dr. Joy De Leo concluded: "School leaders can emphasise the importance of values education for the wellbeing and development of learners, and provide encouragement and professional development opportunities for teachers to effectively integrate values in their teaching practice."