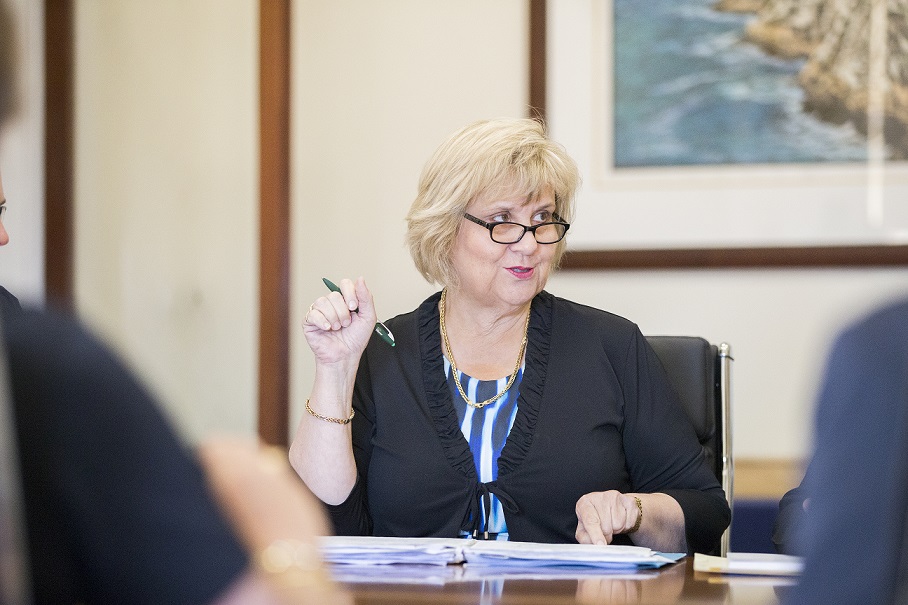 In an interview with 60 Minutes on March 22 this year, Prime Minister Scott Morrison declared: "We are in a war against this virus and all Australians are enlisted to do the right thing".
Two days later, speaking in Parliament House, Morrison was keeping the wartime rhetoric alive, telling the chamber: "We summon the spirit of the Anzacs, of our Great Depression generation, of those who built the Snowy. Of those who won the great peace of World War II and defended Australia".
Nearly 1,200km away in Ascot Queensland, St Margaret's Anglican Girls School was taking note, setting up a specially designated "war room" of its own to ensure the safety of its teaching and learning community.
At this high-energy battle station of sorts, senior leadership met every morning to develop scenarios for each area of the school's operations, including boarding and remote learning.
Heading up this war was the school's principal Ros Curtis, who recently received an Excellence Award in the category of School Principal of the Year (Non-Government) at the Australian Education Awards on November 26.
"At the onset of the pandemic, we set in place all the processes required to enact what was fast becoming inevitable," Curtis told The Educator.
The school's arsenal of digital tools to help its community see the war on COVID-19 through included the SchoolBox LMS, OneNote and Microsoft teams.
"With these three tools we had everything required to conduct remote learning," she said.
"For boarders who did not have good internet access, hard copies of lesson resources were collated and distributed by post or courier".
'Wellbeing is a top priority'
When students returned in Term 2, and stricter social distancing measures were in place for boarding, the school rented out a nearby motel and bussed boarders to and from the school.
"Many international students have chosen to stay for the entire year, so we have needed to arrange homestay places for them in the holidays and as well kept the boarding house open for them in the September holidays," she explained.
"Their wellbeing throughout this time has been a primary concern for us – it's a long time for young students to be away from their families".
On November 26, St Margaret's was named Boarding School of the Year at the Australian Education Awards for the second year running.
"We combine solid leadership with a deep sense of nurturing and care for our boarders who are from a variety of backgrounds and geographic locations and focus on instilling a global outlook and building connections," Curtis said.
With 25 years' experience in boarding, the school's Head of Boarding, Lesa Fowler, said student wellbeing was a top priority within the boarding house.
"We have a wonderful team of specialist boarding staff who provide support to the girls across all aspects of their day to day lives," Fowler said.
"They hold the wellbeing of each student close to their hearts and work hard to provide a safe and happy environment where every girl can learn and flourish".
Protecting students' health beyond COVID-19
The school recently unveiled a multimillion-dollar state-of-the-art new sports and wellbeing facility, transforming one third of the school campus.
The world-class precinct features a water polo sized heated swimming pool with two 50m lanes, tennis courts with lights, gymnasium with an oak sprung floor, a strength and conditioning gym, an indoor climbing wall featuring seven belay stations and 76m2 of climbing, a dedicated ergometer room to support rowing and modern health and physical education classrooms.
The precinct is an educational environment designed to inspire, develop and build the health and wellbeing of students, nurturing and developing students physically, mentally, spiritually and academically.
"Sport, health and physical education have long played an important role in delivering the holistic education for which St Margaret's is so well known and regarded," Curtis said.
"We know that when students are at their healthiest and happiest, their academic performance and the way that they engage and interact in the classroom are improved".
Curtis said the school is also equipping the girls with life skills that will support them beyond the school gates to be happy, positive, optimistic and connected individuals.
"As a school built on a hill the campus has never had as much flat space as easily accessible to the students. Therefore, even in terms of free play, there is ample space for students to be active during their lunch breaks," she said.
"Having the sports facilities in close proximity to one another is both efficient in terms of learning time but opens up a whole range of possibilities and freedoms to teach the curriculum and conduct the sports program".
Breaking down barriers for young women
In addition to winning Boarding School of the Year and School Principal of the Year (Non-Government), St Margaret's also picked up an Excellence Award in the Best STEM Program category for its differentiated approach to this crucial learning area.
"In 2016, the school developed a comprehensive STEM elective subject in Years 9 and 10 and is in addition to the Years 9 and 10 Science courses. This has grown and evolved every year with a new STEM lab, new equipment and more student uptake," Curtis said.
"We have also developed a maker space in our primary school and clubs such as robotics which help to instil a passion for STEM related activities as well as building early neural pathways in this discipline".
Curtis said the school forever passionate in its pursuit of seeing more women progress into STEM careers.
"Women are underrepresented in a field in which all indicators suggest will be a big part of the future and we want to ensure our graduates are a part of that growth and are ready and confident to pursue those fields of study," she said.
"Through our actions and advocacy, we hope to remove the stereotype that 'women don't choose STEM-based careers'. Currently only 27 per cent of the STEM workforce is female. We want to remove barriers and promote our students' participation and pique their interest in this field".
"Engineering Australia has a goal of 20 per cent female engineers in the 10 years – a growth of 8 per cent. We want to ensure our students are well-placed to be a part of that growth".