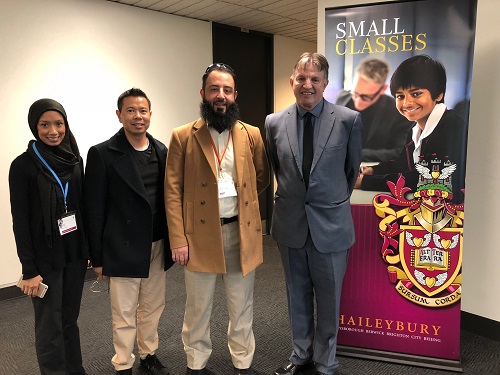 On Monday, Haileybury – one of the top private schools in Melbourne – hosted 120 teachers who attended a seminar on the impact of explicit instruction.
The 2018 Primary Teaching Seminar, now in its ninth year, introduced participants to Haileybury's Explicit Instruction teaching model, which has driven improvements in teaching and learning at the school.
Fleming, who has become a prominent figure in the education community, consults with schools across Australia as part of the Haileybury Institute, which supports schools around Australia in implementing effective curriculum.
The Explicit Teaching program has been adopted by over 120 schools across Australia and uses research based methodology to improve student results. The model aims to move student learning from short term to long term memory, helping students effectively retain information.
The two-day seminar ran across all of Haileybury's Melbourne campuses – Berwick, Brighton, Keysborough and Melbourne City. Topics covered included lesson plans, staff induction and coaching and teaching structure.
Participants will also have the opportunity to visit different campuses, observe classroom activities and participate in workshops with Haileybury teachers.
Below, The Educator speaks to Haileybury's deputy principal, John Fleming, who first established the school's Explicit Instruction teaching model.
TE: Can you share some words about how Haileybury's Explicit Instruction Teaching Model came to be, as well as its impact on teaching and learning at the school?
JF: The explicit instruction model used at Haileybury was developed to implement evidence based research at the classroom level. There is an abundance of discussion about evidence based research in teaching but a lack of detail about what this actually looks like. The model has resulted in Haileybury Junior School becoming one of the top performing schools in terms of student achievement in Australia.
TE: From a school leadership perspective, what is the greatest value of this model?
JF: In terms of school leadership the model allows school leaders to develop clear instructional goals and a teacher enhancement program that is clear, intentional and achievable. About 150 schools across Australia work directly with me in implementing the model. In addition, there would be a further 50 or more schools working indirectly with me as well. The improvement is student progress at these schools has been significant. Examples are Mossman in Queensland, Charlestown South in NSW and Ballajura in Western Australia.
TE: What was the feedback like from the participating educators?
JF: The Seminars have been running for ten years now. The feedback has been exceptionally positive. It is a unique opportunity for teachers and school leaders to see the model in action and witness the high performance of the students. This in turn ignited further improvement in their own school programs.
Related stories:
Don't skimp on teacher quality – top private school principal
How technology can boost equity in education