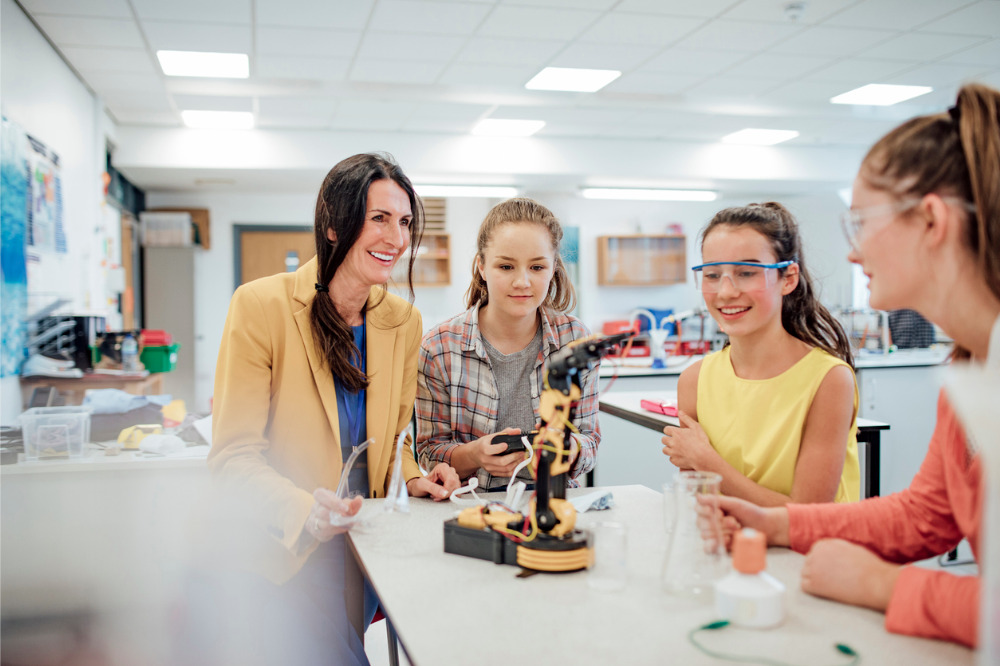 A 2018 study from the University of Queensland found girls in single-sex schools had equal levels of confidence as boys, which led the researchers to conclude that women's self-confidence is eroded by factors such as sexism and gender stereotyping.
For principals, combating these issues in their schools is becoming an increasingly important responsibility as girls feel the impact, along with their male peers, that COVID-19 has had on teaching and learning.
Fortunately, efforts have been underway to inspire and empower young women and help them rise above these challenges.
Last week, more than 400 girls from 77 schools across Australia, New Zealand, Zimbabwe, the Philippines and the United States participated in Australia's largest ever female-only virtual student leadership conference.
Now in its 25th year, the Student Leadership Conference (SLC), run by the Alliance of Girls' Schools Australasia (AGSA), brings together students from across the world with the aim to empower the next generation of female leaders.
The three-day leadership event boasts 14 sessions including workshops, group sessions and keynote speakers such as renowned US author, speaker and leadership development expert Rachel Simmons.
Executive Officer of the Alliance of Girls' Schools, Loren Bridge, said girls' schools create an environment that allows girls to be themselves both inside and outside the classroom.
"The campus of an all-girls school provides an environment tailored specifically to the needs of girls, and that includes giving girls the skills, confidence and opportunities to reach their leadership potential," Bridge told The Educator.
"We know just how entrenched gender stereotypes still are for women when we look at the statistics on gender representation on boards and in CEO positions".
Bridge said it is vital to raise the visibility of female role models for girls, particularly those succeeding in leadership roles.
"Girls' schools do exactly this, showcasing their alumnae and also their female school leaders as strong role models amplifying the message that girls can be leaders," she said.
"Of course in a girls' school every leadership position is held by a girl, not just 50% of positions but 100%, so the opportunities to lead are there for girls, and girls feel supported, willing to take a risk and put their hand up for a leadership role".
Bridge said SLC 2021 put a strong focus not just on leadership skills like communication and collaboration but importantly on confidence, integrity and self-compassion and how to stop overthinking.
"These are skills that will help our girls as leaders in their schools in 2021," she said.
"One of our keynote speaker, US author and leadership expert, Rachel Simmons, gave the girls her 4-step process to stop overthinking and redirect thoughts to positive problem solving, this simple exercise really resonated with the girls".
The four steps are:
Step 1: Objective. What happened? What do you know to be true?
Step 2: Reflective. How do you feel?
Step 3: Interpretive. What does this mean?
Step 4: Decisional. What are you going to do about it?
Helping girls step up and take the lead
Marise McConaghy is the principal of Strathcona Girls Grammar, president of AGSA and also serves as a Council Member for the Centre for Strategic Education (CSE).
She said all-girls schools in Australia are doing a great job of cultivating leadership abilities in girls.
"Obviously, in a girls' school, all the student leadership positions are occupied by girls and we continue to craft as many opportunities as we can for our students to step up and take the lead in ways both small and large," McConaghy told The Educator.
"Mostly, we have leadership development programs in place and we very deliberately ensure that our students are exposed to a range of female leaders from all sectors because, as the saying goes, 'You can't be what you can't see'".
McConaghy said girls schools instil a sense of empowerment in their students by avoiding any suggestion that they are not equal to their male peers.
"Whether it is stated or not, there has always been a strong theme and focus on feminism in girls' schools and the idea that girls may be 'less than' or not equal to their male counterparts is simply not something girls are exposed to in a single-sex environment," she said.
Building on this, a US study titled 'Risk taking and competition in an all-girls' school' found that female students from a single-sex school are more competitive than their female counterparts in closely matched co-ed schools.
"It is this self-confidence that they develop in school that empowers young women to step into leadership positions and take up careers in male-dominated fields".