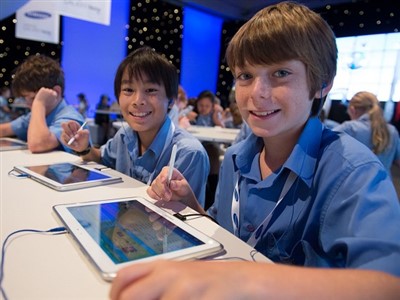 Recent studies have shown that just one-third of teachers feel prepared and equipped with the knowledge and tools to teach numeracy.
Meanwhile, 40-50% of graduate teachers are leaving the job within the first five years due to reasons of excessive workload, anxiety and lack of adequate support and guidance.
While these reports might paint a grim picture, in many classrooms around Australia, the tables are being turned thanks to the innovative maths resource, Mathletics.
According to the 2016 NAPLAN results, 75% of Australian primary schools that ranked in the top 40 schools for numeracy use Mathletics as part of their maths program.
This week, the organisation behind Mathletics announced that schools using the resource would be given a massive boost with the inclusion of new features to better support teachers and improve the outcomes of students.
Rebekah O'Flaherty, CEO and executive director of 3P Learning, a global leader in online education and creator of Mathletics, told The Educator that the new reporting model for teachers was the most powerful element of the new changes.

"Our new reporting module is an exciting new direction for teachers using Mathletics. It transforms the way our teachers view the data gathered about their students within Mathletics," she explained.
"Student data is now much quicker and easier to interpret with powerful visual representations of both student achievement and improvement."
This means that at a class or group level, teachers can compare their students' achievement by topic using our box plot overview.
O'Flaherty said that by using this view, teachers can assess the spread of achievement for their class on each topic and make decisions about which topics have been mastered by the class/group as a whole, and which topics need further study.
"By clicking a topic, teachers can drill down into each topic with another display showing each student's achievement for the topic," she said.
"Teachers can quickly identify which students have mastered the topic and which students may require particular attention to improve their understanding. They can then view achievement as well as improvement for each student on each topic."
This provides teachers with data about whether their students' achievement has improved or declined over time, giving teachers a quick way to analyse their students' understanding and retention of mathematical concepts.
O'Flaherty said it also allows students to monitor their own progress in Mathletics.
"Now in Mathletics, students are empowered to monitor their own progress and make decisions for themselves about which areas are relative weakness and strengths for themselves," she said.
"Their results on each activity are now coded as red, amber or green [a familiar traffic light representation often used in schools]".
O'Flaherty added that this way, students can immediately identify which activities they have not yet mastered and take steps to improve their understanding using the variety of resources Mathletics offers to support their learning.
Enabling data-driven learning
O'Flaherty said principals can be assured that the two new components of Mathletics empower both teachers and students to work together in improving student outcomes.
"Our new approach to reporting enables the data-driven learning that teachers, school principals and education authorities are eager to implement," she said.
"Teachers will have easy access to the data they need to make decisions about the next steps in learning for their class as a whole, for smaller groups within the class, as well as for individual students."
O'Flaherty said that the new visual displays within the reporting module are easy for teachers to interpret saving them time and allowing them to focus on teaching and learning to help their students rather than data analysis.
"The traffic lighting system of results in the student view makes it easy for students to self-reflect on their achievement," she said.
"School principals can be assured that students themselves are encouraged to reflect on their own learning, and are motivated to improve their results using our much-loved engaging resource."