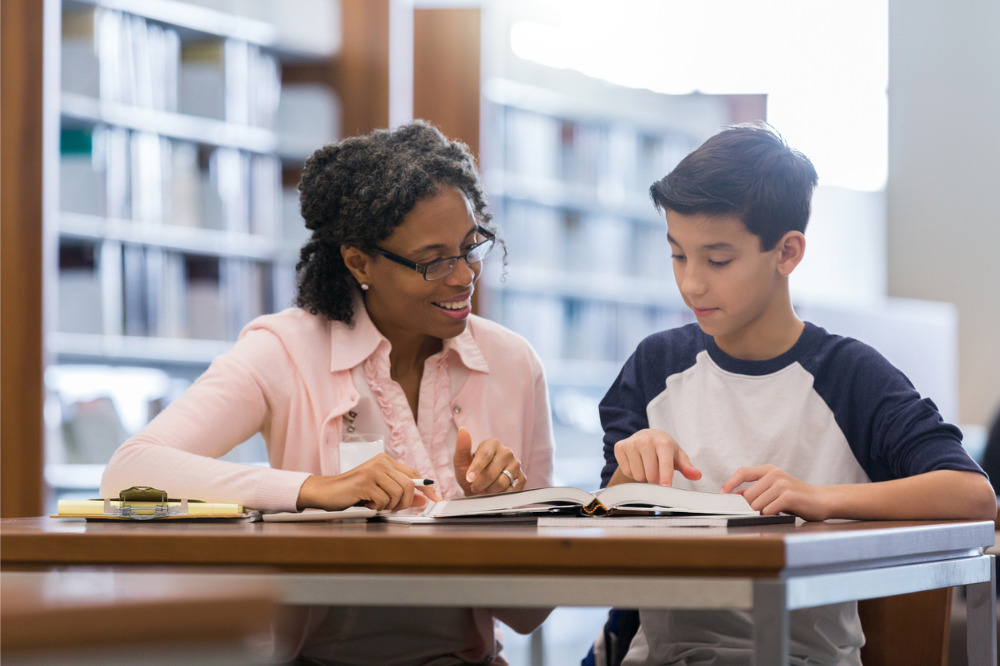 Schools across NSW are embracing small-group tuition as part of the Department's strategy to improve students' numeracy and literacy outcomes.
The $337m tuition program is part of the COVID intensive learning support initiative announced in last year's Budget to help students whose learning was impacted by the pandemic.
In June 2020, the Grattan Institute called on governments to send a battalion of 100,000 tutors into schools to conduct intensive small-group sessions on reading and maths.
The call to action came amid concerns that students were falling behind due to the lockdowns imposed as a result of the COVID-19 pandemic. And as time would tell, these concerns were warranted.
In September, a major survey of parents found that 1.25 million Australian students had fallen behind in their schoolwork during the remote learning period.
In NSW, students had fallen, on average, three to four months behind in year 3 reading, and two to three months behind in year 5 reading and numeracy. Year 9 students were up to four months behind in numeracy.
The hardest hit were disadvantaged students, who were already struggling to improve their learning outcomes According to a Grattan Institute report estimated the achievement gap between disadvantaged students and the rest widens three times more quickly during remote schooling.
In addition to the NSW Government's latest tutoring initiative, rural and remote school leaders will be given access to expert additional educators to develop tailored support models to implement the program successfully.
NSW Education Minister, Sarah Mitchell, said more than 3,960 educators were already on the ground at 1,755 schools across the state. The vast majority of tutors were retired or casual teachers, supplemented by university education students and university tutors.
"I'm thrilled to see members of the education community coming forward to help out students after a disruptive 2020," Minister Mitchell said.
"This additional support is tailored by the school, using both the data from last year's Check-in Assessments and the knowledge of classroom teachers. Having tailored models of support allows schools to be flexible so students can catch up in any areas where they've been struggling."
So far, the program has received excellent reviews from teachers and principals.
"The feedback I have received is that school communities are ecstatic to have this extra support and are already putting staff to work to ensure students benefit from the program as soon as possible," Minister Mitchell said.
In December 2020, Teach For Australia (TFA), a not-for-profit organisation which aims to address educational inequity in Australia, launched The Tutor Network, an initiative to boost tutoring in schools across the country.
Via The Tutor Network online portal, schools and tutors can access free training, guides, templates and other evidence-based resources that have been provided by subject matter specialists and expert practitioners.
Melodie Potts Rosevear, TFA CEO, and Peter Goss, former School Education Program Director at Grattan Institute, said the evidence shows that to be effective, tutoring must be precise.
"It must be focused on clear learning objectives and a supplement to the teaching that is already occurring. It must be regular [ideally 3 times per week] and sustained [ideally over a term or more]," Potts Rosevear and Goss told The Educator.
"Additionally, students' progress must be measured and discussed regularly with their teachers, to ensure learning is reinforced and tutoring complements what is happening in classrooms".
Above all, say Potts Rosevear and Goss, the tutors need to be well trained, and to understand the similarities and the differences between tutoring and teaching.
An analysis by the Grattan Institute showed that investing in tutoring as part of the COVID catch-up is worth it in its own right. However, Potts Rosevear and Goss say that if it proves its impact in 2021, large scale in-school tutoring could become something more.
"Ongoing investment to tutor disadvantaged students would be a major new tool to improve equity in schooling," they said.
"In response to the unthinkable year that was 2020, the Victorian and NSW Governments made a previously unthinkable investment in the future".
Potts Rosevear and Goss said getting it right will help a cohort of students, including many of the most vulnerable, but they hope for more.
"Learning how to use tutoring to support regular teaching could help all future generations, and help close that gap between the educational haves and have nots".