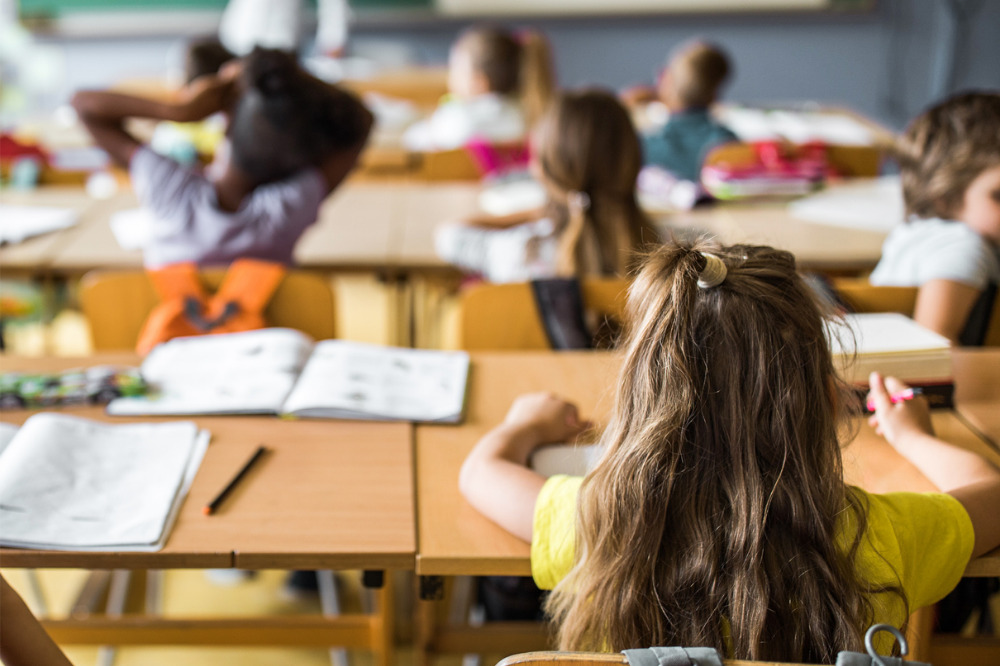 Last week, the Victorian Government revealed its plans to keep schools open when students return in Term 4.
Under the plan, students in Prep will be able to return to classrooms for three days per week from October 18, while those in Grades 1 and 2 will return two days a week. Year 12 students will return for five days a week from October 18.
Other year levels will continue remote learning until October 26 and will then return for two, three or five days per week depending on grade.
Victorian Premier Dan Andrews said the 'Three V's' – Ventilation, Vaccination and Vital COVIDSafe Steps – will ensure that classrooms will be safe for students and staff when schools reopen.
More than 50,000 air purification devices will be rolled out to all public and low-fee Catholic schools across the state from the start of Term 4. These schools will also be entitled to a grant of up to $25,000 to purchase shade sails – with $60m to create more outdoor learning spaces and make it easy for classes to be conducted outside.
To help minimise the spread of Covid when students and staff return, a "no jab no work" policy will require all staff to be fully vaccinated by the end of November. The first jab is required by October 18, and the second by November 29.
The Department will support principals to implement the vaccination requirement in the coming weeks by giving all public school staff a half-day of paid time off to get their jab.
"I know Victorian families can't wait to see their kids back in the classroom – but we need to keep them safe once they're there, and we're delivering ventilation devices to prevent as much transmission on school sites as possible," Education Minister, James Merlino, said.
"With a roadmap in place to get all students back to school safely, we'll make sure every single Victorian child is supported when they're back in the classroom – whether that's with their schoolwork or their wellbeing."
However, some principals say the approach is likely to cause disruption.
Berwick Lodge Primary School principal, Henry Grossek, said the approach will create a "logistical nightmare" for staff who will be planning for and delivering both on and offsite learning programs – including specialist programs – for their classes over the week.
"For those schools with significant numbers of children attending onsite learning presently, these changes will add another layer of complexity to staffing that should be avoidable," Grossek told The Educator.
"Rostering teachers to work both onsite for those children currently attending onsite learning, and offsite for their own classes is already challenging enough."
Grossek said that if safety is a major focus of this new approach, then it's difficult to see how it will make a great impact.
"Let's not forget that many children have siblings in other grades and even at secondary schools. Irrespective of what they do at school, they will be in close contact in the home with their siblings and parents," he said.
"I doubt very much that a simpler approach – such as that we had last year – with Preps to Grade 2 children attending school first for two weeks followed by grade 3 to 6s in the subsequent weeks would make much difference to the safety of the children."
Grossek said it is unusual that the plan doesn't work for whole weeks, but rather part weeks and then for few days at a time.
"Let's not make the return to school for children, their parents and staff more burdensome than it needs to be."
While a safe return is obviously important, ensuring students' academic, social and emotional needs are met when face-to-face learning returns will also be a key challenge for education staff.
Michael Emmanuel, managing director of Edval Education, said that once school returns, the immediate focus needs to be on re-establishing relationships between teachers, students and peers.
"Everyone in the school community have been through a challenging time. The timing of the return to school should also be consideration," Emmanuel told The Educator.
"How much focus to place on student assessments, and is that pressure suitably proportionate to that of our students' mental health? It's probably fair to say too that over this remote learning phase, many students may not have progressed as much as their peers and therefore be behind."
Emmanuel said if this is the case, it is important to consider how much focus should be placed on "catching up" versus teaching new content.
"Another consideration, says Emmanuel, is the level of governance required to monitor compliance.
"Who does the school rely on for this? Obviously, teachers will play a huge role, therefore, one must consider teacher workload too," he said.
"I don't there is much point to trying to minimise movement or control traffic within the school grounds because there are too many external school factors they cannot control. So, for me, I do think this is a sufficient level of precaution to take."