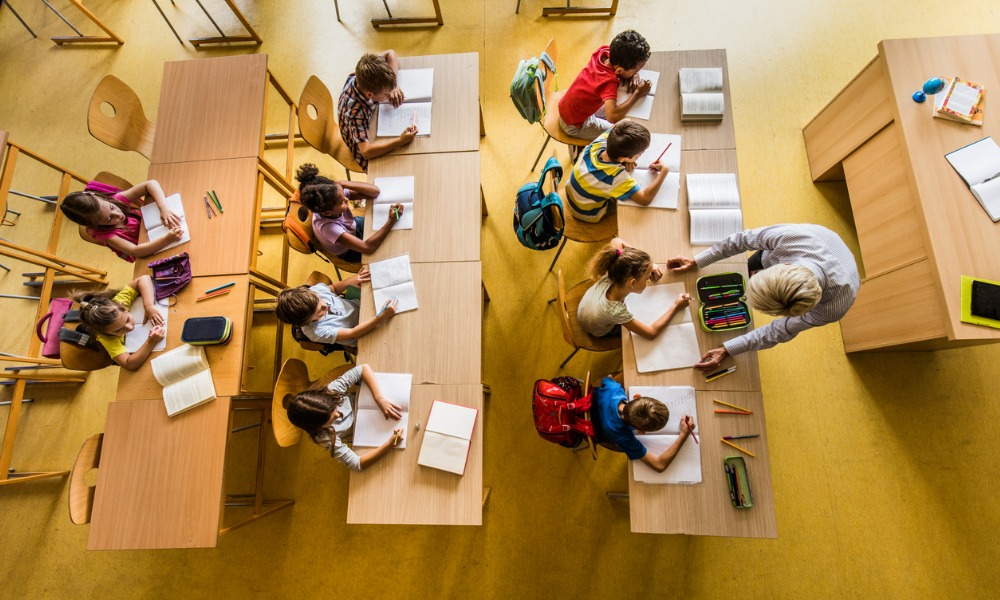 Last week, a national report concluded that achieving a high rate of vaccination amongst eligible staff, parents and students (over 16) is a critical step towards a safe return to face-to-face learning in schools.
The study, from the National Centre for Immunisation Research and Surveillance (NCIRS) also confirms that most children diagnosed with COVID-19 during the current outbreak – including those who caught the infection in schools and early childhood settings – experienced mild or no symptoms, with 2% requiring hospitalisation.
However, there are growing concerns about the quality of air ventilation in schools and the health impact that poor ventilation could have on students and staff when face-to-face learning resumes from October 25.
Professor Raina MacIntyre, head of the biosecurity research program at the University of NSW's Kirby Institute, is one of 48 members of a new independent pandemic advisory group, OzSAGE, which includes experts from fields ranging from medicine and public health to engineering and software design.
"One area that has not been well addressed to date is ventilation and mitigation of airborne transmission, which is the dominant mode of transmission of SARS-Cov-2," Professor MacIntyre recently wrote in the Medical Journal of Australia.
OzSAGE is calling for a "Ventilation and Vaccine-Plus" strategy for safely lifting COVID-19 restrictions, including urgent ventilation upgrades for schools and businesses, vaccination of children, continued mask wearing and third-dose booster vaccines for front-line health workers.
Recognising the implications of this issue, the NSW Department of Education will be inspecting 150,000 public school facilities to ensure they have enough fresh air to minimise the airborne spread of the COVID-19 virus.
The review aims to ensure windows opened easily, air conditioners operated properly and staff at each school understood how to maximise airflow within their particular buildings, whether they be traditional classrooms or new ones with large learning spaces.
"We are working with our schools to develop their specific return to school plans and implement the relevant on-site restrictions; while this occurs, we are also making sure each room is suitable for students return," Minister Mitchell recently told the Sydney Morning Herald.
"Most NSW public schools have openable windows. The review will ensure that all windows operate efficiently allowing natural ventilation, and that ceiling fans and air conditioning systems are operating effectively and serviced regularly."
In an article that was recently published in The Conversation, Bruce Milthorpe, emeritus professor at the Faculty of Science, and Geoff Hanmer, honorary professional fellow, both from the University of Technology Sydney (UTS) expressed concern that "poorly ventilated schools are a super-spreader event waiting to happen" but noted that there are several practical measures schools can take to prevent the spread of the virus.
"Most schools are naturally ventilated," the experts wrote. "This means windows must be open to deliver fresh air, which will dilute and disperse airborne pathogens. It is not a coincidence the current Australian outbreaks are happening in winter, when naturally ventilated buildings, including most schools, are more likely to have their windows shut to keep the heat in."
The experts added that some buildings that are "mechanically ventilated" or those with air conditioning, particularly split types, do not provide proper ventilation as these units "typically recirculates air inside a space" instead of introducing fresh air into the building.
"Mechanically ventilated buildings are supposed to have around 10 litres per second (l/s) of fresh air per person," they wrote. "But the temptation to throttle back fresh air to save energy and money is ever present. And even with 10 l/s per person coming in, there may be places with poor ventilation. This includes stairwells, lifts, corridors, and assembly spaces."
"As aerosols may persist in the air for hours, schools with poor ventilation become a high risk for transmission and kids can take it back to their families."
The Australian Education Union (AEU) is pushing for the Federal Government to make school COVID-19 recovery a "number one priority".
"Minister Tudge must work with his Federal Health counterparts to ensure there is enough supply of the COVID-19 vaccinations and that there is a clear, fair and transparent roll out plan," AEI federal president, Correna Haythorpe, said.
From 13 September children aged 12-15 have been able to book an appointment for COVID-19 vaccinations. This follows an announcement by the Australian Technical Advisory Group on Immunisation (ATAGI) that it has given the green light for the Pfizer vaccine to be administered to all Australians in the age group.
Haythorpe said teachers, principals and education support staff in locked down states and territories are eager to return to on-site learning as soon as it is safe to do so.
"Their colleagues in other states and territories want to ensure they can appropriately prepare in order to minimise the disruptions that naturally occur during outbreaks of COVID-19," she said.
"The urgent development of a school COVID-19 recovery plan would be the best way for all Education Ministers to ensure that the education workforce and students are protected and supported during this extraordinary time."