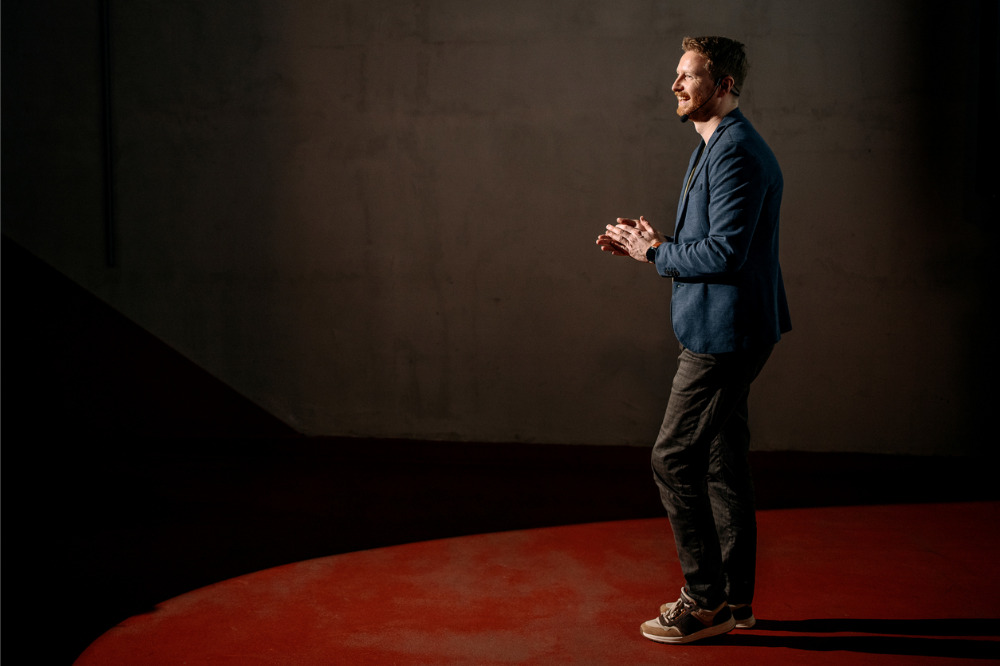 "Poetry is an essential part of masculinity. It helped me discover that being a man is about demonstrating strength through being vulnerable," says Pola Fanous, who emigrated with his family from Egypt to Western Sydney when he was three.
Growing up there as a young Christian man with an Egyptian background, he faced the difficult task of finding his identity in an area often reduced to its crime rate and perceived social archetypes.
"I was told that nothing good can come from Western Sydney. I was told by society that as a young person, I was incapable of providing anything of value. In reality, however, Western Sydney had – and still continues to have – a thriving arts scene. It's a place of multicultural excellence. Young people are very much on the pulse. So why is it that our stories have not been heard?"
Throughout his youth, Pola grappled with what it meant for him to be a man. From a young age, he remembers being surrounded by the well-rooted adage that men don't talk about their feelings. "Being a young man, living in Western Sydney in particular, I was expected not to show any vulnerability. Vulnerability was unacceptable." However, it wasn't until then that Pola, attempting to cope with the inevitable bubbling up of his own emotions as a young person, started to experiment with writing poetry.
What he enjoyed the most was the way that the art form allowed him to express himself creatively, in a highly visceral way. Pola was first introduced to the art form's power at school, when he was taught to read and write poetry in class. This led him to discover that writing his own compositions offered an outlet for him to safely express himself. He went on to become a regular activist, dispelling myths about the conflict in the Middle East through his poetry, as well as using it to explore his faith.
As a result, Pola's self-concept as a man also changed through his creative self-revelation. "I started to realise how writing poetry demonstrates a bravery that at its core, goes hand-in-hand with being vulnerable. Masculinity is often viewed in such a way that doesn't make space for the emotions of men. But the power of spoken word poetry so clearly draws from the vulnerability of the performer and can demonstrate great inner strength, courage, and conviction. In this way, I believe that poetry is a tool that can help us to cultivate more well-rounded men, or 'warrior poets', like King David in the Old Testament who was 'a man after God's own heart' (Acts 13:22)."
Troy Wong, who also grew up in Western Sydney and was born to Singaporean parents, came to a similar conclusion. Attending school in Blacktown, he experienced a multicultural society but also faced racism. This often overlapped with stereotypes of gender. "There were kids at school who made fun of Asians for having 'funny' accents. Asian males were thought of as ugly and non-masculine. I felt infantilised. I felt made to feel unworthy. It really affected the way I thought of myself," shares Troy.
However, for him, poetry changed everything. "Poetry helped me discover pride in my identity as an Asian man – and to not apologise for being who I am."
Today, Troy and Pola are prominent spoken word poets on the Australian scene. Pola is a Coptic Orthodox poet and author living and working in Western Sydney. He was the 2018 NSW Poetry Slam Champion and has performed his poems Australia-wide, at locations like the Sydney Opera House and the Parliament House of Australia. He has published books – a collection of poems titled 'STRONGSOFT' (2018) and a devotional on discovering love through faith, titled 'Abba Father' (2021). He also recently completed his Master of Teaching (Secondary) (Leading Learning).
Meanwhile, Troy is a Singaporean-Australian poet and teacher writing on Cadigal and Ngunnawal land. He is an Australian Poetry Slam National Finalist and the host of Bread & Butter Poetry Slam. His work has been published in the Cordite Poetry Review, the Australian Poetry Journal, Pressure Gauge Press, and Solid Air, an anthology of spoken word from Australia and New Zealand. Troy is also one half of the absurdist poetry duo Father Stretch My Dad.
Both creatives have turned their talents to education and are currently English teachers at Bethany College in Hurstville and Good Samaritan Catholic College in Hinchinbrook, respectively. The two schools belong to the Community of Sydney Catholic Schools, a system of 147 low-fee Catholic Schools in the Sydney Archdiocese.
Looking to the future, recalling how poetry has helped them both discover themselves since childhood, these two educators are excited to see how the art form is continuing to transform the lives of young people today. When Pola and Troy began writing from school age, they had to seek out the community at local poetry slams, whenever these were near their hometowns.
Now Pola notes how many schoolkids today, who are writing at the same age as he was when he started, often receive plenty of support from their schools. "These opportunities didn't exist previously, particularly in Catholic schools. Back in the day, yes, my teachers encouraged me to write poetry. But now they dedicate their time to watching students deliver their poems and offering them proper feedback. It's fantastic. Young people no longer have to grapple with who they are on the peripherals of society. They're given platforms in schools and support by teachers to really grow and develop their own self-narratives. It's also a huge step in the right direction for improving their critical thinking abilities."
Notably, these growing opportunities come at a key moment in time, when at the end of the week, Sydney Catholic Schools (SCS) will be holding its highly anticipated annual Eisteddfod, a festival that showcases the extraordinary performing arts talents of students across its network. With 1,238 student entries coming from a total of 114 schools, the parent brand will be launching its first-ever student 'Poetry Slam' category in this year's show. Spectators of the show can expect slam poetry to finally receive the spotlight it deserves.
Troy adds, "on stage, this may be the first time that students don't have to apologise for being different. There's a student in one of my classes who is of a mixed-race background. She is the only student in many of her classes who looks like her. This student has composed and performed some incredible poetry, really getting to grips with her experiences as a young woman of colour. Above all, she expresses her identity with a sense of pride. She is totally unapologetic about who she is."
And with this, Troy said the message is clear: "I have something to say and I am not going to shy away from who I am."
This story originally appeared as a media release from Sydney Catholic Schools.