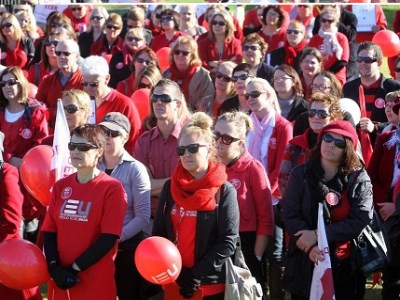 The union representing independent schools has announced it will strike on 28 April unless its ongoing dispute with the Catholic Commission for Employment Relations (CCER) is resolved by the weekend.
The
Independent Education Union
(IEU) and CCER have been locked in negotiations for more than a year over issues such as teachers pay, personal/carers leave, school support staff and a Catholic school ethos clause.
IEU general secretary, John Quessy, told
The Educator
that the chances of averting a strike were less than 50%.
"In the past when the CCER have responded, they've responded by ignoring what we've asked them to do," Quessy said, adding that the CCER have only responded with "ludicrous counter-proposals".
"I don't think they really understand the implications of what they've proposed, because the people who are making this up don't have a great deal of experience – if any - in schools."
Quessy said that as many as 20,000 employees could be involved in the strike, affecting the entire Catholic school system in NSW and the ACT.
"It could affect almost every Catholic systemic school," Quessy warned.
"We will make an announcement to our members soon that we are in the process of preparing a letter to send to our reps in schools to say that industrial action is likely on Tuesday, 28 April.
"It will of course be up to our members to decide whether they will come to work or not, but the feedback we're getting is that our members are totally over this - they've had enough."