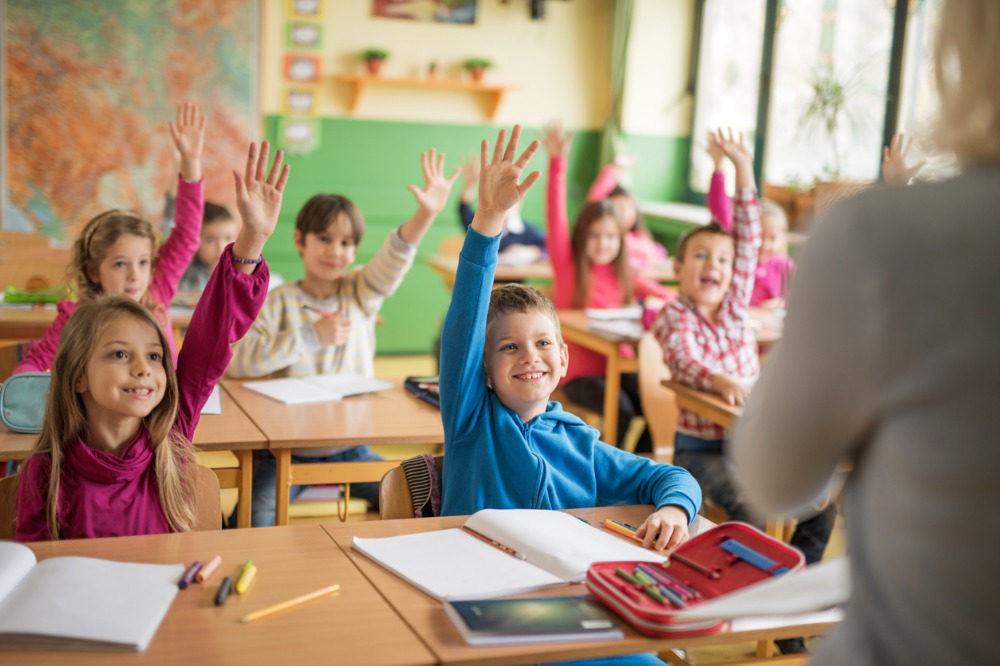 With students and staff beginning their staggered return to school, principals are hard at work making sure the transition runs as smoothly as possible.
Front of mind for school leaders is making students feel safe, engaged in their learning and caught up on the content they need to know, while also supporting their social-emotional learning needs.
Sean D'Arcy is the vice-president of Kahoot! at School and Home, a game-based learning platform that brings engagement and fun to more than a billion players every year at school, at work, and at home.
D'Arcy says students may feel overwhelmed being back in a physical classroom, which is why it's never been a better year to harness the power of play.
"Through playful, interactive experiences, students tap into their intrinsic motivation, natural curiosity and friendly competition to learn without even realizing it," D'Arcy told The Educator.
"Game-based learning can empower students to grow from learners to leaders, going beyond simply expanding their knowledge to sharing what they've learned with others. This also helps students connect with each other in positive ways in the classroom, while supporting educators in driving greater learning outcomes for each student."
Address current, relevant and sensitive topics
D'Arcy said students are more aware of current events than ever before, and topics such as climate change, gender equality and inclusion and diversity are important areas to be discussed in the classroom.
However, he said it's vital that these conversations are held in a safe and thoughtful way, supported by reliable and age-appropriate resources.
"Tapping into credible sources online and sharing this in a format that is engaging and easy to digest can help make these topics feel more accessible and relevant to young learners," he said.
Leverage technology to close learning gaps
D'Arcy said pandemic learning loss, or the 'COVID-19 slide', is a hot topic for many parents and teachers alike.
"However, we believe technology can play a key role in identifying and closing knowledge gaps and accelerating learning for all students," he said.
"As an example, with playful learning technology, educators can check their students' understanding of key concepts before moving on."
D'Arcy said this gives educators instant feedback that can help them spot where knowledge gaps exist.
"With these insights, they can quickly take action to change their approach or give those areas of learning more attention," he said.
Get creative with professional development
The start of term can be a difficult time for busy educators and leaders to squeeze in professional development initiatives, but D'Arcy said this challenge can be overcome by getting creative.
"Education and upskilling are important parts of being a teacher, but most are time-poor and already overstretched. This can be overcome by creating on-demand, micro-learning moments during the day to streamline development," he said.
"This could include embedded digital training sessions and creating interactive, social learning experiences with games for teachers."
Rebuilding relationships will be key
Michael Emmanuel is the managing director of Edval Education. As a major education service provider, Edval has been at the coalface throughout the pandemic, helping schools streamline their scheduling process and reducing the administrative strain that has exhausted teachers.
Emmanuel said that once school returns, the immediate focus needs to be on re-establishing relationships between teachers, students and peers.
"Everyone in the school community have been through a challenging time. The timing of the return to school should also be consideration," Emmanuel told The Educator.
"How much focus to place on student assessments, and is that pressure suitably proportionate to that of our students' mental health? It's probably fair to say too that over this remote learning phase, many students may not have progressed as much as their peers and therefore be behind."
Emmanuel said if this is the case, it is important to consider how much focus should be placed on "catching up" versus teaching new content.
Ahead of the 25 October return to school, the NSW Government is continuing to work with NSW Health to ensure that students and staff are protected during face-to-face classes. One such measure has been mandatory vaccinations for staff and compulsory mask wearing for all senior students attending campus.
Emmanuel said that in the lead up to this time, it should be asked whether the government's policy is proportionate to the risk, and to the goals.
"Another consideration too is the level of governance required to monitor compliance and who does the school rely on for this? Obviously, teachers will play a huge role, therefore, one must consider teacher workload too," he said.
"I don't there is much point to trying to minimise movement or control traffic within the school grounds because there are too many external school factors they cannot control. So, for me, I do think this is a sufficient level of precaution to take."