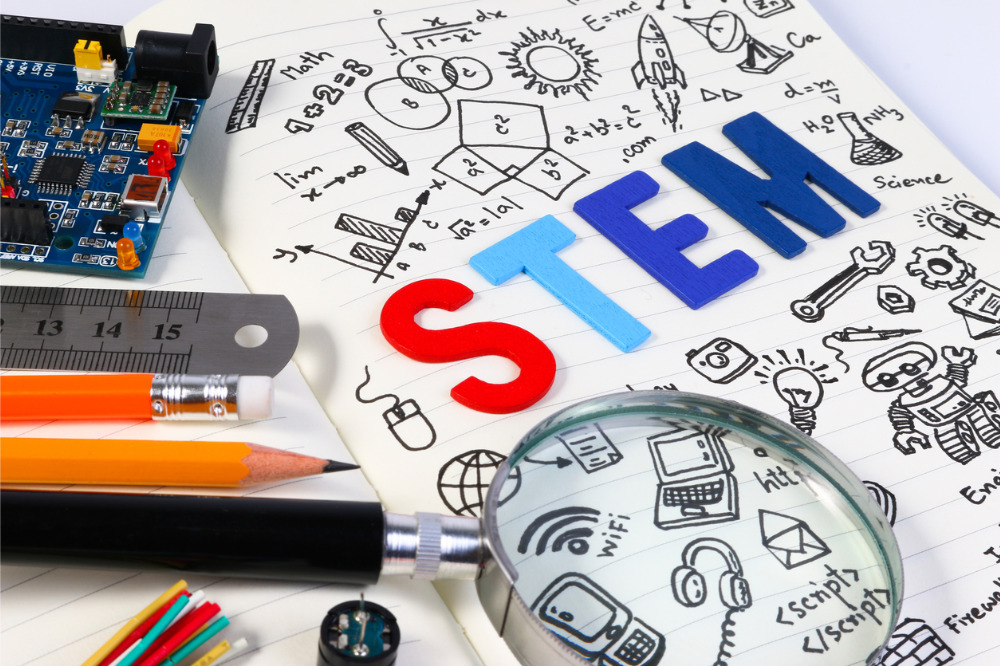 Reports have found that Aussie kids value STEM based subjects as the most relevant to their future careers, prioritising Computers (61%), IT (63%) and Science (57%) over traditionally preferred subjects, such as P.E (45%), English (51%) and Music (44%).
While STEM education is no doubt critical to helping prepare students for the jobs of the future, many schools are recognising the important role that the Arts can play in helping to achieve this crucial goal. The acronym has thus been expanded to STEAM, so that this important discipline gets the attention it deserves.
However, some schools are moving beyond STEAM to an even more comprehensive subject – STEAMD (Science, Technology, Engineering, the Arts and Design). Indeed, Design plays a critical part in meeting the education reform agendas set out by both the Federal Government and the independent review of NAPLAN.
One school that has been making some big strides in STEMD education is Queensland school Saint Stephen's College, which was recently recognised on the national stage at the Australian Education Awards.
The school received the Best STEM Program award for its multi-faceted approach to upskilling students across the disciplines of Science, Technology, Engineering, Maths, the Arts and Design.
Below, The Educator speaks to Saint Stephen College's principal, Kim Cohen, about the win, addressing the gender gap in STEAMD and providing quality professional development to teachers.
TE: Congratulations on Saint Stephen's College winning Best STEM Program! What do you consider to be the most exciting STEM initiatives at SSC?
Our Year 9 Business students are working on the innovation and prototyping of a business start-up in the Future Millionaires Challenge. In this Challenge, they draw upon their design and business knowledge and are required to develop a business proposal, use their Science, Technology, Engineering, Arts, Maths and Design (STEAMD) skills to produce a prototype and then pitch their idea to mock investors at the Future Millionaires Competition. Some of the studnets' innovations have ranged from app development to improve obesity in teens through to glasses to color blind people to see across the color spectrum. There is also some fantastic work being done in our Years 9-12 Design classes, where students are applying their design thinking skills to an authentic design problem to innovate a product service or environment solution. Students iterate their design ideas using research in multiple disciplines including STEM subjects, to generate prototypes design proposals for stakeholders. In 2020, students' design problems included minimising risk of concussion in contact sport, produce sustainable personal hygiene products, reducing mental health risks during COVID lockdown and mobile phone safety whilst walking.
TE: Reports have identified a great disparity between genders when it comes to participation in STEAM subjects. How has SSC been addressing this in 2020?
Interestingly, we do not find that there is disparity between genders choosing the science subjects at Saint Stephen's – we have healthy numbers of both boys and girls choosing Physics, Chemistry and Biology. Late in Term 4 this year, the Design and Business department ran a workshop specifically designed for Enterprising Girls. This 'boot camp'-style workshop targeted females in Years 9 to 11. Students had the opportunity to collaborate across year levels on a social enterprise idea, developing their prototypes using their STEAM knowledge and pitching ideas to a panel of business representatives in Female Entrepreneurship. Another initiative is The Wearable Art and Design project, which was specifically designed to attract females in Year 9 into the subject of Design. Twelve years ago, the subject typically attracted only male students with ambition of engineering and architecture. Fast forward to 2020, we now have at least 50% females – if not more – in some cohorts, following through with the subject in the Senior Years.
TE: Studies have also shone light on the need to upskill teachers in STEAM education. Can you tell us about the professional development that SSC provides its teaching staff in this context?
Our teachers in the Junior College where STEAM is embedded into daily classroom life have had many different support networks available to professionally develop during our STEAM roll out. Planning documents are written by our STEAM leader, Kerrie Soars, after close consultation with the year level staff. When introducing to the class, staff have available to them the support of the Junior College STEAM leader inside their classrooms. All technologies are explored and experimented with during staff meetings and on some pupil free days. International professional development is encouraged to explore a global perspective of teaching and learning in a variety of countries.
TE: Which foreign countries' education systems are involved in this international professional development initiative, and what PL opportunities did this provide your staff?
In 2019, two staff attended Aurora Institute symposium (iNacol), in Palm Springs California, to inspire new direction in STEAM practise and to ensure we are being inspired by leaders in the field. Students and staff also took part in a Youth STEM exchange program sponsored by China's ChongQing Education Department. This involved student-led sharing of best practice STEAM activities. Interstate school visits are also quite common, with valuable observations and practise being brought back to the College to be shared. Staff are also encouraged to look at industry experiences and webinars to keep up to date with developing trends in the fields of STEAM. Various initiatives have been adopted from this including the wearable art show, travelling Science Show and Saint Stephen's being identified as a Microsoft innovative school, with five teachers named as Microsoft Innovation Educator Experts.
TE: What are some of the key points of difference in the College's approach to STEAM education, and what does this mean for students studying these subjects?
STEAM at Saint Stephen's is wholistic in its approach. Being that all students are involved within STEAM projects makes our program unique and inclusive to all students. In many other places this is offered as an extension or buy in program. All students at Saint Stephen's College from Preparatory to Year 10 are involved in specific STEAM project-based learning experiences. One of the significant differences in the Saint Stephen's College wholistic STEAM approach are the final products within the Year Ten Project Based Learning Task the students produce are a concrete real world, working artifact. It's this base that sets this program apart from others. The idea that our students work through a process of going beyond fundraising, pitching ideas or campaigning to do something and make a difference in the world around them. Underlying this program is a connection to a sense of emotional well-being. Students are involved in meaningful work with a purpose.
TE: Drawing from the learnings of this most disruptive year, what approach will Saint Stephen's School take towards STEM education in 2021?
Moving forward in 2021, specific programs will be developed that embed STEAM and the Enterprise capabilities into a number of targeted courses across Prep to Year 12. A new Enterprise Education Department has been created to focus on the adoption and further development of these capabilities from P to Year 12. The Head of Department is in talks with multiple universities, linking these capacities with the core skills required for entry into a number of STEAMD and Business courses. The courses will be accredited by the university with micro credentials allowing them entry into selected courses. The Department will continue to run the Future Millionaires Challenge and Using our existing P to Year 6 STEAM programs as a foundation, implement Future Millionaire Junior, as well as an Intrapreneurship program that allows students to work within an authentic business to innovate using their STEAMD skills. The Head of our new Enterprise and Entrepreneurship Faculty, Samantha Reynolds, is Head of the current Arts and Applied Technology Faculty and has been named as Best Head of Department and Best Secondary School Teacher in the recent Australian Education Awards.