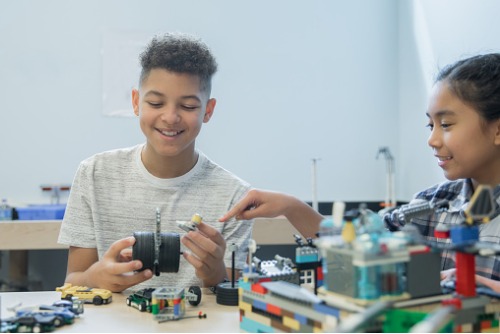 From 31 May to 1 June, the National Education Summit 2019 will be held at the Brisbane Convention & Exhibition Centre. The event will bring together a variety of school leaders, education thought leaders and other experts to discuss the most exciting developments in Australian K-12 education.
Over the course of the Summit, leading voices and academics will present conference and workshops across key topics including: Special Needs, Creativity and Innovation in Learning, Capacity Building School Libraries and Digital Classroom practice.
One of the keynote speakers at the event will be Alfina Jackson, coordinator at Our Lady of the Assumption Catholic Primary School, located in North Strathfield, NSW.
On the second day of the Summit's Digital Classroom Conference, held Saturday 1 June, Jackson will give her keynote address, 'Maker spaces as spaces to grow, tinker and innovate'.
Maker spaces can be any area where students gather to make or create using a range of different materials and technologies. In these spaces, students share supplies, skills and ideas, often collaborating on projects.
Below, The Educator speaks to Jackson to learn more about the powerful ways that maker spaces are being used to enhance teaching and learning across Australian schools.
TE: What are some of the important messages for school leaders in your keynote speech 'Maker spaces as spaces to grow, tinker and innovate'?
AJ: My keynote aims to share the journey of my own school in building a Maker Space as well as highlight the importance of developing a maker mindset in students. With urbanisation and many families living in medium and high-density housing, many children do not have the experience of creating in their backyard. We live in a world of flat-packs and instructions, where there is only one right way to do something. Things break and they get replaced, rather than repaired. I hope that school leaders can ask themselves this question and realise that from creativity comes innovation.
TE: In your view, what are some of the things that contribute to an effective maker space? (feel free to draw from your own experiences at Our Lady of the Assumption Catholic Primary School).
AJ: An effective Maker Space is not just a space for 3D printing and robotics. That is just one component of a larger scale space. Maker Spaces need to cater for a range of "maker-styles", so to speak. Construction zones, with blocks, Lego, recycled materials, timber offcuts and simple non-electronic tool shed tools encourages students to build models, test principles of construction and building design and well as build non-working or working prototypes to conceptualise their thinking. Electrical spaces allow students to tinker with simple circuits as well as pull apart old appliances to see how things work.
TE: What do you consider to be the most exciting ed-tech related development in Australian education and why?
AJ: I am excited by mobile devices in the classroom. The opportunities for differentiation are endless. With the same learning intention, students are agents of their own learning by choosing ways to communicate their learning. Today, my students were asked to retell and reflect on a story. Students chose to construct and photograph scenes using playdough or Lego, a group dramatised using the green screen, and children chose to make electronic or paper books. Reluctant writers verbalised their thinking by recording their voices, while others annotated their photographs or typed or wrote sentences. Personalised learning occurred with minimal planning and engagement across the range of abilities and behaviour styles in my classroom.
For more information about the National Education Summit, click here.