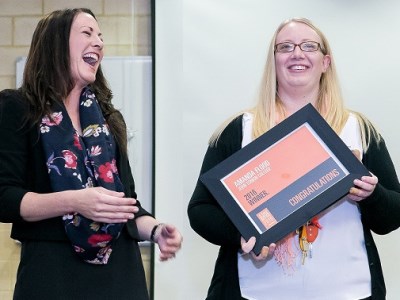 Just about everyone can attribute at least part of their success in life to an influential teacher from their youth – but how well-recognised are teachers for being 'change-makers'?
One initiative has set out to recognise and reward the educators who are making a difference to the lives of their students, colleagues and community – and so far it is experiencing exponential growth.
Now in its sixth year, the 2016
A Day Made Better (ADMB) program
, run by
Office Max
, has received over 39,000 nominations in the quest to find ten of Australia's most inspiring teachers.
Each of the ten winners received a host of prizes for their classroom worth over $5,000, including an Apple iPad and office products provided by OfficeMax's partners.
One of these winners was Amanda Flood – a teacher at John Tonkin College Education Support Centre.
The school, based in Western Australia, caters for students with intellectual, physical, social and psychological disabilities, and provide specialised courses for Years 11, 12 and 13.
The 'extra mile' makes a difference
Flood was nominated by students, parents, family, friends and colleagues for going the extra mile and positively influencing the lives of local students. She told
The Educator
that she still couldn't believe that she had been selected from the massive number of nominations this year.
"I knew of the nominations by some of my parents, students and colleagues past and present, but receiving this award is made even sweeter knowing that it is the nominations from people I've directly influenced over the years – that is what I'm most proud of," she said.
Flood said she believes a great teacher is someone "who is excited to be in the classroom with their students and enjoys learning new things and makes learning fun".
"I also believe caring about your students and having a strong rapport with them is vital. Without this caring nature how can you challenge, engage or motivate your students to be better versions of themselves?" she said.
When it comes to what has motivated her the most to remain in the teaching profession, Flood pointed to the joy of seeing her students problem-solve and develop confidence.
"I love that 'ah-ha' moment when they have been struggling to understand or do something, and then it clicks and they have the confidence to do it on their own," she said.
"Another inspiration is the last day of the year or graduation, when we are all reflecting and remembering just how far the students have grown."
Flood said a big challenge for her as a teacher is figuring out how she can make sure she does everything she can to help her students become a better version of themselves.
"In doing that, my students will help me become a better version of myself," she said.
Mad scientist, happy students
Another ADMB winner was science teacher Rose-Anne Monk, from St Phillip's Christian College, located in Cessnock NSW.
Monk told
The Educator
that the award was a massive boost to the school's publicity as well as her confidence as a teacher.
"Cessnock is an area that is improving all the time in education, and the marks reflect that – especially in this school. I tell the kids that as long as they find their passion and work hard at it, they can achieve anything," she said.
Monk said the fact that her school develops this kind of confidence and motivation in its youth makes it "one of the best things to happen to the area".
Her passion for science is so great that she is known as "the mad scientist" by her students – a depiction she uses to inspire greater student engagement in the subject.
"I dress up as a mad scientist, wig and all, for my junior students, which they love. It helps make the subject more exciting. That's so important, because as long as students are engaged in what they're learning, they'll most often excel in it," she said.
"An outstanding teacher is someone who loves and respects their students just as they are. You take time to find out their needs and work with them to improve their behaviour and/or their understanding of the subject at hand."
Monk said new teachers who are just starting out in the job but who are overwhelmed should not be afraid to ask for help.
"The first year is the most difficult, so don't be afraid to ask for help. You're not alone. It's important to have a mentor who can talk you through the job, teach you strategies and help you ease in," she said.
"It's also important to enjoy yourself, because if you don't do this periodically it can lead to burnout. You can't sit in front of your books all the time."