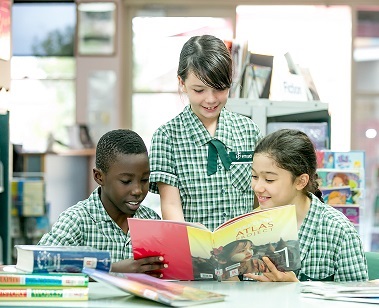 For many young girls, improving self-esteem can be an uphill battle. The pressures of society can often feel overwhelming, taking a toll on their confidence.
Recently, nine 11-year-old girls from Queensland's St Bernard's Primary School conducted a targeted survey which found that a number of their peers were facing pressures "to look thin".
The survey found that these students often struggled with their appearance or suffered from anxiety.
Using the team name 'the Bernie Beetles', the girls set out on a mission to help their fellow students by designing an app which provides strategies and activities to address low self-esteem.
After drawing from mental health research and the school's own well-being programs, the girls used the programs Thunkable and MIT App inventor to build the app from scratch. The girls were also tasked with creating a business plan, pitch, jingle and logo along with the app, which will be available on Android.
The school's teacher librarian, Theresa Cumming, said the girls spent 10 weeks developing their innovation as part of the Tech Girls Superhero Competition, an Australian and New Zealand program for girls aged seven to 17.
Cumming said that while some of the students had no knowledge of coding whatsoever at the onset of the process, their skills improved significantly as they developed the app.
"Some of them were absolute beginners, but the program goes through a number of tutorials so students can become more familiar with it. It can give anyone the opportunity to learn basic coding skills," she said.
"The program can be displayed on your phone so you can learn the step-by-step process. Even I can do it!"
The app will now be entered in a global competition involving 15,000 girls from 100 countries. The competition challenges girls around the world to take their STEAM (Science Technology Engineering Arts Math) skills to the next level by creating an app to benefit society.
The winners of the competition will be announced in September.
Related stories:
'Unschooling': What the research says
The impact of smartphones in the classroom
Do private schools educate students better?