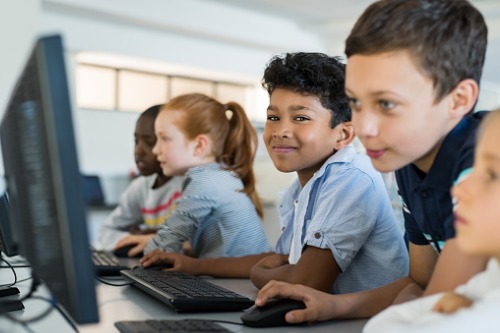 Across Australia, schools are navigating new technologies, advances in cognitive science about how students learn and changing expectations from parents and employers.
It is for this reason that most educators jump at the chance when professional development opportunities designed to address these challenges arise.
This month marks four years since Microsoft opened its first flagship store outside of North America. Since opening in 2015, the store has provided coding workshops, tutorials on the latest technologies, bespoke school excursions and, most recently, free Minecraft workshops for children on the Autism spectrum.
Microsoft Community Development Specialist, Jess Erhart said 2020 will provide more exciting opportunities for teachers and students.
"What's really great about the Flagship Microsoft Store is its constant evolution," Erhart said.
"The programs that we started running back when we opened four years ago compared to what we're running now are very different. We've now got great partnerships with organisations like Code Like A Girl, with CoderDojo."
The work of these two organisations aim to address the gender gap in Australia's STEM workforce – an industry taking on greater importance as the economy becomes increasingly technology-focused.
According to a report by Australia's Chief Scientist, women comprise just 16% of the total STEM workforce, a glaring statistic that has resulted in concerted efforts to improve gender parity from leaders and organisations across society.
New professional development opportunities
Erhart said the Store has also been running programs around student accessibility with the Cerebral Palsy Alliance.
"It's going to be a constant evolution based on the latest and greatest that's happening in technology and how we can best support different groups within the community," she said.
With the end-of-year holidays approaching, Erhart said there is an opportunity for teachers to sharpen their skillsets in areas such as robotics, mixed reality and artificial intelligence.
"We know that the holidays are a key time for a lot of teachers to be maintaining their professional development, so we run free Microsoft Innovative Educator sessions here at the store," Erhart said.
"Teachers can go to the Microsoft website and book in a session to learn about how they could bring Minecraft into their classrooms".
Since Minecraft's foray into schools in June 2015, a growing body of research has shown that the game has several important benefits to students, including improved problem-solving, creativity and engagement.
Breaking down learning barriers
To help children on the Autism spectrum leverage the learning benefits of this game, the Flagship Microsoft Store Sydney recently partnered with Autism Spectrum Australia (Aspect) to launch a series of free autism friendly Minecraft workshops.
Aspect worked with the Microsoft Store team to develop its autism friendly Minecraft workshops by training staff and providing feedback on the class learning environment.
Matthew Oastler, Aspect's Autism Friendly Australia Project leader, said Microsoft approached Aspect after receiving an inquiry from a customer looking for a safe place for their autistic son to play Minecraft.
"The Microsoft Store team are highly-committed to giving back to the community and creating a safe place to play," Oastler told The Educator.
"We believe that there is a growing need for more inclusive, autism friendly spaces, and Microsoft has shown commitment to helping us to achieve a more inclusive society."
"Gaming has the power to break down barriers and create unique, shared experiences between people from a diverse range of backgrounds."
Erhart said the Minecraft workshops are amongst the most popular when it comes to Microsoft's in-store events and brings people together over a shared passion for the game.
"We're always looking for ways to make our sessions more inclusive and accessible, and by partnering with Aspect we are able to personalise the experience for those who otherwise would face challenges in taking part," she said.
Erhart pointed out that Minecraft is already used by schools around Australia as part of the education curriculum, helping children develop inter-personal and logic-based skills.
"Developing these skills is an important part of a child's education, and the Minecraft workshops designed in partnership with Aspect aim to create a safe and comfortable environment in which children on the autism spectrum can collaborate and bond with their peers over a mutual love of Minecraft."