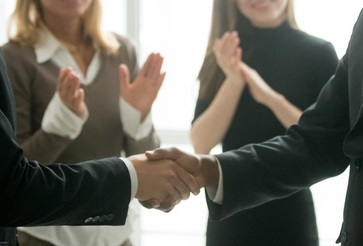 Many universities are upping their game when it comes to research and securing international placements for their students – especially the field of science, technology, engineering and mathematics (STEM).
However, the University of South Australia (UniSA) has made strides in both of these areas through a recently announced collaboration with the Massachusetts Institute of Technology (MIT).
Both educational institutions signed a memorandum of understanding last week, agreeing to work together on data visualisation and augmented reality research which are being undertaken in MIT's Digital Media Lab and UniSA's Australian Research Centre for Interactive and Virtual Environments.
The IVE, which works on Augmented Reality (AR) and Virtual Reality (VR), integrates various disciplines such as art and architecture with computer science and engineering to develop the fields of wearable devices, interface design, empathic computing and telepresence.
Professor Brenton Dansie, who serves as the Head of UniSA's School of Information Technology and Mathematical Sciences, said the new partnership – which outlines a framework for collaboration on technology research – consolidates their pre-existing research ties with MIT.
"Two of the world's leading researchers in AR and VR, UniSA Professors Mark Billinghurst and Bruce Thomas have links with MIT and this new agreement will significantly enhance their efforts," Professor Dansie said.
Research in AR and VR is not entirely new to Australia's higher education and research institutions, with the University of Newcastle recently partnering with VRTY to conduct research on how VR can boost learning outcomes.
The University of Technology Sydney (UTS) has also partnered with two computer companies to launch a lab where they can further research on how technology can support other sectors, such as education and transport.
Going beyond research
But UniSA and MIT's collaboration goes beyond research as it also includes providing a venue for student exchange. Through the exchange, UniSA students can visit the US while MIT students can fly over to UniSA for study and research purposes.
MIT and UniSA's partnership is part of the earlier announced collaboration with the SA government, BankSAS Optus and DSpark, which seeks to establish the country's first MIT Living Lab in Lot Fourteen, Adelaide's innovation precinct.
The Living Lab will serve as a venue for collaboration among the research, private and public sectors to boost economic and population growth in SA.
The SA government itself is seeking to boost technology-related careers in the state, having partnered with the Microsoft Traineeship Program to support 20,800 new apprenticeships over the next four years.