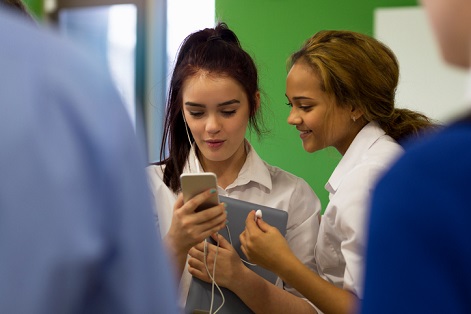 Last week, the Victorian government announced that from Term 1 2020, mobile phones will be banned for primary and secondary students.
Victorian Education Minister, James Merlino, made the announcement at McKinnon Secondary College, where teachers have reported greater student outcomes and improved behaviour since implementing its own phone ban.
He said the action aims to "help reduce distraction, tackle cyber bullying and improve learning outcomes for students".
"This will remove a major distraction from our classrooms, so that teachers can teach, and students can learn in a more focused, positive and supported environment," Merlino said.
"Half of all young people have experienced cyberbullying. By banning mobiles we can stop it at the school gate."
Berwick Lodge Primary School principal, Henry Grossek, says that while the mobile phone ban is well intentioned, he doubts that it will achieve its aims.
"Most cyberbullying we deal with at school emanates from out of school. Secondly, students have the capacity to distract themselves via a number of other devices, and less obviously than by using their mobile phones," Grossek told The Educator.
Grossek said many schools like his own already have mobile phone restrictions, that work effectively, in place.
"Prohibition, particularly given that the 'horse has well and truly bolted' on this, is unlikely to work," he said.
"Besides which, teenagers are more likely to respond positively to negotiated agreements on matters such as this."
"For some it will present an excellent opportunity to 'defy authority' - demonstrating that they can get away with because they can. Just like many in my time did and have done every generation. Is that something we wish to encourage?"
'A ban might introduce even more problems'
Neil Selwyn, a distinguished research professor at Monash University, said that while banning phones from classrooms, and from school altogether, might seem sensible, there are number of reasons to be cautious.
"It's clear we need to carefully consider how we want to make use of digital devices being brought into schools. But previous experience, such as in New York, suggests a blanket ban might introduce even more problems," Dr Selwyn wrote in The Conversation.
"Research suggests there is a large overlap between cyberbullying and traditional forms of bullying, which wouldn't then follow that digital devices are somehow causing these behaviours."
Dr Selwyn also noted that cyberbullying also often takes place outside school hours and premises and warned that banning phones from classrooms might distract teachers from having to continue with efforts to address the more immediate causes of cyberbullying.
Finnish educator, author and scholar, Pasi Sahlberg, shares similar concerns.
"Most of 'screen time' takes place outside of school and simply taking the gadgets away from kids in school would not help, especially it is not a good idea for those who suffer from screens the most," Sahlberg told The Educator.
This issue, he explained, is best handled in close collaboration with children and their parents.
"We need to educate them about the advantages of technology and risks related to heavy use of it. We need to work with parents to set the limits how smartphones, games and media is used at homes and in schools," he said.
Federal Education Minister, Dan Tehan, is pushing for a national ban on using mobile phones in class,
"The Morrison Government wants to see mobile phones out of the classroom to remove a distraction and reduce the incidence of cyberbullying and other inappropriate usage," Tehan said.
"We have told all states and territories we will invite experts from France and Ontario, Canada, where phones have been banned from schools, to provide advice about their experiences."
However, Queensland, the Northern Territory and the ACT have said they have no plans to implement the initiative in their states and territories.