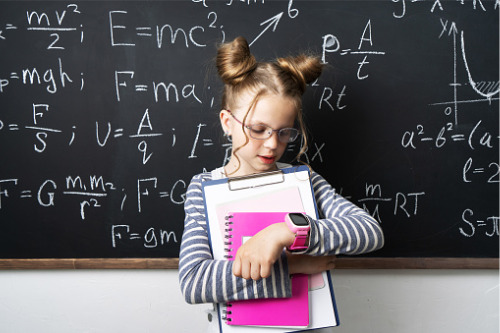 A new report shows that a significant number of teachers view certain 'smart devices' as a way to help students be safer, both in and outside of school
The majority of Australian educators believe smartwatch phones that have no camera functions and prevent access to the internet should be exempt from government blanket bans in primary schools, a new survey has found.
In October, Western Australia became the latest state to put restrictions on the use of mobile phones in classrooms, following moves by the governments of Victoria and NSW.
Since then, other states have come under pressure to follow suit as research shows that students' learning outcomes, and health, are suffering as a result of excessive use of social media.
"If you go to schools where mobile phones are banned it has made a huge difference to the learning environment and to the social environment at lunch time and recess," Federal Education Minister, Dan Tehan, said.
"Student wellbeing is an issue for parents and teachers, and we will continue to support all jurisdictions and schools to limit the use of mobile phones in schools".
However, a new survey of 628 Australian education professionals by Lightspeed Research for MGM Wireless found that 46% educators across Australia view certain smart devices as a way to safeguard children despite the ban by some state governments.
More than half (58%) also agreed that devices that can be switched to School Mode* during school hours should be allowed in primary schools.
Almost two-thirds (64%) of education professionals believe smartwatch phones prevent contact between children and undesirable people, while 61% agree that they prevent sharing of inappropriate content, and half (50%) state the devices can help combat online bullying.
More consultation needed
Mark Fortunatow, Chief Executive Officer of SPACETALK's parent company MGM Wireless, said that while he supports the government's ban on smartphones in schools, the blanket ban on mobile devices creates "unintended problems".
"[A blanket ban] means families cannot directly contact each other in the school day," Fortunatow told The Educator.
"In our study, nearly one in two educators shared that they will need to spend more time managing communication between parents and their children, and 49% shared that this takes up at least an hour in their day – so this is a significant logistical challenge for school staff who are already time-poor".
Fortunatow said there needs to be some understanding of the needs of families today to plan their busy lives without unnecessary interruptions and work for school staff.
"Smartwatch phones that are social media free like SPACETALK, mean families can communicate directly, with no distractions in the classroom, which is the primary concern".
Fortunatow said this is an "easy but effective" way to cut down a significant amount of administrative time, allowing educators to focus on teaching.
'Government's must speak to the right people'
Fortunatow said it is important for government departments to speak with those on the "frontline" when they're looking at legislation like banning digital devices from schools.
"In this case, those on the frontline include teachers, principals and support staff in schools," he said.
"These people are uniquely placed to understand what the consequences of such bans are, so they can plan workarounds in advance, whereas we're now in a position where schools have yet to fully adopt the legislation".
Fortunatow said parents and carers are also a key part of this decision-making, especially given the bans directly impact them.
A similar recent study that SPACETALK did with parents and carers of primary school-aged children in Australia found that smartwatch phones can both help increase convenience for parents and children, and perhaps more importantly, also give children with mental health issues the confidence they need to gain independence.
"These nuances can only be uncovered through dialogue and consultation before new laws are passed," Fortunatow said.