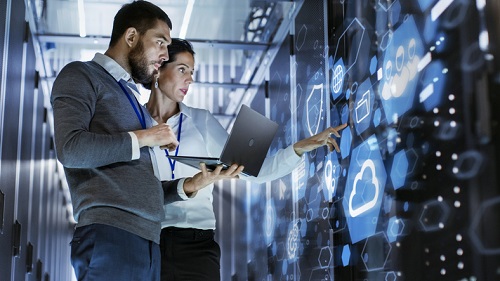 Across Australia, universities and schools are increasingly mindful that their technological innovations and IT infrastructure have the ability to enhance teaching and learning across their campuses.
While the year is young, Edith Cowan University (ECU) is making its mark as one of the universities at the forefront of digital transformation.
The University, which launched the Institute for Securing Digital Futures in September, is starting the year strong with the adoption of cloud-based Microsoft Azure, which has helped to streamline processes and slash operating costs.
ECU chief information officer and digital and campus services director, Vito Forte, said that prior to taking Azure on board, the University's provision of IT infrastructure was based on a managed services model (Opex), which is backed up by a lease stream and related costs in the provision of these services.
"While there was some ability to flex up and down, the speed and granularity of this did not provide for the ability to understand and drive reductions in cost and increases in capabilities," Forte told The Educator.
"The managed service had limited capabilities, which meant it basically was an 'on-prem' solution being run by others".
The University is now seeing more than a 60% reduction in operating costs with the use of Azure.
"What we have now is fundamentally the same number of people with twice the amount of capability. So the level of effort is fundamentally halved," Forte said.
The University is also making use of other Microsoft products such as Office 365, Teams and Teams Telephony to streamline communications within staff members. So far, more than 1,000 users are already using Teams Telephony.
In terms of hardware, ECU has invested in Surface Hub 2, Surface Pros and Surface Go units to improve teaching and learning experiences.
Forte said that while the cost-cutting aspect of the new platform mainly targeted establishing a more cost effective and flexible environment for ECU's platforms, several future benefits have been identified.
"One of them is the use of public cloud for use in our labs – Azure Labs which is currently in pilot," Forte said.
"This provides for a geographic agnostic delivery model that better aligns with the way we teach using these tools and the way and where students want to use them".
Forte said ECU is also digitizing its workspace via the use of public cloud to enable the delivery of specific applications for student coursework "available anywhere and anytime".
"We will also be able to take advantage of the growing data centric PaaS capabilities for our researchers that reduces the cost of entry, while allowing for frictionless use of capabilities that would have had to build previously," he said.
"And of course just having your house in order, so that delivery is constant, consistent and always on".
Aussie universities taking 'very strategic approach'
Microsoft Australia's national technology officer, Lee Hickin, noted that with increasing student expectations and tightened competition among institutions, "there is an unstinting demand for efficiency and effectiveness."
"Australian universities are taking a very strategic approach, ensuring they can optimise their students' experience – and also pave the way for the sorts of lifelong learning initiatives that people will need for sustained success," Hickin said.
"The information systems and data needed to support that strategy need to be highly responsive, coherent and able to scale rapidly to meet demand. These are the foundations now in place at ECU".