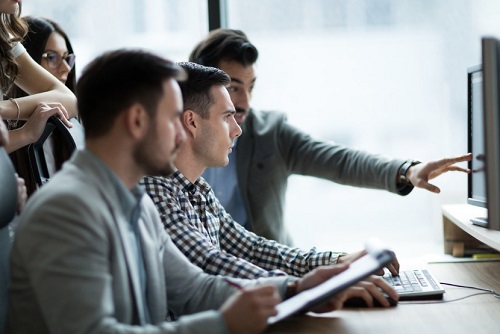 While schools collect massive troves of data about the teaching and learning happening in their classrooms, sifting through this data – and measuring it for analysis – can be a painstaking, and often confusing, process.
For school leaders, making sense of this data and using it for impact can be daunting to say the least. For schools more broadly, making data easily accessible and interpretable for educators in the course of their teaching isn't always easy, either.
In November, an important industry event brought together 13 prominent education leaders to discuss these challenges and brainstorm best practice strategies for educators and principals alike.
The Educator & Canvas Executive Roundtable, held at the QT in Melbourne on 20 November, heard from AHISA CEO Beth Blackwood, the Centre for Strategic Education CEO Andrew Barr and 11 other leaders from across the Victorian education system.
Below, The Educator speaks to Myles Carrick, director of customer success at Instructure, who looks at the impact of data analytics in schools in 2019, the most important considerations for principals and what we can expect in 2020.
TE: What are the most inspiring and impactful outcomes you've seen in K-12 education as a result of schools leveraging the power of data analytics, and are there any schools that stand out from the rest in this respect?
MC: Learning how to effectively and efficiently understand and leverage analytics is one of the most talked-about topics in education – both in K12 and Higher Education. Despite this, schools often struggle to understand where to start. Schools that are experiencing success with data analytics are often focused on the real fundamentals. Sacred Heart, Geelong and Haileybury, Victoria are both thriving by taking a holistic view on student learning, combining data analytics from Canvas with pastoral care data to understand how to tailor education to each student. Those who are incorporating parents into a student's learning journey are also standing out. St Andrew's Anglican College, Sunshine Coast are receiving positive feedback by providing access to parents through the Canvas app to see their children's work and receive feedback from teachers.
TE: In your view, what have been the most important considerations for K-12 school leaders in the context of leveraging data analytics for impact?
MC: The technical challenges of working with data analytics are certainly significant. The volume of data, complexity and disparate sources that are not easily combined or merged can overwhelm anyone who is not used to working with these sets. We're discovering that often the biggest challenge is identifying simple, actionable insights from these data sets and making them easily accessible to teachers. This can be as simple as providing strategies to help teachers identify macro patterns, like a student who is consistently submitting tasks late or a trend in marks. This year, we've realised that students are hungry for these insights as well, not just teachers. By helping our students to understand how to leverage these tools, it can also empower them to have greater control over their learning.
TE: Can you tell us about the ways in which Instructure has guided schools in their data analytics journey through the year, and what is in store for 2020?
MC: Throughout 2019, we have worked closely with a number of schools to empower them to leverage the potential of data analytics in the classroom. In the background, we are constantly listening and working on updates to bring a more intuitive, efficient Canvas platform. With Canvas, Instructure has always believed that a schools' data belongs to them, so we make sure that this raw data is always available at no additional cost. Throughout 2020, advancements will be released making the data more rapidly available and even simpler to work with, supporting smarter learning decisions for students, teachers and parents alike. We are staying focused on aiding students in monitoring their own development, rolling out our second-generation analytics tools and launching our predictive analytics tools in 2020. The data available in 'Student View' is accessible for both students and teachers, allowing for trends and outliers on performance and activity to be easily identifiable. These tools will play an important role in deepening the understanding of learning and performance to support student success.