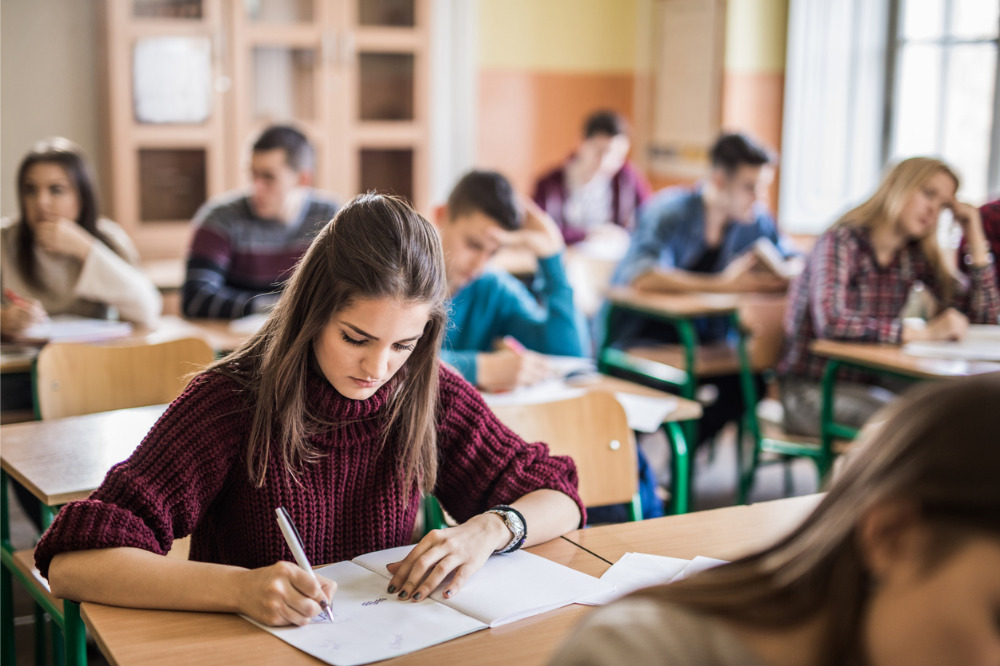 In coming weeks, the disruptive school year that was 2020 will culminate with Australia's Year 12s sitting their final high school exams.
Many senior students have admitted that the COVID-19 restrictions have made preparing for this year's end-of-year exams more challenging, and to educators and researchers this news comes as no surprise. Indeed, significant work has been underway to address this important issue.
The NSW Government recently announced it would be extending a successful tutoring program to ensure they don't fall behind in their learning. Victoria is also investing heavily in tutoring programs as its students come out of lockdown and return to face-to-face learning.
Leveraging collaborative creativity
Dr Tim Patston was the inaugural Coordinator of Creativity and Innovation at Geelong Grammar School, where he embedded creative competencies across the four campuses. He now runs the consultancy Creative Actions, building creative competencies in teachers and students. He is also Senior Adjunct at Uni SA and a Senior Fellow at The Melbourne Graduate School of Education.
Recently Dr Patston has been researching how certain elements of creativity can improve academic outcomes, build resilience and moderate stress in adolescents.
He says now is the time for students to freshen up their learning with collaborative creativity, and that principals can play an important role in this context.
"School leaders need to demonstrate the attitudes of creativity, both explicitly and implicitly, to all stakeholders, and collaborate and consult in the process of building creative competencies from an asset perspective," Dr Patston told The Educator.
"What worked well in lockdown? They also need to inform staff, students and parents that research shows that building creative competencies in students and teachers has positive and tangible outcomes in many areas, such as motivation, but, perhaps more importantly from a teacher, school and parent perspective, academic outcomes."
Dr Patston said one way to do this is to explore with a body of stakeholders how the attitudes and attributes of creativity may be impacted by the context of their particular working environment.
He said examples of this include:
How may a school leader demonstrate curiosity?
How may a classroom teacher demonstrate curiosity?
Where are teachers encouraged to demonstrate independence in the workplace?
How does a school leader demonstrate openness to new experience?
What are the consequences of demonstrating these creative attitudes or attributes from the perspective of a school leader?
How are these consequences currently communicated to staff and students and parents?
5 tips to help students prepare for end-of-year- exams
Dr Patston says students are primarily concerned with three tasks – taking notes, consolidating information in summary form, and devising strategies for how to remember the material in their exams.
Below, Dr Patston shares five tips students can use to prepare for their end of year exams.
Tip 1 – Ask your friends for their most successful strategies in notetaking, summaries and study techniques. Be creative and try something new – it may surprise you how effective it is.
Tip 2 – Use a different note summary technique for each subject – it makes recalling information easier.
Tip 3 – Write right exam questions for your friends and ask them to write exam questions for you. Learning from your peers is the most powerful learning strategy we know.
Tip 4 – Do practice exams in a random order, not from beginning to end. Perhaps answer the questions you are most sure of first, this will build confidence for the rest of the exam and put marks in the bank.
Tip 5 – Change the lyrics of a song you know to quotes or formulas you want to remember. Music is a powerful memory trigger and no one in the exam will know you are singing inside your head !!!