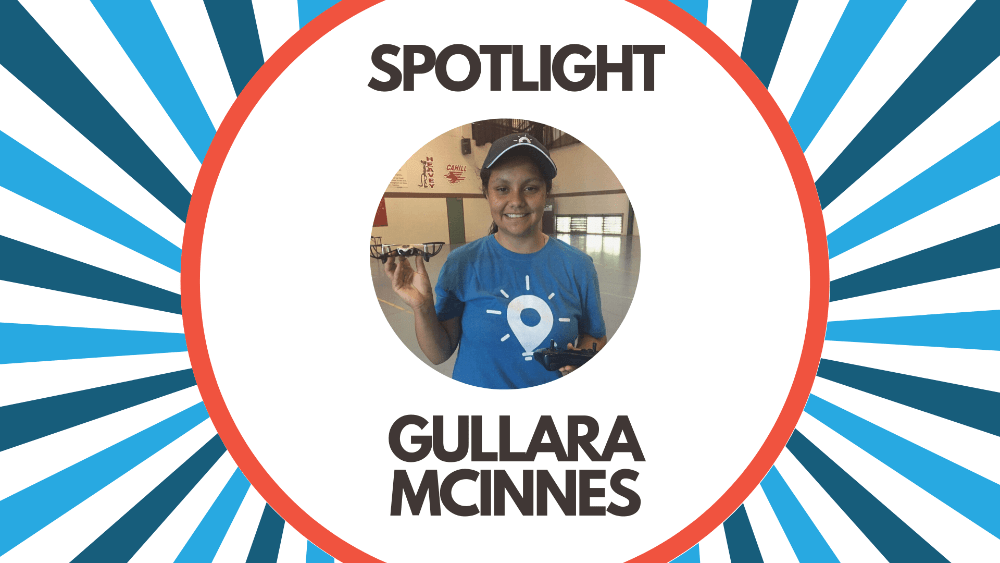 An Aboriginal teenager from Far North Queensland is using the power of drone technology to preserve the history of the Wallara clan of the Koko-Muluridji people.
19-year-old James Cook University Bachelor of Science student, Gullara McInnes has combined her love of drones and mapping with her passion for her traditional country to give local Elders the opportunity to identify traditional Aboriginal sites from the sky.
"As some of our Elders passed away and others were physically unable to point out certain traditional sites, we were faced with a problem," Gullara said.
"There are big trees that surround the locations and restrict us from easily accessing them. That's when I decided to use two drones—one to provide a bird's eye view and the other to get under the canopy—to enable our local Elders to identify the different sites, all using modern drone technology."
Apart from preserving native history, there is also another motivation for mapping country.
"In Mareeba, there are a lot of non-native trees and grasses that threaten the important sites. By using geospatial mapping, we are able to use that data to safely burn these grasses without endangering the sites or any surrounding environments".
Gullara's innovative use of drone technology to 'Map Country' resulted in her winning the "Caring for Country Award" during NAIDOC Week in 2020.
Gullara's love for drones was ignited in 2016, when as a Grade 8 student at Mareeba State High School, she accepted an invitation to attend a three-day drone camp hosted in Cairns by national drone and geospatial education provider, She Maps.
Co-founded by scientist and James Cook University academic, Dr Karen Joyce and husband, Paul Mead, She Maps was established to encourage more women and girls to engage in science, technology, engineering, and maths (STEM) through drones and geospatial technology.
"Dr Joyce opened me up to the possibility of pursuing STEM, especially geospatial mapping, as a career path. Before this encounter, I didn't know where exactly this type of field could take me but now I have an ideal goal," Gullara said.
At the camp, Gullara learnt how to handle drones, and even how to code. It was also at this camp that a relationship with She Maps was born.
"I very clearly remember Gullara from our first ever drone camp! She was so motivated, driven, and displayed great leadership skills," Dr Joyce said.
Throughout Gullara's journey, stereotypes associated with her Aboriginal heritage and gender bias have constantly tried to hold her back.
"I've heard all of the disparaging comments ... Aboriginals are lazy, you're paid to win all your awards, you're too smart to be Aboriginal, you can't fly drones because you're a girl," Gullara said.
"I choose to live by the mantra, 'The woman who follows the crowd will usually go no further than the crowd'. However, the woman who walks alone is likely to find herself in places no one has ever been before".
Gullara's strength and tenacity has allowed her to break through the glass ceiling to educate and inspire many others, including participating, winning, and eventually organising "The Tournament of Drones" event in Cairns for several years. She even trained teams who all scored in the top 10.
Gullara also started her own drone club at Mareeba State High School, which initially was more of a sports-orientated school. The club allows students, boys and girls alike, to delve into the world of STEM.
And now, Gullara has been confirmed as the keynote speaker at the forthcoming STEM Aboriginal Learner Congress in August hosted by The Young Aboriginal STEM Thinkers of South Australia, a congress run by Aboriginal young people for Aboriginal young people.
The congress aims to engage attendees with science, technology, engineering and math learning, and industry experiences, to inspire them to realise their aspirations and take on challenging subjects at school, and future learning.
The congress, attended by Aboriginal and Torres Strait Islander learners from the ages of 10 to 16, is designed with an Aboriginal community context, to provide learners with the opportunity to further explore skills they will need to be future innovators and problem-solvers.
Gullara McInnes encourages girls to break down the social barriers and to dream big. Her story has, and will continue to, kindle a flame in many young girls, and her unrelenting spirit is an inspiration to everyone who crosses her path.
"I'm a girl who loves science and drones, and no matter what people say, I'm not stopping until I'm the greatest female drone pilot in Australia. Then I'm setting my bar to global recognition, and I hope that one day, I'll be able to teach the operation of drones to students".
This original article originally appeared as a media release from She Maps.