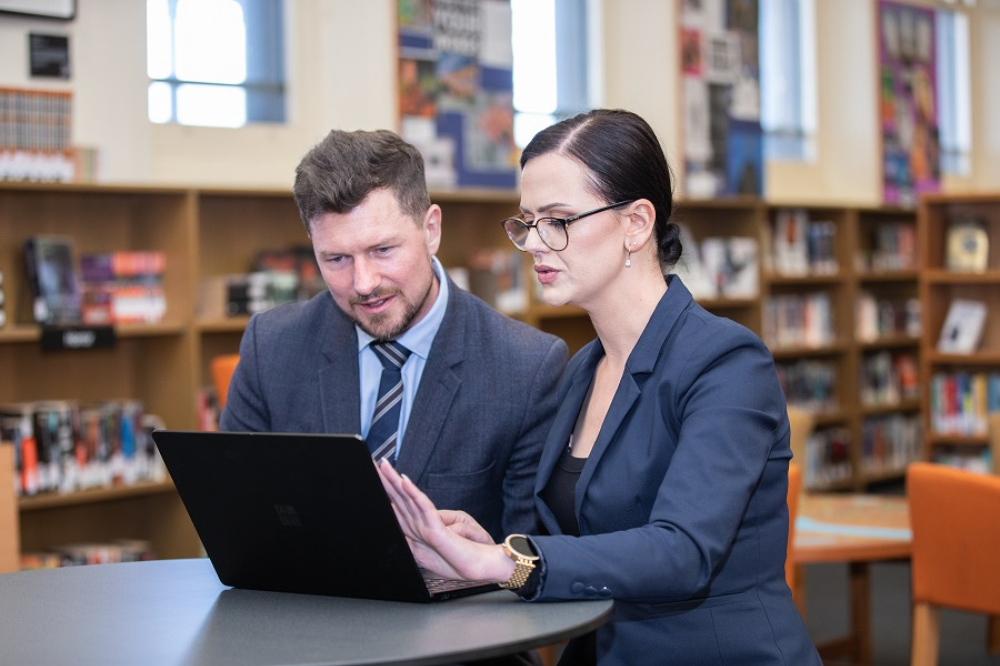 While the effective use of research evidence is critical to improving teaching and learning, it is not always well understood. However, a groundbreaking project is aiming to change that.
The Monash Q Project – a five-year-long partnership between Monash University and the Paul Ramsay Foundation – is leveraging the expertise of more than 2,000 teachers across Australia to improve research use in schools and unlock student potential.
The team of Monash University researchers has collaborated with school leaders, teachers, policymakers, evidence brokers, researchers and other key stakeholders across Australia to develop tools for teachers and other education professionals.
One of the significant impacts of the Q Project include quality use of the Research Evidence (QURE) Framework, which has been cited nationally and internationally.
Using evidence for impact
"What makes the QURE Framework unique is that it focuses on the quality of research use rather than the quality of evidence," Professor Lucas Walsh, Chief Investigator on The Q Project, told The Educator.
"Quality of the evidence is, of course, important, but what's distinctive about our approach is how well we use evidence."
Professor Walsh said the QURE Framework highlights enablers for quality research use, including educators' skills, mindsets, and relationships, as well as organizational elements like leadership, culture, and infrastructure.
"Wider system-level influences also play an important role," he said. "Considering how these interact has supported educators to approach research use in impactful ways.
One school leader in Victoria said the Q Project assisted them in providing a framework for how teachers and educators and leaders should engage with research.
"I think the idea of having the skillset, the mindset, and also the relationships around research though, that sort of triad, if you like, needs to be humming in order for the decisions we make to have the impact that we need them to have," they said.
"This provides school principals with clear domains they can focus on as part of professional development programs and experiences that actively incorporate, explore and build on how staff engage with research well as part of their practice."
A NSW principal said the QURE framework "sits so neatly within so much of what the system and the organisation is trying to achieve, and even more so at the school level".
"However, the extent of engagement varies depending on their role and comfort with research, so confidence and capability need to be taken into consideration," the principal noted. "We think that good evidence use is for everyone and should inform all that educators do."
Stronger collegial support networks
Professor Walsh said studies have highlighted the importance of relationships when it comes to using research well.
"A challenge that exists is that there is very little guidance for educators on how to collegially and collaboratively engage with research well; much of the available guidance focuses on teacher collaboration more broadly," he said.
"Our work with AITSL outlines how specific forms of collegial support networks help educators to find, assess and use evidence. Using evidence well is also a team sport, involving collaboration with colleagues within and beyond the school, discussing what worked and making shared decisions."
Professor Walsh said finding the right, appropriate evidence involves networking, seeking advice, and reaching out to others for word-of-mouth recommendations from colleagues.
"Assessing and interpreting evidence involves consulting with others and considering different views. Our work has focused on supporting educators to foster these collegial support networks in their practice," he said.
One system actor from Victoria said their journey with the Q Project has been "invaluable".
"I gained a lot of tips, more tips about searching and also about leadership. So leading others through role modelling, and through establishing ways that people can collaborate. So that's had a really big impact, I think, on my role," they said.
Professor Walsh said teachers and leaders might not be able to access quality research because they are behind paywalls (infrastructure), and finding the time to actively (and even informally) build and support collegial networks is often scarce.
"Leadership needs to bring staff along with them during the journey. This is critical."
A growing appetite for quality research use in schools
Professor Walsh the Q Project has positively influenced teacher buy-in and engagement with research evidence.
"During the last five years we have engaged over 2,100 Australian school leaders and teachers, 1,700 Australian schools and more than 200 Australian and international education system leaders, so we've seen an appetite for quality research use in schools and educational practice," he said.
"We have collected many inspiring stories of teacher buy-in and engagement with research evidence and created a short film featuring teachers, school and system leaders."
Professor Walsh pointed to an example of two educators at a special school in regional Victoria, who recognised the importance of ensuring that practice changes in their school were research-informed and not just a "quick fix" but were unsure about how to best adapt research to their setting and support their colleagues in its implementation to then 'bring the staff along'.
"School leaders including principals are critical to strengthening impactful research use by: modelling research use – as one teacher described: 'Leaders should not only quote what the research says, they have to walk the talk and model its implementation'," he said. "They must also involve others in research use."
"As one principal emphasised: 'You can't have just one person using research in isolation, it has to be a collaborative approach'. And it's also important to support research use, as one teacher explained by saying, 'We need the time and resources to explore the research, reflect on it and workshop it until it works well'."
Helping leaders identify their strengths and weaknesses
Professor Walsh said simply providing schools with research will not support quality professional learning, which is why the University's Q Suite resources provide scaffolded conversation starters, illustrative case studies and behavioural cues.
"These resources help put these findings into action, and have supported educators' capability to engage with research," he said.
Professor Walsh said the University's research has also indicated that it can often be difficult for educators and principals to reflect on their use of research.
"This is something we aimed to address through our QURE Assessment Tool," he said, sharing another testimonial from a (NSW) principal who has leveraged the resource.
'It's not often, very rarely that leadership teams get the opportunity to reflect on the effectiveness of how they're using research. So that was a really new, and for us it was quite novel to do that, to have time to do that. So, the Q tool was really helpful to get us to have a really good conversation.'
As a result, says Professor Walsh, the assessment tool has contributed to improved school leadership. He shared the testimony of another (primary school) teacher, who said the tool has been markedly effective in not only helping identify what leaders do well, but also how they can improve.
"We looked at research and then was able to have some really deep conversations around areas of improvement," the primary school teacher said. "So, it really helped us as a leadership team to make some real improvement."
Professor Walsh said the University's approaches to professional learning, co-designed with educators and based on a review of effective professional learning, have also informed cultural and strategic change in schools.
"A staff member at one high school told us that during coaching with the Q team, they had light bulb moment of 'Do we actually need to do all of these things? Or can we do things really meaningfully in a way that is going to give [teachers] the time without taking too much of their time?'" he said.
"The Q Project team has coached staff to foster strategic thinking, as one educator told us: 'I just have had a sense of empowerment, I suppose around learning explicitly how to contextualise for your own school and what to look for and how important it is to do that [as a deputy principal] when looking at research.'"
Professor Walsh said this has been instrumental helping educators and system leaders to think differently about their practice.
As another participating school leader explains, the Q Project's true power lies in simplifying the convoluted, and broadening teachers' perspectives.
"Q has taken something that is in the 'too hard' basket, [and] created a bridge between 'too simple' and 'too complex' in schools and putting in a framework that thinks about research engagement in a way that many educators haven't thought about."