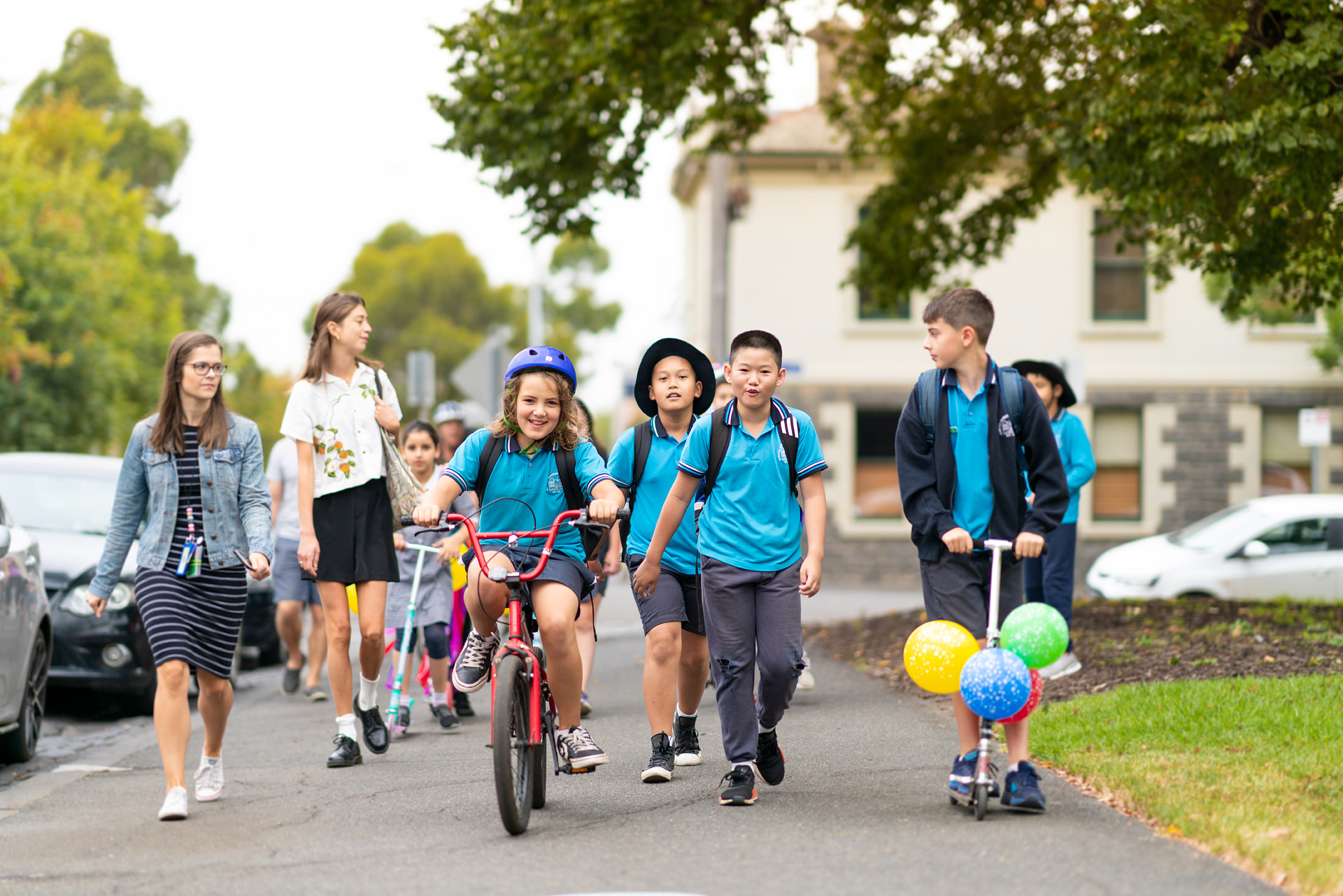 Over 350,000 students across the nation will ride, walk, scoot and skate to school on National Ride2School Day on Friday 24 March 2023.
National Ride2School Day is Australia's biggest celebration of active travel and the peak of the nationwide Ride2School program which works to help children get their 60 minutes of daily exercise by riding a bike to school.
'A day full of fun and colour'
Bicycle Network CEO, Alison McCormack, said that National Ride2School Day is "a day full of fun and colour" where students, teachers and parents discover the joy of riding and kick-start healthy habits for the future.
"Riding to school can help students perform better in the classroom. Students who actively travel to school are more awake and alert. Their concentration levels and understanding of content improves," McCormack told The Educator.
"Students who are physically active are happier and healthier," added McCormack. "They also become more self-sufficient and build resilience".
National Ride2School Day in 2022 saw 911 schools participate, including 307 schools for the first time, pushing the total number to a record 370,000 students. Bicycle Network is hoping that participation numbers in 2023 will surpass 400,000.
"National Ride2School Day is a great introduction to the wider program and can be the catalyst to creating a school of healthy, self-confident, active students," McCormack said.
Far-reaching benefits
Marita Ryan, PE Teacher at Albion Primary School, said the event has social, emotional and health benefits for young people.
"Students can be active before and after school and feel part of the bicycle community at Albion PS. They are also able to participate in activities on the athletics track at lunch time which are set up by the house captains," Ryan said.
"Our school has started to set monthly dates to do Walk or Wheels to school day. Students receive a sticker as a reward and are able to participate in lunch time activities around the athletics track with their wheels".
Kelly Frost, a teacher at Warburton Primary School in Victoria, said many of her students are looking forward to National Ride2School Day.
"Riding to school allows children to move their bodies and engage their minds each morning before arriving at school," Frost said.
"Physical activity gets those endorphins pumping so it aids in beginning the day filled with 'happy hormones' and you get a chance to stop and spot a platypus in the river, listen to the birds and feel the fresh air in your face all the while enjoying friends company".
Emily Torney, a teacher at Bellbrae Primary School on the Surf Coast, said students who move their body and mind, arrive at school energised and ready to learn.
"Riding to school will also improve their independent mobility, confidence and social connection. It's also better for the environment," Torney said, adding that this term, Bellbrae Primary is running a 'Make Your Move' to school campaign.
"We are running fun activities every Friday morning (before school) and educating our students on cycling, pedestrian and road safety".
Cade Mills, a teacher at Victory Lutheran College in Wodonga, Victoria, said students who walk or ride to school contribute to their minimum 60 minutes of physical activity each day.
"Students who walk or ride to school come more focused and ready to learn. This morning activity helps students be happier, healthier and have an overall feeling of social connection," Mills said.
Mills offered some advice to a parent or student who is thinking about riding to school for the first time.
"Plan out the route which your child will take; do a practice run so that they feel confident; and find other kids in your area that they could ride or walk with," Mills said.
"Perhaps you could regularly ride or walk with your child to school. The benefits of being active together are enormous."
National Ride2School Day is a free event open to all primary and secondary schools in Australia. Schools that register have access to a range of resources to help them celebrate the day, including posters, promotional material, stickers and count sheets to tally the number of students who ride to school.