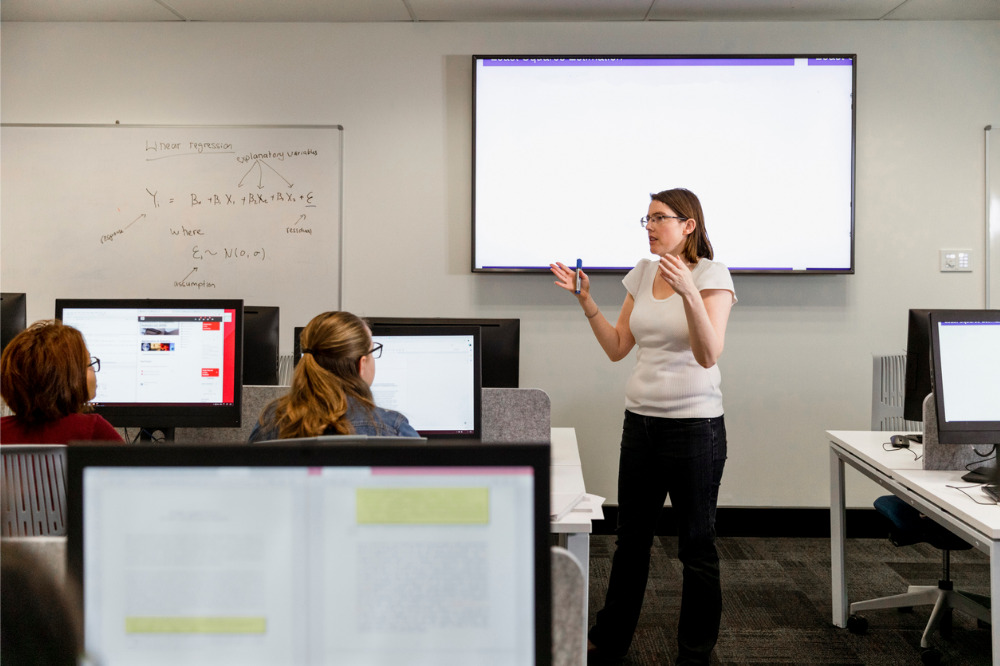 The most recent Program for International Student Assessment (PISA) data shows that Australia's results in maths have declined further than any country but Finland since 2003.
The report, released in 2019, found the average 15-year-old Australian student was 3½ years behind the average Chinese student who sat PISA, and more than a year behind where Australia was in 2003.
According to some experts, assistive technologies can play an important role in helping Australia reverse this slump.
As the COVID-19 pandemic led to the shutdown of schools last year, demand for ed-tech tools soared by 300% in March 2020 alone, and this demand hasn't slowed down as students continue to return to the classroom.
However, there have been concerns in recent years about the impact over-reliance on digital devices and other ed-tech in schools is having on students' learning. This has led some state governments to review the use of smartphones and other devices in classrooms, out of fear that they're too distracting and detrimental to learning.
Still, some experts say the 2020 pandemic showed the critical role that technology can play in helping schools deliver learning, and how it can open doors to academic improvements that might never have otherwise happened.
"Today's students expect that their learning will be digital and online, and they strongly prefer it, as opposed to the textbook and pen of yesteryear," Greg O'Connor, education and technology lead at Texthelp APAC, told The Educator.
"One of the best things that we can do to influence a child's learning development positively is to upskill them on technology".
O'Connor says this has only been accelerated by the COVID-19 pandemic, where schools were forced to adopt an online-first approach to learning.
"We need to get a handle on the technologies and tools kids are using day to day, such as Read&Write, which is designed to support literacy," he said.
"This is particularly poignant given we know the number one reason students fail to complete a tertiary level course is because of challenges with literacy".
O'Connor said that when it comes to Australia's "troubled relationship" with maths, there is no silver bullet, to lift student outcomes. However, he said some technologies have shown remarkable success in helping address some of the core issues that impact students' learning.
"Education technology is one of the pieces of the puzzle that allows kids to have different ways to demonstrate their mastery in maths and for teachers, it gives them additional tools for their toolkit to teach maths," he said.
"For example, there is educational technology out there like Equatio that allows kids to speak draw or type their equations directly onto their device. This technology is far too important to ignore and we need to use it. Poor numeracy and mathematical skills are some of the most significant barriers to employment and productivity growth generally".
Perhaps the most serious issue that has come to light as educational technologies continue to proliferate throughout Australia's schooling sector is the reality of the 'haves and have-nots'.
"We've known for some time that the digital divide is more than just a lack of devices for students. Remote learning means that students need access to a reliable internet connection up to date software and hardware to get the job done," O'Connor said.
"So, it's about having equity of access to the whole technology ecosystem to bridge the gap and improve learning outcomes for all".
O'Connor said a number of Catholic educational diocese and TAFE systems have committed to implementing educational technology that allows access not only at school but families at home.
"The Northern Territory Catholic Diocese is a great example of how education technology and equity of access can help level the field. They have committed to bringing technology into their schools in alignment with National Policy Initiatives and State-Based Reforms," he said.
"For ed-tech to become truly equitable, it requires a commitment from a broad range of stakeholders from the government all the way down to the teachers in the classroom to ensure the digital divide is closed quickly".