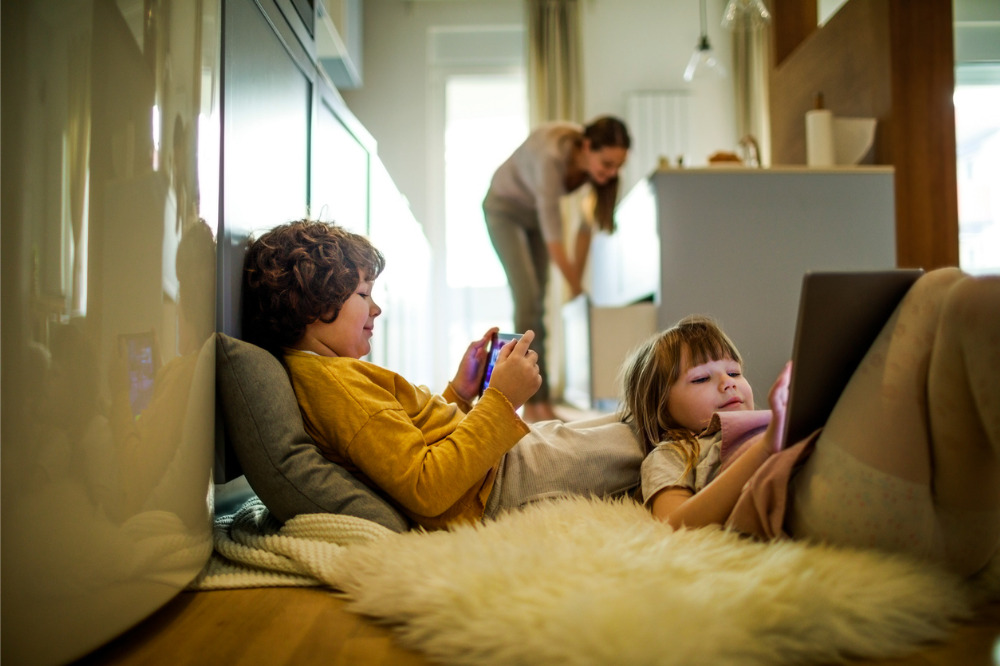 Eighty-three percent of parents think their children are negatively distracted by digital devices, a major survey of 2,500 parents, grandparents and caregivers during the COVID-19 pandemic has found.
The Growing Up Digital Australia report, released by the Gonski Institute for Education at UNSW Sydney released today, is part of an international research project, including Harvard Medical School (U.S.) and Alberta Teachers Association (Canada).
The study investigated how digital media and technologies impact children's wellbeing, health, and eventually learning at school and found that while parents acknowledge digital devices as being important to their child's learning, they are finding it increasingly difficult to moderate their child's digital habits at home.
As many as 65% of parents admitted negotiating the use of digital media and technologies at home causes conflicts with their children.
Professor Pasi Sahlberg, Deputy Director of the Gonski Institute for Education said the report's Phase 2 findings confirm what Australian teachers and principals told the Institute last year.
"Most children seem to be negatively distracted by digital media and technologies – in school and at home," Professor Sahlberg told The Educator.
"What makes this a particular challenge is that according to Phase 1 in Australian schools, 2/3 of teachers and principals say that technology is a growing distraction and now Phase 2 suggests that 90% of parents are negatively distracted, at least to some extent, by digital technologies".
Professor Sahlberg said this shows the challenges brought by digital devices today are not just students' issues.
"We are all in this together," he said.
"At the same time when technology is clearly a powerful enhancer and enabler, it is a growing distraction to most of us at home and in schools".
Professor Sahlberg said sustainable solutions to enhance digital wellness is to collectively find out healthier ways to live with and use digital technologies.
"Parents in Phase 2 wished that about half of parents wish more help and support from school to help their children to manage the use of digital gadgets at home. Similarly, teachers and principals in Phase 1 hoped that parents would help them to find ways to responsible and healthier use of digital gadgets at school," Professor Sahlberg said.
"When schools are seeing more children coming to school tired, distracted, and not ready to learn, and with a range of emotional, social and behavioural challenges, as we learned in Phase 1, teachers and principals should know that our Phase 2 reveals that about one third of all children included in this study take their digital device to bed with every single evening".
Professor Sahlberg said one effective way to improve the work of everyone at schools and thereby the quality of school outcomes is to "invest systematically in healthier digital habits at home and in school".
Equity issues persist
The study found that lower-income parents and lower-achieving students, in particular, are most at risk of distraction from interactive media use.
Dr Amy Graham, Research Fellow at the Gonski Institute, said this group of parents is less likely to implement effective monitoring and regulation strategies at home around the use of screens.
"They're also more likely to believe these devices are having no impact on child development," she said, adding that about half of parents surveyed say they would welcome more support from their child's school to help them and their child to manage digital media and technologies use at home.
"Parents know they need to be role models in the safe and responsible use of digital devices at home, but they still find themselves negatively distracted by digital media and technologies".