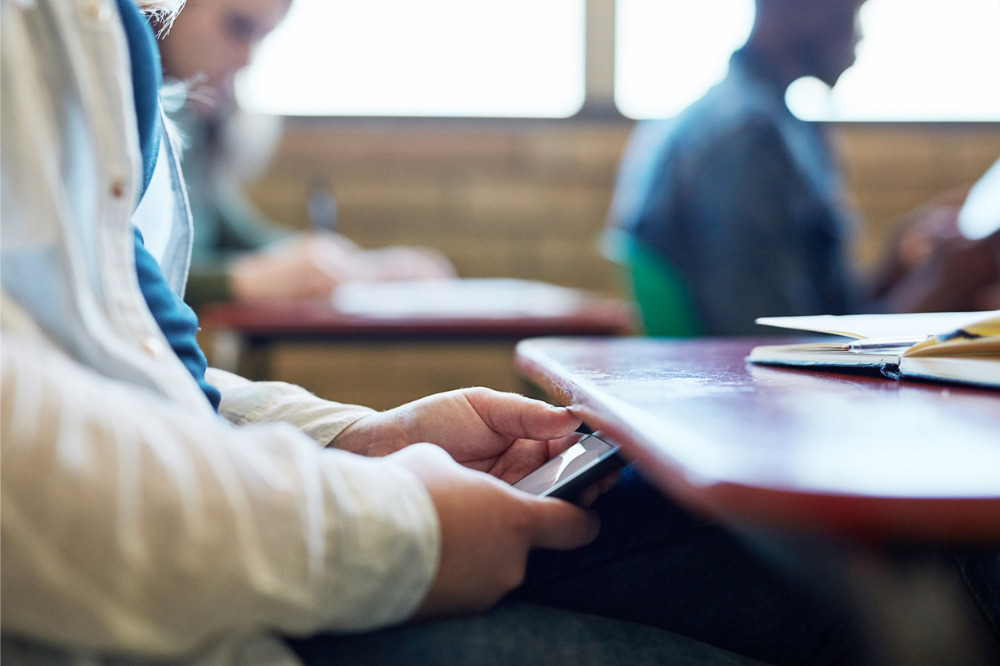 Studies show that Australians spend one third of their day in front of screens, and for Americans, looking at screens occupies nearly half of their day.
However, a growing body of research suggests that any more than a couple of hours in front of a screen can have a damaging impact on the brain – particularly when it comes to cognitive functions.
To address this, some states have moved to ban smartphones from classrooms, but educators have little control as to how often students engage with screens outside school hours, such as when they get home and switch on the TV or computer.
Throughout 2020, public school students in South Australia, Western Australia, Victoria and Tasmania were instructed not to bring their mobile phones to class, unless they are needed for class activity. NSW also banned smart phones in public primary schools but had given secondary students the option to bring phones to class since the start of last year.
In an article published in The Conversation recently, Louis-Philippe Beland, Assistant Professor of Economics at Canada's Carleton University, looked at several recent papers which point to the positive impact of banning mobile phones at school on student performance and other outcomes.
In a 2015 paper, Beland and his colleagues used a method — called a difference-in-difference strategy — as well as student data from England to investigate the effect of banning mobile phones on student performance.
"In this method, we compared schools that have had phones removed to similar schools with no phone bans. This allowed us to isolate the effect of mobiles phones on student performance from other factors that could affect performance," Beland said.
"We found banning mobile phones at school leads to an increase in student performance. Our results suggest that after schools banned mobile phones, test scores of students aged 16 increased by 6.4% of a standard deviation".
Beland said this is equivalent to adding five days to the school year or an additional hour a week.
"The effects were twice as large for low-achieving students, and we found no impact on high achieving students," he said.
"Our results suggest low-performing students are more likely to be distracted by the presence of mobile phones, while high performing students can focus with or without mobile phones".
Beland said the results of the paper suggest banning mobile phones has considerable benefits, including a reduction in the gap between high- and low- achieving students.
"This is substantial improvement for a low-cost education policy".
Global research points to the same result
Beland also discussed the results of recent studies from Spain and Norway, which used a similar empirical strategy his own study.
"[These studies] show compelling evidence on the benefit of banning mobile phones on student performance, with similar effect size," he wrote.
In Spain, banning mobile phones has been shown to increase students' scores in maths and science –as well as reduce bullying.
In Norway, banning phones significantly increased middle school students' grade point average, students' likelihood of attending an academic high school rather than choosing a vocational school, and decreased incidences of bullying.
Beland also pointed to studies from Belgium that suggest banning mobile phones can be beneficial for college student performance.
"This context might be different, but still informative as students are of similar age to those in high school," he said.
Research from Sweden, however, suggests little effect of banning mobile phones in high school on student performance. It is worth noting, however, the study did not find any detrimental effect of banning mobile phones.
Beland said a similar conclusion can be drawn from the literature on the effect of computers used at school.
"Evidence from the US suggests using laptops in class is detrimental to learning, and the effects are large and more damaging for low-performing students".
Professor Pasi Sahlberg, deputy director at the Gonski Institute for Education, is cautious about the phone bans.
"Most of 'screen time' takes place outside of school and simply taking the gadgets away from kids in school would not help, especially it is not a good idea for those who suffer from screens the most," Sahlberg told The Educator.
This issue, he explained, is best handled in close collaboration with children and their parents.
"We need to educate them about the advantages of technology and risks related to heavy use of it. We need to work with parents to set the limits how smartphones, games and media is used at homes and in schools".