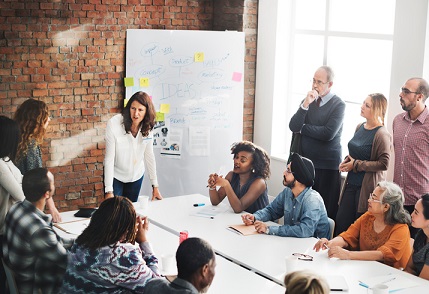 Whittlesea Secondary College teacher Ben Omizzolo is helping students take control of their education by having active voice into how they want to see their school operate.
Omizzolo, who holds the responsibility of leading teacher of student voice and agency, was recently announced as one of The Educator's Rising Stars 2019 for his work in supercharging student agency and wellbeing.
After serving as a year level coordinator during first semester of 2018, Omizzolo stepped up into the role of acting leading teacher for the latter half of the year at a time of significant change for the school.
The new principal had just been appointed and a significant number of areas needed to be addressed to meet student needs.
The school had undergone a challenging period after having two priority reviews and four principals in the space of twelve months. When Omizzolo stepped into the role, he immediately looked at the student data to determine how he could best support our young people and their needs.
Taking the lead with student wellbeing
Today, Omizzolo's role incorporates actively listening to students, understanding their needs and requirements and using this to make effective change for them.
"This role has assisted introducing the following programs that have increased student engagement across our College," Omizzolo told The Educator.
One of these programs, says Omizzolo, was a House system where House names, emblems, charities and colours were designed by the College's students.
"Our College has raised thousands of dollars for respective House charities so far in 2019," Omizzolo pointed out.
Other programs involve a Friday afternoon activities session where students opt-in to selected activities of their choice; ranging from various sporting clubs, performing arts clubs, movie clubs and private tutorial clubs, and a student leadership structure that has seen approximately 100 students become formal leaders of the College and are assisted with formal leadership training.
Another day-to-day component, says Omizzolo, is his wellbeing role.
"I believe all teachers are teachers of wellbeing, as well as social and emotional learning," Omizzolo said.
"This role requires supporting our students and staff on a daily basis to ensure they are well equipped to be in a positive frame of mind for learning in our classrooms."
Praise and recognition matters
Omizzolo considers himself a firm believer in School Wide Positive Behaviour and has used its principles to drive improved student wellbeing at the College.
"As humans, we respond and are more engaged when praised and given recognition for all the positive behaviour that we demonstrate," Omizzolo said.
"As teachers, our students do marvellous things, and as an educator l have seen the value in recognising positive behaviour, and also using positive vocabulary when correcting behaviour rather than our traditional means that we have seen in education across all schools."
Omizzolo said staff and students at the College created the College Positive Behaviour matrix together to create an environment of mutual respect and understanding.
"These reflect the new school values in the new era of 'Attitude, Application and Achievement'. We have a matrix for all environments in the College, and one specifically for learning in our classroom," Omizzolo said.
"Both of these are displayed in every classroom and every staff room across our College and are regularly used for reflection by all our College community members. They are a powerful tool as they visually display expected behaviour and raise expectations of our students at our College."
'A new strategic direction'
Omizzolo said the College has had a shift in culture over the past 12 months due to its new strategic direction.
"We have a very clear vision on how we are going to empower learners for the future," he said.
"Currently we are in a transitional phase as we continue to introduce new innovative programs to our College to benefit our students, and our community."
With the changes that have been brought into the College, Omizzolo said he continues to envision an environment of 21st century learners, that are prepared for an ever-changing world and are equipped to deal with the challenges that will bring.
"In a rapidly developing world, we as a College are developing with it. Our College will continue to educate community members that we are proud of, and they too proud to say they attend Whittlesea Secondary College," he said.