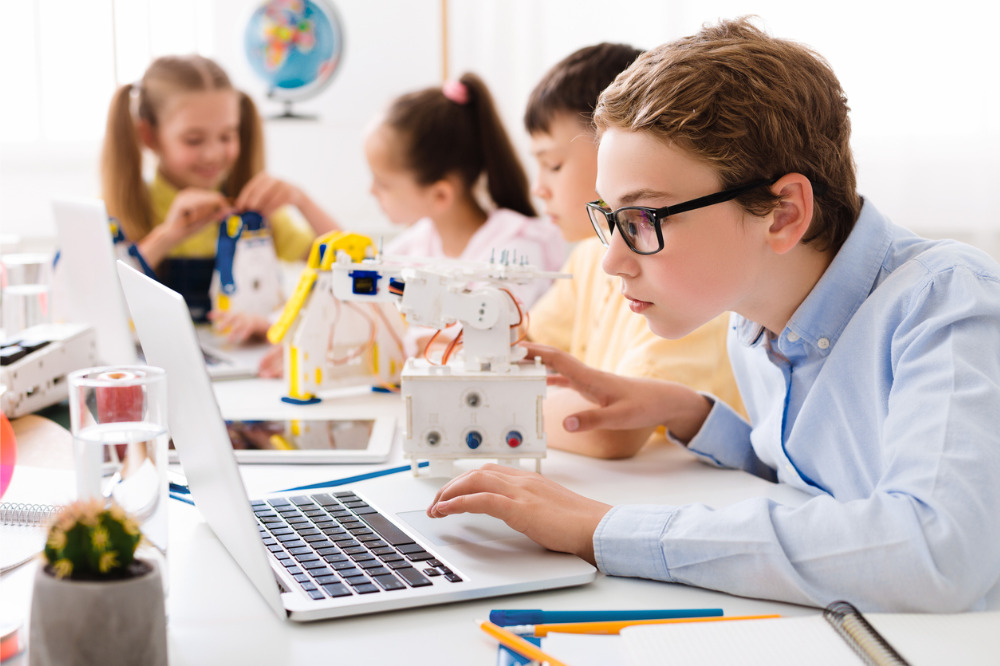 While schools were winding down after an intense and chaotic year, Mater Dei College was revving up an exciting new Project Based Learning (PBL) program in preparation for Term 1.
Over the last three years, the WA-based College has been consistently striving to significantly enhance student engagement through a number of teaching and learning initiatives.
The underlying philosophy of the school is that this cannot be done without taking significant risks in redefining pedagogical practise. Staff are therefore encouraged to be as innovative and creative as possible – and have "permission to fail".
In line with this sentiment, one such recent initiative was to completely collapse the College Timetable for students from Years 7-9 over the last 10 days of the 2020 academic year and embark on a PBL model.
As such students had the opportunity to work on their project all day, every day for 10 days.
Vice Principal Paul Watson said the reasoning for this was three-fold.
"Firstly, we wanted to significantly change what the end of the school year looked when in effect schools down tools," Watson said.
"Secondly, adding that such a model would challenge the status quo of 'Teaching to Assess'".
Despite significant progress in this area, Watson noted that students and some staff still operate under the belief that there's little point if they're not being assessed or not getting a mark.
"Education needs to completely move away from this rhetoric," Watson said.
"If we truly wish to inspire a future generation of passionate life learners then we must demonstrate that it is actually engagement and the opportunity to bring student voice and independence to the learning process that will lead to deep and powerful learning".
Watson pointed out that other than the showcase of student achievement and opportunity for staff and students to provide feedback at the end of the year this entire process was not formally assessed in any manner.
"Thirdly, whilst some staff have tried and tested the Project Based Learning pedagogical practice throughout their own learning areas and with their own classes it was limited and many staff did not have an accurate knowledge of Project Based Learning," he said.
"The intent was not to trial this initiative with the view to run it as an annual event each year but rather expose both staff and student to the pedagogy with the view that such practice would be become more embedded in the teaching and learning process through the whole school year in the future".
A positive buzz and a change in energy
Mater Dei College principal, Annette Morey, said the outcomes of Project Based Learning experience for the Mater Dei students and staff was something that she could not have envisaged when the idea was proposed.
"The opportunity to do something different to end a challenging year for staff and students, was exciting," Morey told The Educator.
"It was perfect timing given we have been strongly encouraging all staff to step out of their comfort zones, to do something different to engage our students and to challenge the traditional structured classroom, with permission to fail rather than churn out the same teacher-centred lessons".
Morey said she was overwhelmed by the "positive buzz and change in energy" in the yard and in classrooms by the students throughout the College from the moment the initiative was announced.
"Students were actively engaged in conversations with each other and staff about the projects of their choice," she said.
"Very pleasing was the noticeable change in staffroom conversation and interaction amongst staff across traditional learning areas, as they shared ideas and learnings".
Morey was particularly proud of her students and staff throughout the PBL experience and in particular at the Showcase, as the students took great pride in presenting their projects to their families and staff.
"The level of creativity and critical thinking of our students and the diversity of projects was exceptional and far exceeded my expectation. I look forward to more authentic learning opportunities in 2021 through Project Based Learning".
Students creating new friendships across year groups
Watson said the feedback from students participating in the PBL initiative has been glowing.
"Teachers helped us but didn't act like a fairy godmother to solve the problems," said one.
Another student said teachers gave guidance and inspired them but also allowed the independence needed to do their project solo.
Other students felt break times were a major improvement to their overall learning.
"It helps by keeping the balance of work and relaxation as times you can feel like a zombie doing the same thing each and every day with no freedom".
Staff at the College have been equally receptive to the program.
"The students were exposed to real life problems and situations, emailing, phone calls to strangers, asking for help, using manners in all of the above," one teacher said.
"They also used computer technology like garage band and editing and microphone use they needed to complete themselves".
Another staff member noted how the kids came together despite their year groups and delegated on tasks and came up with creative outcomes.
"It was also good to see them create new friendships with different students in different year groups".