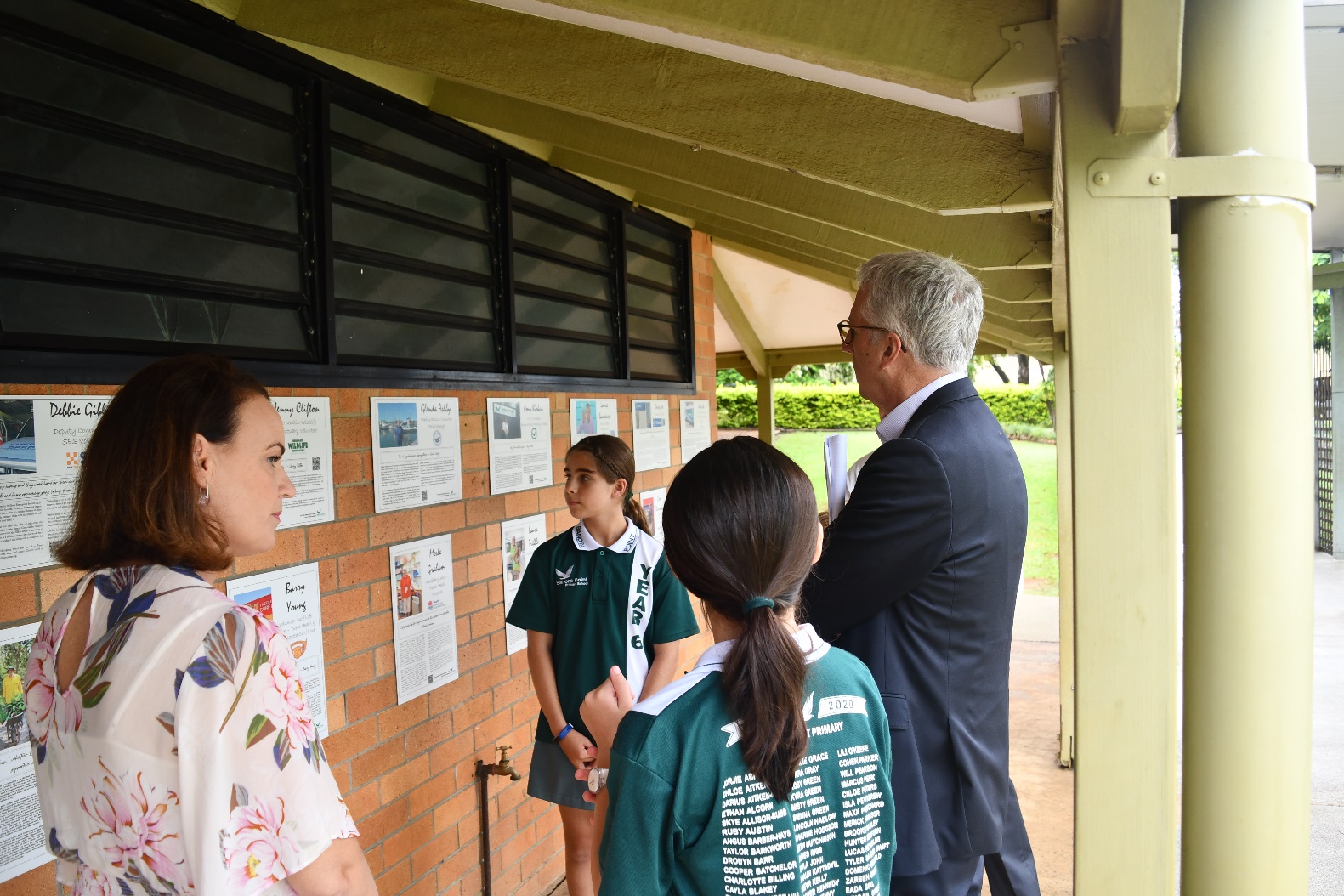 In schools across Australia, educators are using Project-Based Learning (PBL) to promote deeper learning, greater engagement and higher quality work.
PBL can be described as a multidisciplinary pedagogical approach to teaching and learning, and what it looks like in practice can vary from school to school, and the quality of a school's PBL program can differ depending on how deep an educator might decide to dive into the theory, and their own imagination.
However, Banora Point Primary School principal Paul Taylor believes it is high time that Australian schools – particularly Australian public schools – develop a clear vision of what high quality Project-Based Learning (HQPBL) is and what it is not.
Indeed, a growing body of research suggests that HQPBL may be the answer for higher rates of student engagement and educational outcomes.
However, Taylor says there are some misconceptions about this type of learning that need to be overcome.
"Perceptions can be inaccurate and can lead to missed opportunities," Taylor told The Educator.
He points out that while there are pockets of highly effective PBL, it is not widespread or popular in Australian public schools.
"A data obsession in the modern era has politicised education with demand for numerical proof [impact] of policy," Taylor said.
"While Professor John Hattie's research platform has been a revelation for Australian education and has been the 'go to' as schools have tried to boost scores, Problem-Based Learning (0.15) and even Inquiry Learning (0.31) were written off and PBL assumed a single strategy much along the same lines".
However, Taylor said that just as Corwin's 'Visible Learning' is not a single strategy, neither is PBL.
"HQPBL not only is a complex symphony of educational practice – it features the full suite of Hattie's high impact strategies," Taylor explained.
"It is also the platform we need in 2020 to address the societal, economic, technological and environmental change our world faces".
'A crucial opportunity at a crucial time'
Taylor said Australia's educators need to develop a more accurate understanding of HQPBL as "a multi-layer synthesis of John Hattie's strategies".
"HQPBL is not a single, standalone teaching strategy with a low effect size," he said.
"If this confusion is not addressed, this will be a missed opportunity at what is a crucial time in history".
Taylor said this is particularly relevant as communities across Australia see exploding rates of mental health and anxiety.
Included in the mix, said Taylor, is a fear of failure, uncertainty, real world isolation, obesity, depression, disadvantage, redundancy and poverty.
'Community values are fading just as big decisions are needed'
Taylor also highlighted the importance of schools "taking the lead and slowing down, focussing on less, spending longer doing it and zooming in tight on quality".
"Children need to learn what quality looks like and feels like and tastes like by doing," he said.
"Quality is found through craftsmanship and effort and refinement of work over time; carefully and purposefully shaped work through self-reflection and feedback. Our kids need work that matters, has meaning and serves real purpose".
Taylor said children also need to learn to continually ask themselves; 'Do I really understand?' and 'Is this the best work I can do?'
"Our children need to be able to visualise and articulate what quality looks like before they begin," he said.
"They must learn to believe in themselves and the value they each bring to others' lives. The development of values and character and culture are integral to HQPBL and are often the driving motivation for high quality work and deep understanding".
Taylor said enabling kids to move from a position of 'I have to learn', to 'I am interested to learn' and then to 'I need to learn' must be the "collective goal" in education.
"HQPBL shifts learner mindset from compliance to engagement and on to empowerment," he said.
Taylor said that if public schools are to harness the power of HQPBL, educators need to clearly define what it actually is.
"HQPBL will draw together the full suite of high effect strategies. Is it easy? No. Simple? No. Procuring and fine tuning a symphony orchestra as conductor is complex," he said.
"Leading HQPBL; an elaborate composition of learning design, learning culture and explicit teaching is no different".
'Not for the faint of heart'
Taylor said developing the in-depth knowledge and skills required to facilitate HQPBL will "push accomplished educators to the limit" and will take years to refine.
"This is not for the faint hearted," he said.
"Is the celebration; the sheer joy of learning worth it? Absolutely. It may just be the experience that will change yours and your students' lives forever as they discover who they are and what they are made of".
Taylor said teachers who successfully implement HQPBL build very careful planning, content selection, practices and protocols that build culture, effective classroom management (0.52), explicit instruction (0.57), self-assessment and reporting (1.33), coaching and scaffolding (0.82).
"Such learning environments will exemplify explicit learning targets (0.50), success examples/models of excellence (0.57) a supportive culture/relationships (0.72) servicing critique and feedback (0.75)," he said.
"All of these practices and approaches are 'high impact' and are intentionally aimed at assisting students to (as John Hattie says on the Visible Learning website) '…. see themselves as their own teachers …'"
'Building the learner, not just the project'
Taylor said teachers must understand from the beginning that "without powerful learners, Project Based Learning is unlikely to be powerful".
"With HQPBL, the focus is really about building the learning experience and the learner, rather than the project itself," he said.
For Banora Point Primary School, the deployment of student engaged assessment practices with former EL Education Managing Director (USA) Cyndi Gueswell at was a deliberate first step towards this goal.
"Our work, based on Ron Berger's 'Leaders of Their Own Learning' 2014 publication, has focussed on building powerful learners first and foremost," Taylor said.
"We have sought to shape a culture that supports all students to take responsibility for their learning. Staff worked for more than a year refining explicit classroom practice before attempting ambitious projects".
Taylor said staff at his school took on board critique and feedback from Cyndi Gueswell, but also from each other through student centred coaching with a focus on learner behaviour, rather than the teacher's own moves.
"This approach honed in on the impact of teaching practice, rather than the practice itself and challenged staff to think differently about their teaching and the impact of their moves on actual learner behaviour," he said.
"It was only as our learners began to take greater responsibility for their learning, that students were unleashed to tackle actual projects".
What does it mean to be of service?
In 2019, students in class 5E selected and celebrated 14 volunteers who gave significant contribution to the Tweed community and whose impact has made the world a better place.
"Students explored the notion of 'service' and the variety of people who contribute to their lives," Taylor said.
"They felt these contributions needed to be acknowledged and decided to create a plaque for each volunteer highlighting their service to take back to their place of volunteering".
The gift, says Taylor, was to celebrate and thank volunteers for all that they do and to highlight their efforts in the hope of promoting more volunteering in the community.
"Initially students engaged with a range of biographical texts to identify structure and content before teaming up in pairs and selecting one amazing volunteer to celebrate; one who personally or whose organisation particularly connected with them," he said.
"Students learnt new skills on interviewing techniques with a journalist and were responsible for all correspondence with their volunteers, organising interview dates, coordinating an interview time and location, as well as ensuring they were available to attend the end of project celebration".
'Tears rolled down their cheeks'
Taylor said students extracted the most important and relevant information from their interview videos to use as a base for a final biographical text, crafted through multiple drafts and multiple critiques from their (crew) classmates, leading to their final flawless product.
At the same time students, learned how to take high quality photographs with a professional photographer. Meaningful images were captured by students of the volunteer in their place of service.
The photographs were then combined with the text and printed on professional quality plaques before volunteers were invited to a special presentation at Banora Point Primary School.
"One by one, volunteers were honoured on stage with their unique gift. Tears rolled down the cheeks of most in attendance before a slice of cake and refreshments – all lovingly prepared by the students – were served for the special guests," Taylor recalled.
"One child's mother wept as she described the event to the principal as 'the most incredible event she has ever seen in a primary school'".
'A rich and meaningful connection'
Over a 10-week period in Term Two and Three 2019, the school's Year 4 investigated the traditional sustainable practices of local Tweed Aboriginal people.
To begin with, students engaged in rich cultural experiences with local elders, developing a basic understanding of the diversity of traditional land management practices and the deep respect and custodianship local people have for the land.
Taylor said on and off-site inspiration led to all students wanting to create a meaningful cultural space for the whole community to learn from and enjoy.
"Students wrote persuasive texts and convinced the principal that this would be a good idea and for local organisations and business to contribute," he said.
"Students collectively decided that a traditional meeting place / yarning circle would be a fitting summary of their learning".
An adjoining 'Elders' Garden' was also added to the plans, with 50 local medicinal and edible plants. All children would become experts in one plant and created websites accessed by QR codes from signage installed in the garden.
"Students also worked collaboratively across three classes to create totem poles featuring local landforms and animals after consultation with the school's Aboriginal Advisory Committee," Taylor said.
"The space was complemented with a mural created by the school's 'Deadly Leaders' and opened with a whole community official ceremony".
When touring the space in February 2020, NSW Education Minister Sarah Mitchell described it as the most impressive Aboriginal school project she had ever seen.
The project was also named in the (US Based) PBL Works Top 10 Projects of 2019 by PBL Works Editor In Chief John Larmer when he visited Banora Point PS in 2019.
Above all, says Taylor, was a comment from a little boy in Year Four to his teacher on completion of the project.
"The student said that when his mum had enrolled him, she had not chosen to tick the box for Aboriginality because she had been bullied at school," Taylor said.
"The boy said that it wasn't like that at Banora and that he wanted to be known as Aboriginal because he was proud of his heritage".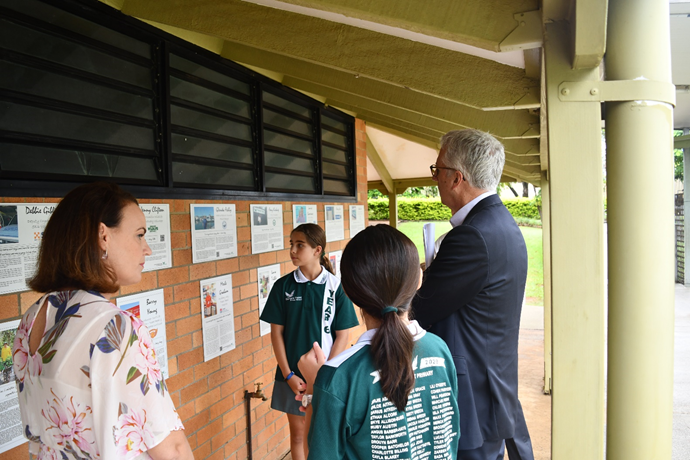 NSW DoE Secretary Mark Scott takes in 'What Does It Mean To Be Of Service?' projects with BPPS students and teacher Genevieve Esgate in February 2020