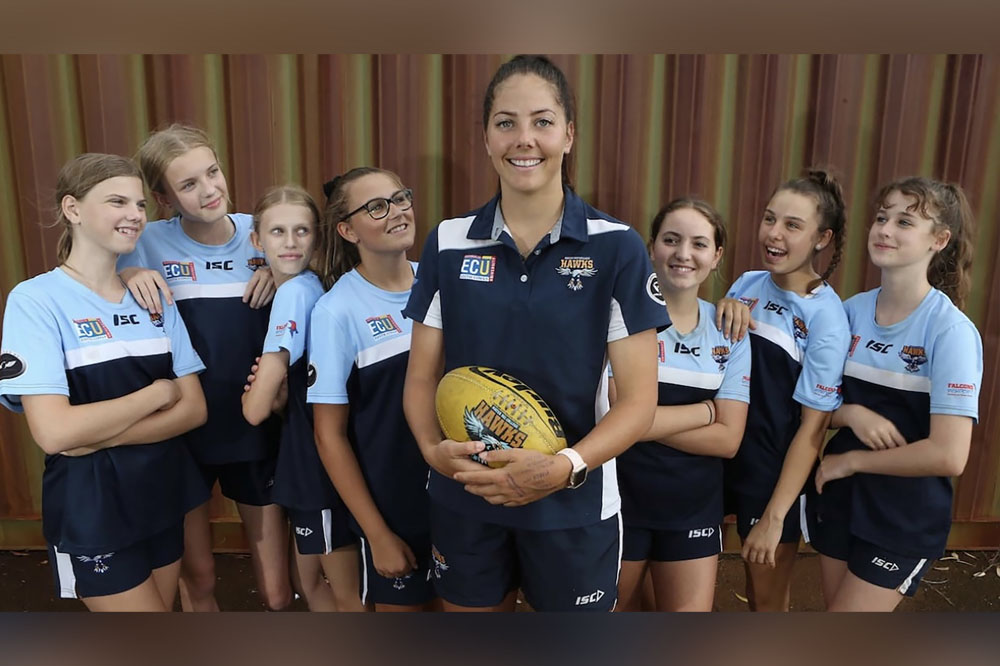 Research shows that the single biggest determinant of young girls' future success is their access to a strong, capable female role model.
For the girls in the Mater Dei College in Edgewater, Western Australia, that role model is Parris Laurie who, at the young age of 25, is both a member of the AFL Women's (AFLW) West Coast Eagle's team and head of women's football at the College.
Laurie was recently named a finalist in The Educator's Rising Star of the Year category, one of eight in the running for the honour ahead of the Australian Education Awards 2020.
Below, The Educator speaks to Laurie about her pivotal role in the Mater Dei Hawks AFL Academy program and its important role in empowering young girls at the College.
TE: Since joining the College in 2019, what have you sought to bring to the Mater Dei Hawks AFL Academy program, and can you tell us about some of the most inspiring and uplifting outcomes that you've seen? (particularly with regards to the female program).
PL: Since joining the College in 2019 my drive has always been to provide an example but also guidance for young females to pursue their AFLW pathway. I knew that I wanted to create an environment with high standards for students to strive towards, and in doing so, improve their skills and AFL knowledge. I didn't expect for students to excel the way they have and for a mentoring relationship to develop so naturally. I believe my ability to teach and coach my students while also setting an example in my personal AFLW career has been extremely influential in giving my students the belief that this is an achievable goal. Over the past 18 months the most inspiring and uplifting outcomes have been the achievements of my students in the community. A large number of my students have progressed from community football to WAFL Women's football, many at entry age (youngest players in the team). I have had a student represent the state as an underage player in U18's, going on to debut this year in WAFLW League. Multiple other students have also been chosen in state teams (unfortunately due to COVID-19 this was cancelled). This is extremely uplifting as their coach but the most inspiring achievements from my students is those who have been selected as leaders in their community and WAFL clubs. Whether this is Captain of their team or selected as a future leader in the leadership group, the women in the Hawks AFL program are not just performing on field but they are thriving in the community, displaying their ability to lead and inspire in their own football.
TE: The COVID-19 pandemic has been massively disruptive to sports. How did you – and how are you continuing to – navigate this challenging period in terms of delivering PE and AFL Education to your students?
PL: COVID-19 definitely took its toll on our students. A large number of students at Mater Dei are very sport driven and play multiple sports in a week. Such an abrupt stop to this, students found it challenging to go from an abundance of sport to nothing. Knowing this as PE and AFL teachers, we did our best to provide individual programs for our students to continue developing their skills and keep themselves busy. The delivery of home programs tested our creativity, but they were definitely beneficial. Face to face delivery when students returned was very skills based and gave us the opportunity to focus on fundamentals as no contact or contested training was permitted. In theory this is great, and it allowed us time to focus on specifics but with such competitive athletes our students were visibly relieved when they could compete against one another again. We are very lucky to be in WA and I am relived to be delivering our full AFL program once again.
TE: In addition to teaching the program, I understand that you're also juggling your training and playing schedule with West Coast Eagles. How are you managing this impressive balancing act?
PL: The balance of work and AFLW is something I am always working on and trying to improve. Term 1 of school is an extremely busy time for me, usually the weekend before school starts is the first round of the AFLW season. Travelling away most weekends and training 4 nights during the week means early mornings at school and not much time for anything else. I'm extremely fortunate to be in this position, the fact that I love my job (full-time teaching) and love playing AFLW makes it a lot easier for me to persevere through the busy times and enjoy the intrinsic rewards from both.
TE: Looking ahead into 2021, are there any ways in which you might be adapting or expanding these programs for students at Mater Dei College?
PL: Every week we are looking at new ways to expand the program and extend our students. COVID-19 has put quite a lot of proposals on hold but over the next semester and going into 2021 we will definitely be doing our best to get these rolling again. Something that's prevalent in all teaching is differentiated learning, this is an area that I'm focused on and always trying to improve. This includes using team-mates and coaches of mine from AFLW to assist me in developing the majority and extending our top students. Bringing in other athletes and coaches will offer other aspects and coaching methods for our program as new faces and different teaching styles can be really effective in engagement and further development.