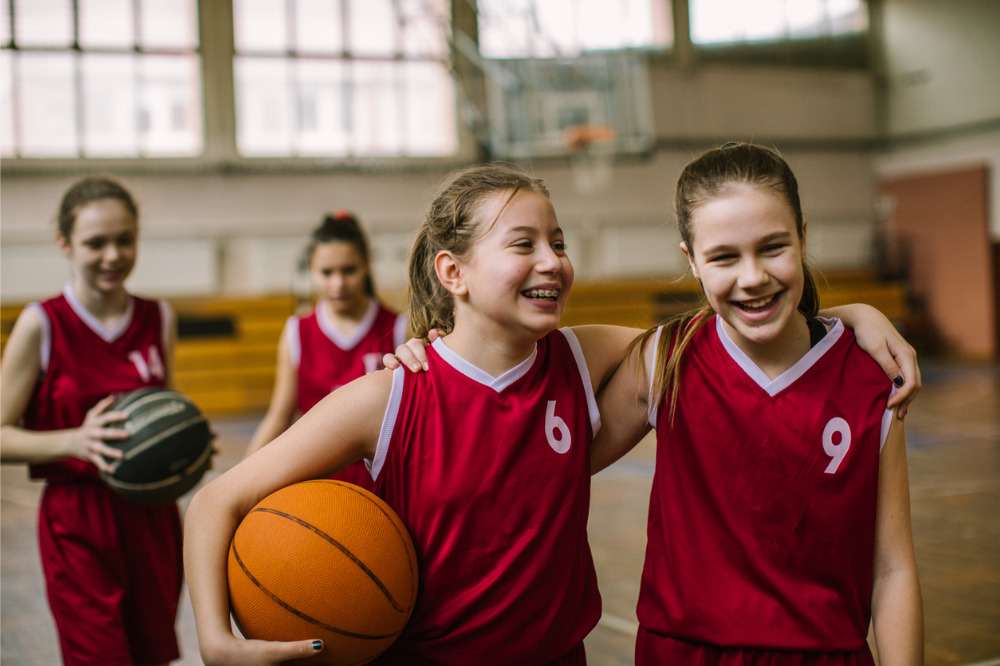 New research shows girls prefer single-sex PE classes and sports teams as they don't feel as self-conscious about their body image and clothing and are more likely to perform to their full ability when they participate in an all-girls team or league.
Research shared by the Alliance of Girl's Schools Australasia indicates not only that girls dislike being in the same PE lessons as boys and would prefer single-sex PE classes, but also that girls in single-sex PE classes experience more game play and physical activity than those in co-ed classes.
The study which separated boys and girls into single sex and co-ed teams looked at the heart rate of participants as they played sport.
Boys and girls randomly assigned to single-sex basketball classes had the equal highest heart rates, followed by boys in co-ed classes and last of all, by a significant margin, were girls assigned to co-ed PE classes who had the lowest heart rates. This shows that when playing in same-sex groups, both girls and boys are more active.
Tracy Herft, deputy principal at Strathcona Girls Grammar, said the research affirms the positive impact of single sex education on PE and sport for the school's students.
"An interesting outcome from this research is that students have recognised that one of the reasons they're not keen to participate in competitive, mixed-gender activities is that it 'reinforces existing gender stereotypes'," Herft told The Educator.
"Our students are more informed, have a greater understanding of the complexities of gender stereotypes, and society's traditional perception of females in sport. As an all-girls school at Strathcona we support our students in breaking these stereotypes and providing them with opportunities and skills to do this."
Herft shared some of the strategies she has used to help girls develop a greater sense of confidence as they grow into young adults.
"Positive body image is explicitly taught in all our Health and PE classes at Strathcona. Through these classes, our students are supported and encouraged to reflect honestly about body image and the impact it has on their self-esteem and confidence," she said.
"We want our students to feel comfortable in what they are wearing during PE classes and when participating in sports, free of judgement. Students have input into their sports uniform and have a selection as to what they wear."
Herft said school staff also discuss women competing in high level sport, and link this to a healthy lifestyle.
"We connect with high performing female athletes, who join us to share their experiences."
Herft said the latest research shows the many benefits of single-sex sporting teams and leagues, and shows how schools can leverage these benefits to improve girls' confidence.
"A key example for us at Strathcona is the increase in female participation and popularity of AFL, a sport that was traditionally male dominated," she said.
"Being at an all-girls school has provided our students with the opportunity to hone their skills in this sport, without the spotlight on a comparison with male peers."
Herft said one important factor here is that in an all-girls school there is no "traditionally male" sport.
"Every student has an opportunity to participate in every sport, whether in a PE class or in our extensive sporting program, competing with other schools," she said.
"More than ever before, we now have stronger female role models within sports that students can see. There is visible advocacy for the support and promotion of participation."
Herft said the role of staff at Strathcona Girls Grammar is to mimic this promotion of participation and to support the students who are excelling.
"Our students recognise that women can compete at high levels in every sport and that our sporting and PE programs provide them with opportunities to develop their skills and confidence to begin this journey."