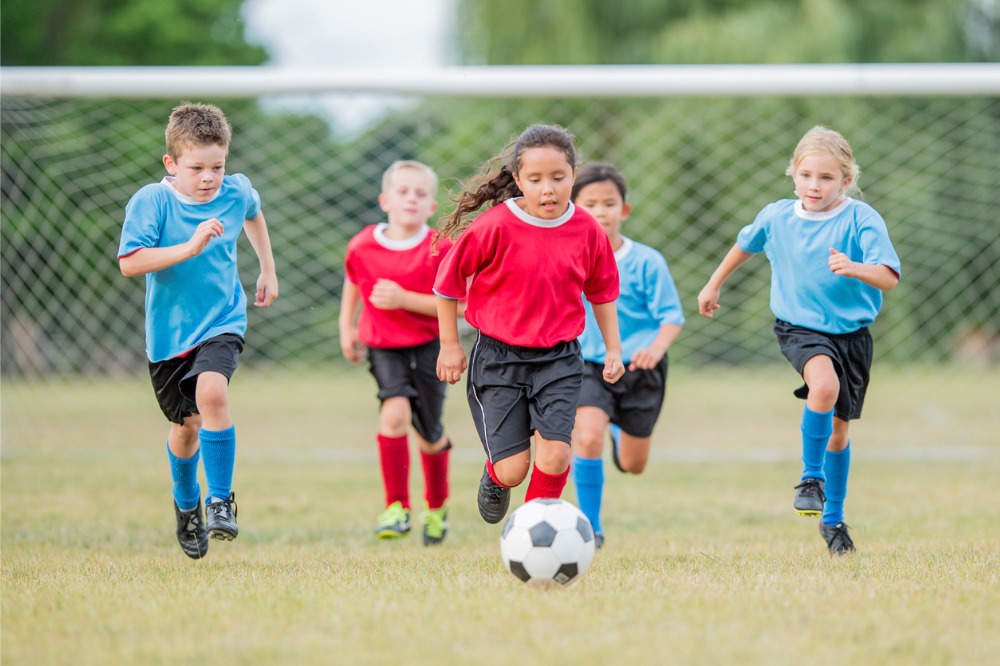 Studies conducted since the outbreak of the COVID-19 pandemic have found that an overwhelming number of principals and parents reported a decrease in physical activity due to the loss of sport in 2020.
Currently, less than 2% of adolescents meet the recommended physical activity (60 minutes a day achieving raised heartrate) and muscle strengthening (60 minutes 3 times a week of an activity like climbing, swinging, running) guidelines nationally.
And this is by no means a new problem. Even before the pandemic, health experts were calling on schools and communities to place a stronger focus on physical exercise due to a spike in sedentary behaviour among Australia's young people.
However, efforts are underway to turn this around. In NSW, teachers from 90 high schools will be upskilled to tackle physical inactivity in students as part of a three-year program.
Led by University of Newcastle researcher, Professor David Lubans, the evidence-based Resistance Training for Teens program will be provided to staff and students at each school to tackle the chronic issue of adolescent inactivity in year 8 and 9 students.
Resistance training is a form of exercise that improves muscle strength and endurance by working against forms of resistance such as free weights, weight machines, resistance bands and body weight.
According to Professor Lubans, an underlying factor behind the inactivity of Year 8-9 students is that many drop out of traditional team sports during high school and start looking for alternative activities.
"There are many factors that contribute to the decline in activity that is typically observed during adolescence, examples include lack of time [due to school and part-time work commitments], sport is no longer fun, lack of confidence, preference for socialising with friends and injuries," Professor Lubans told The Educator.
"Despite widespread myths and misinformation, it is now well-established that appropriately supervised resistance training programs are safe for young people and do not negatively impact growth and development."
Professor Lubans said another benefit is that injury rates from youth resistance training programs are lower in comparison to many other sports and physical activities.
"Finally, given the well-established benefits of resistance training for muscle mass and strength, insulin resistance and falls risk in later life, it seems prudent to provide young people with the knowledge, confidence and competence to safely participate in resistance training across the lifespan," he said.
"Schools are ideal settings for health promotion, yet few school-based physical activity interventions are scaled-up and evaluated."
Professor Lubans said the dearth of scale-up studies is notable, as to improve the health of populations, interventions that prove efficacious or effective in research settings must be scaled-up and sustained.
"Importantly, we will work with our partners to guide school policy and ensure that schools adhere to national guidelines by providing young people with opportunities to engage in resistance training and develop their skills for lifelong participation."
In other states, programs are underway to get young people more active following 18 months of sporadic lockdowns.
Associate Professor Shane Pill from the College of Education, Psychology and Social Work at Flinders University says Physical Education is an essential learning area in the school curriculum in Australia, but it's often not seen as a priority focus of learning.
"Once teaching was switched online it was further marginalised as a subject, with the 'education' portion of 'P.E.' easily discarded in favour of simple physical activity or fitness," Associate Professor Pill told The Educator.
"While physical activity is great for children and highly encouraged, the education part of the subject is important to help children have the skills and disposition to continue seeking out physical activity on their own. This development is in line with the curriculum progression expectations."
Associate Professor Pill said that with declining rates of physical activity participation and increasing sedentary behaviour among Australian children, P.E. is vital to ensure young people are taught the skills to maintain a healthy lifestyle.
"Teachers were given very little time or professional development to prepare online content and teach online; this needs to be addressed as online schooling continues in some states around Australia."