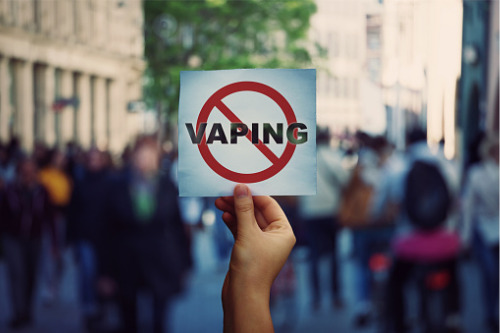 Lung Foundation Australia is calling for a nationwide ban on over-the-counter sales of vapes and e-cigarettes amid an alarming rise in youth vaping and increasing concerns about the true impact the use of these devices have on respiratory health.
This comes off the back of a recent study conducted by Curtin University researchers that revealed potentially toxic substances found in e-liquids or vape juice.
The study, funded by Lung Foundation Australia, Minderoo Foundation, and the Scottish Masonic Charitable Foundation WA, tested the chemicals and toxicity of 52 flavoured vape e-liquids available for sale over the counter in Australia and found that 100% of the products were inaccurately labelled and contained chemicals with unknown effects on respiratory health.
Almost a third, or 62%, of the products also contained chemicals that are likely to be toxic if inhaled repeatedly, while 21% contained nicotine despite the substance being banned in the country.
Additionally, the chemicals found in these e-liquids were known to cause respiratory disorders, including severe irritation when inhaled, and contribute to the development of lung cancer.
The researchers also found other chemicals that were known to be safe for use in other consumer and retail products but remained untested for short- and long-term respiratory health impacts when inhaled.
"With the unregulated, untested, and unknown nature of the vape industry, we knew the research into the chemicals and toxicity of e-liquids would uncover strong findings, but we never expected such alarming results," said Mark Brooke, chief executive officer at Lung Foundation Australia.
"Along with the concerning risks to lung health and the inclusion of nicotine, the ingredients within many of these e-liquids include those that are commonly used in household disinfectant, petroleum, cosmetics, paint and even eugenol which is commonly used to euthanise fish," he added. "While these may be safe to use for these specific purposes, they haven't been tested or determined to be safe as an inhalant."
Brooke said that a nationwide ban was vital to protect Australians, particularly young people, from the known and unknown risks of vaping.
Youth vaping on the rise
The latest figures from the Australian National Drug Strategy Household Survey have shown a rise in the use of e-cigarettes among young Australians. According to the study, lifetime use of those aged 14 to 19 jumped from 12.5% to 14.5% from 2016 to 2019. During the period, usage among the 18 to 24 age group also climbed from 19.2% to 26%.
"The inclusion of fruit, alcohol, and confectionary flavours, along with deceitful marketing, has meant these products are purposefully positioned as appealing to our younger generation, including school-age children, and in turn, most detrimental to their futures," Brooke said.
"The damage caused by the continual use of these products could be costing a generation their freedom to healthy lungs and have our hospital respiratory units facing patients with respiratory issues and even lung disease or cancer," he added.
Uncovering the real dangers
Dr Sukhwinder Sohal, a clinical respiratory scientist who has extensively researched the impact of e-cigarettes, said that knowledge on the dangers of vapes would soon become the norm, just as it did for smoking many years ago.
"Similar to what was learnt through research on tobacco smoke, we have discovered that e-cigarette vapor in the lungs is neither healthy nor safe," he said. "Research to date is already showing concerning results for vape users, including an increased likelihood of long-term adverse health effects such as decreased lung function, increased susceptibility to microbial infections, scarring of lungs and potentially, lung disease."
Dr Sohal added that what many users might not realise was that any combination of fluid can be placed into these devices, whether stipulated by the manufacturers or not, which meant users were often unaware that they might be inhaling harmful chemicals.
"This is most concerning in young vape users who, by naively experimenting with a combination of inhalants, could end up with ongoing respiratory distress and long-term lung damage," he said.
Dr Greg Haug, a respiratory physician who has researched vaping products with Dr Sohal, echoed these sentiments.
"We have already seen a number of people, even young people, with respiratory health concerns aggravated by or acquired as a result of vaping," he said. "It is an area of clinical concern and I support any educational campaign that might help to tackle this new and evolving health epidemic."
Information campaign launched
As part of its efforts to address youth vaping, Lung Foundation Australia has launched an education campaign to raise awareness on the effects of vapes and e-cigs on respiratory health.
The Unveil What You Inhale campaign includes the roll out of educational resources to support young people, parents, caregivers, teachers, and educators in empowering the youth to make informed decisions about their health.
"With the current climate shedding little to no light on these concerns, young vape users are left in the dark about the potential dangers," Brooke said. "In launching this campaign, we are hoping to change this by arming users, parents, and schools with the resources they need to have those difficult but very important and potentially life-saving conversations."
The educational resources can be accessed and downloaded from Lung Foundation Australia's official website.