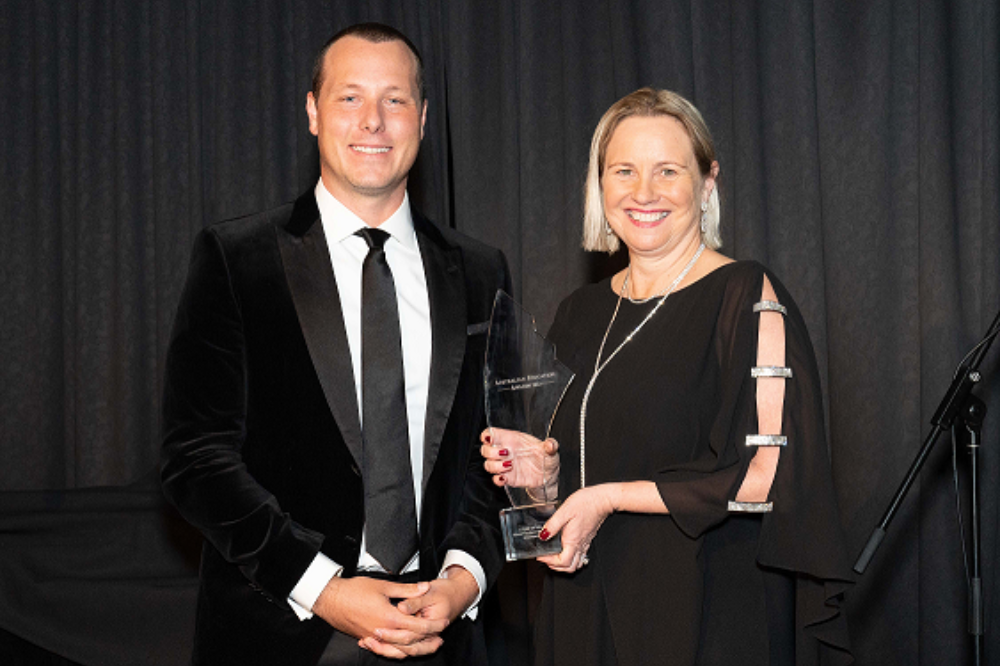 When it comes to educational excellence, it's safe to say Marsden State High School has a winning formula.
Indeed, the success of the school's approaches to learning has won it multiple accolades over the years, including a combined 13 trophies at the last three Australian Education Awards.
Marsden SHS won Best Professional Learning Program and School Principal of the Year at the Australian Education Awards 2021, and also picked up Excellence Awards in the categories of Secondary School of the Year (Government), Special Education School of the Year, Secondary School Teacher of the Year (Government) and Australian School Principal of the Year.
At the previous year's Awards, Marsden SHS school secured a whopping six trophies, winning the categories of Secondary School of the Year (Government), Best Professional Learning Program, School Principal of the Year (Government), and excellence awards in the categories of Teacher of the Year (Secondary School), Best School Strategic Plan and Best Student Wellbeing Program.
On Friday 12 August, the school was again recognised on the national stage when it collected awards for Education Perfect Australian School Principal of the Year and Primary School Principal of the Year in the Government category.
Marsden SHS Junior School principal, Alison Fahlbusch, said that for a school as large as Marsden SHS, success requires high performance from every member of the team.
"At Marsden we have just that – a high performing team of leaders, teachers, support staff and community working together to provide superior opportunities for our students," Fahlbusch told The Educator.
"Daring to inspire and make a difference for our local Logan community. These awards reflect this hard work and a performance culture that has developed over a number of years."
Speaking on the major challenges currently facing the profession, Fahlbusch says the voices and expertise of teachers and leaders must be elevated so that they can lead meaningful change.
"We must invest in and develop our leaders and future leaders to best serve their communities and to ultimately produce student graduates that are responsive to the emerging needs of those communities," she said.
"For real and sustainable change to occur, school leaders must have the courage to question the status quo, to analyse and improve educational practice within an individual context. Educating Australia's future is not a one size fits all."
Fahlbusch said solutions to the complex issues facing Queensland schools today requires trust in school leaders to make autonomous decisions to adapt and evolve practice specific to the needs of the community they are serving.
"In essence, education as a sector should be transformational for our students and our communities. For Australia to develop a system that is truly world class requires a national vision for change that inspires hope for the future."
'We strongly believe in supporting schools that go above and beyond'
Hayden McEvoy is CEO of A Team Tuition, which sponsored the Secondary School of the Year – Government Award. He said Marsden SHS' culturally vibrant community and strong focus on student wellbeing and motivation, along with education, makes them stand out as a top school.
"They not only have high standards of learning but take the time to ensure their students enjoy going to school every day and feel motivated to learn," McEvoy told The Educator.
"In time, this focus leads to higher academic performance and success in life."
Speaking on why A Team Tuition sponsored the Award, McEvoy said the company strongly believes in supporting and rewarding schools that go above and beyond to support their teachers and students.
"We have worked with students from over 600 schools to bring about learning opportunities for students, and we welcomed the opportunity to highlight a school who is committed to high standards of learning," he said.
"It was wonderful to come together and celebrate the success of schools across Australia at the Australian Education Awards – especially considering the turbulent few years that have affected both educators and students."
McEvoy added: "We enjoyed seeing so many of the schools A Team Tuition works with being nominated for excellence awards, and supporting and celebrating all the remarkable people in the education sector that are making a difference in student's lives every day."