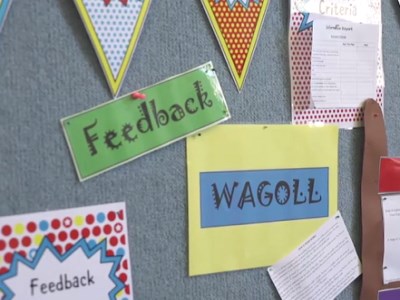 When Lorraine Bradwell arrived as principal of Woonona Public School in 2012, she noticed that despite great teaching and learning programs being in place, there was little consistency and cohesion.
Together with her executive, Bradwell considered a range of research from high profile leaders in educational practice, such as John Hattie, Dylan Wiliams and Shirley Clarke.
The Australian Institute for Teaching and School Leadership (AITSL) have since featured Bradwell's school in a case study about the effectiveness of these practices on teaching and learning outcomes.
Bradwell said that initially, her executive staff attended professional development on Visible Learning presented by Hattie and other members of his Visible Learning team.
"We were hooked and bought these ideas back to our school, later arranging professional development for the whole staff on a number of occasions with the Visible Learning providers," Bradwell told The Educator.
"We chose feedback because of its high impact, low cost effect. However, in order to provide effective feedback you need to be very clear about what you will be giving feedback on."
To refine its successful teaching and learning practices, the school spent a year developing staff expertise in the writing of learning intentions and success criteria, and another year developing staff expertise in the use of formative assessment.
"This was especially the case with feedback, student to teacher that gives the teacher feedback on how effective our teaching is," Bradwell said, adding that the school spent time learning to respond to what it learnt from this process.
"We learnt to evaluate our impact, minute by minute and day by day, as Dylan Wiliams would say".
"Once everyone had a good understanding of this, we moved onto using task, process and self-regulated feedback."
The school focused on upskilling students so that it had teacher-to-student feedback, student-to-teacher feedback and student-to-student feedback – something that Bradwell said took a lot of time to teach but has had "outstanding results".
"We also made use of teacher to teacher feedback through instructional rounds, observation lessons and in school coaching that focused on – where to next in regard to the teacher's use of the pedagogical practices we wanted to see," she said.
In 2015, Bradwell received a "surprising but very pleasing" email from the Centre for Education Statistics and Evaluation (CESE) to say her school was in the top twenty primary schools (14 high schools were also included) in NSW for "value added".
This means that between 2010 and 2014, the school is one of 36 NSW that contributed most to growth in student learning. Today, Woonona Public School remains one of the top performers in NSW for lifting the results of its students.
A community linked by practice, not pedagogy
Last year, Woonona began mentoring other schools, including six in its own area, as a result of a system leadership grant awarded to it by the NSW Department of Education.
"We wanted to and succeeded in creating a community of schools linked by practice as opposed to pedagogy, each learning from the other. We have recently hosted schools from the Sydney region, the Southern Highlands and local schools from the public and private sector," she said.
Woonona PS has now been asked to host a group of schools from South Australia and teachers from western region in NSW and is currently working on ways to make its vision for the school community a reality.
"We are working with the Director Public Schools, North Wollongong, Ms Debbie Lowe, the local AECG group and aboriginal education consultants to share this pedagogy among a target audience – aboriginal students – and so help schools achieve higher results for this group," she said.
Bradwell said her school is building the framework for the Qualities of a Learner based on Visible Learning pedagogy and will incorporate these into its work in 2018.
"The journey is never finished, no matter how well a school does you can always do better and that is our aim – to exceed our expectations and build great teachers and engaged, active learners who are enablers of their own learning," she said.