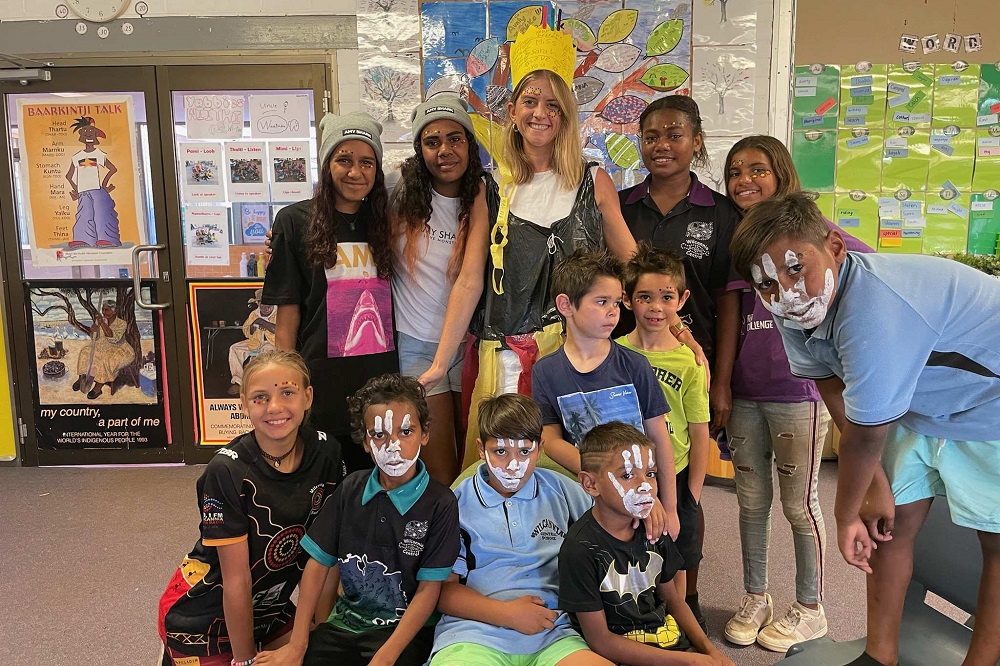 Studies have shown that singing and playing music is one of the most effective ways to help young people learn.
The benefits of music education have been shown to include a longer attention span, emotional stability, resilience and cognitive capacity.
Importantly, this type of education also helps students progress in crucial learning areas such as English, Science and Mathematics – which have seen a decline in student outcomes in recent years.
However, the COVID-19 pandemic has had a profoundly disruptive impact on schools' music education programs, which have traditionally been delivered face-to-face.
Despite these challenges, some schools have found some innovative ways to ensure the show goes on during the pandemic by performing via online platforms.
During lockdown, Wilcannia Central School produced a video of music teacher Sarah Donnelley and her students singing along to Paul Kelly and Kev Carmody's hit song, 'From Little Things, Big Things Grow'.
The video, which soon went viral, demonstrated that community involvement through music can be a powerful way of uniting rural residents suffering under the weight of a pandemic that has been as isolating as it has been devastating.
For Donnelley, music not only brings children joy and inspiration, but can also be a powerful tool in creating a positive space where students can explore their sense of culture and identity.
Donnelley recently won the ARIA Music Teacher Award, co-founded by The Song Room and ARIA in 2017, which recognises the importance of music education and teaching children to embrace music education opportunities.
Below, The Educator speaks to Donnelley about why the tyranny of distance doesn't have to be a barrier between the power of music education and the students that profoundly benefit from it.
TE: What do you believe makes a great music teacher?
I think what makes a great music teacher is what makes a good teacher generally. A good teacher is someone who listens first. Someone who puts their energy into getting to know their students, and connects with them to build relationships built on mutual respect and trust. A good teacher carefully weaves their intended learning into students' interests, understandings and prior knowledges, so that it is relevant and meaningful to them. Music connects us, it lifts us, and it gives us a voice, whether that is through lyrics and words in song, or with the emotion that can be created when playing instruments. A good music teacher gives students license to have fun, to laugh and to enjoy what they are doing. They encourage students to be silly, to be serious, and to be deep thinkers. They challenge them to do something that students think is beyond them, and are there to support them when it goes wrong. A great music teacher is able to see who a student is, support them to find that voice, find that sound, and find the courage to share it.
TE: Music music education has shown to improve both academic and artistic outcomes. Can you tell us about some of the most powerful benefits you have personally observed during your teaching career?
The most powerful benefit of music education is its ability to draw people together and allow children to stand a bit taller. I use music to create classroom communities - whether it is through songwriting, shared performances or by simply having fun. By creating the right opportunities in supportive environments, children can be challenged to move out of their comfort zones through music, experience the energy of rising to that challenge, and the thrill of being able to share that with others. They can rise above shame. Part of providing a music education is also teaching an appreciation of music - how we can use music to change our emotions, for example by using calming classical music when we need to focus, or how we can use music to escape, or imagine, or to play.
TE: You've noted that music can be "a powerful tool in creating a positive space where students can explore their sense of culture and identity". In what ways have you done this as a music teacher, particularly amid the COVID-19 restrictions?
Songwriting is an important part of the music programs I run. Exploring the lyrics of songs well-known to students is a great entry point to literacy activities, particularly for reluctant readers and writers. Unpacking the meaning, whether individual or part of a political or historical narrative, is not only powerful for learning but demonstrates to students the power of voice. Supporting students to write their own songs, in any genre, empowers them to explore their own culture and identity. Amid COVID-19 restrictions as teachers we were feeling so strongly the lack of connection with our students. I missed my weekly music lessons, and my team knew we needed to do something to show students and their families that we were still connected. By re-writing the lyrics to a song that we as a school knew well and loved, we were able to send a strong message to our students, while also giving them something that they could be a part of.
TE: Now that you have captured the attention of the nation, how do you plan on building on the success of your methods in 2021?
I am lucky to be part of an incredible team and a very special community in Wilcannia, NSW. We are going from strength to strength, and I want to continue to support them to hold onto and capture the attention of the nation, for their wide range of skills and achievements. There is so much to be proud of in this place, and students can now see that they too can have a voice, and people are listening. On a personal level, I want to continue to work with educators who challenge me, and share my experiences and practices in terms of music education, as I believe the power of embedding music across all key learning areas, throughout the school day, whatever school age, is essential.