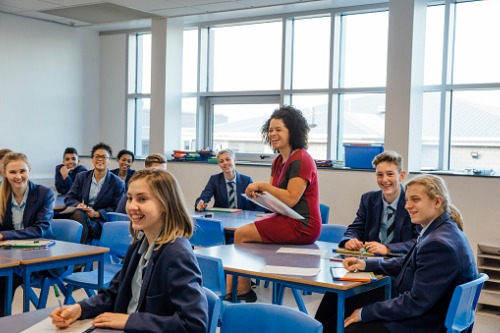 Earlier this month, a study found there is a now resounding focus on mental health and wellbeing across every state and every school in Australia.
According to the research, conducted by Schools Plus, over 38% of respondents said mental health and wellbeing was their primary priority – ahead of literacy and numeracy, STEM, and family and community engagement. Of schools significantly impacted by COVID-19, this number shot up to 50%.
To help offset the stress and anxiety that many students and staff are feeling, Australian charity flyhighbillie has been taking the time to spread its kindness initiative with schools and communities across Australian and internationally.
Flyhighbillie founder and CEO, Danny Mayson-Kinder, created the charity in honour of her daughter, Billie Kinder, who tragically passed away at 12-years-old.
The charity's 'b kinder' workbooks are backed by the NSW Education Department, principals, teachers and psychologists, and are unique in that they are written from late Billie's perspective so have the ability to connect with students in a peer-to-peer way.
'B kinder day' saw 72 schools and hundreds of businesses write more than 20,000 b kinder day cards full of kind messages. These were sent across Australia and internationally and translated to a kindness reach of approximately 350,000 people.
Mayson-Kinder said teaching and valuing kindness and empathy is helping to address and prevent mental health issues.
"There is a glaring absence of positive messages and spreading kindness in schools has become more important than ever," Mayson-Kinder told The Educator.
"There is a region in our brain known as the Cooperative Centre. It's a part of the brain that allows us to positively collaborate with others and to be kind to one another. We are all born with this innate capacity for kindness."
However, Mayson-Kinder says just like any part of the brain the Cooperative Centre is flexible and needs to be used often in order to maintain it.
"Kindness is a part of our nature, but education is needed to allow us to maintain our Cooperative Centre," she said.
"If we have kindness education in schools and foster a culture of kindness, students will be surrounded by examples of kindness from an early age and learn to make kindness a daily practice, a habit. Using the Cooperative Centre regularly strengthens it ensuring that students today will grow into kinder adults."
How principals can develop a 'whole of school' kindness model
Mayson-Kinder said principals can use a range of strategies to support student wellbeing, including classroom practices, curriculum, wellbeing staff, and department-based resources and initiatives.
"Principals may also help in developing a 'whole of school' kindness by choosing to implement other programs to support specific wellbeing needs."
B kinder workbooks have been designed by psychologists and teachers and align with the Australian Curriculum for Primary Schools. The Physical Development, Health and Physical Education (PDHPE), Social, Emotional and Learning Units are embedded within the workbooks, incorporating the core values with a particular emphasis on kindness.
Mayson-Kinder said the activities within the b kinder workbooks also support teachers to meet the specific learning outcomes for each stage associated with the Personal and Social Capability, one of the General Capabilities outlined within the Australian Curriculum.
"The b kinder workbooks are unique in their positive focus and in their use of positive language. As well as recounting real stories, the workbooks ask questions that are simple yet thought provoking," she explained.
"The free online units of work for each of the three workbooks offer both individual and class activities. The units of work focus on the strands of Health, Wellbeing and Relationships."
Mayson-Kinder said these units provide clear aims and objectives around teaching kindness and empathy that engage children in conversations and activities which empower them to be kind, considerate and compassionate.
"These conversations and activities encourage children think about bigger issues such as friendships, family, giving and their contribution to the world while in the safe space of their classroom," she said.
"Flexibility of the b kinder workbooks means that they can also be used alongside existing PDHPE programs, such as 'Grow Your Mind' and 'Bounce Back'."
Program seeing powerful follow-on effects
Mayson-Kinder said the three b kinder workbooks are aimed at students in Years 2, 4 and 6 which provides extended exposure to the message.
"Embedding kindness and empathy into the curriculum throughout primary school is having a huge, positive impact on young people's lives," she said.
"The children come up with their own ways to express kindness individually, in their school and the wider community. They experience for themselves, the positive emotions that come with showing kindness and altruism."
At the same time, says Mayson-Kinder, they are having a positive impact on the lives of others which flows on into the community more broadly.
"Flyhighbillie is committed to measuring and understanding the impact of the b kinder workbooks. To measure this impact, we have partnered with Huber Social, an independent third party and expert in social impact measurement," she said.
"The way that Huber Social measures impact is unique, in that they focus on measuring the overall Wellbeing of children, alongside all the driving factors that contribute to someone's Wellbeing, such as mental health, resilience, relationships, life skills etc."
To build upon this, the organisation has created surveys to collect data either from students or teachers.
"The initial Social Impact Reports evaluating the b kinder workbooks are showing a substantial shift in children's wellbeing."
'A rich and authentic program'
Arndell Anglican College Junior School, which pioneered b kinder day in 2018, has embedded the b kinder workbooks and entire initiative into its strong wellbeing platform.
"Kindness and Empathy are integral to the mental health of our students," Keith Peterson, Head of Junior School, said.
"The students have found the themes – of self-discovery; self-giving; relationship; values; hope, compassion and community – genuinely accessible within a framework that allows them to reflect and then invites them to find their own meaningful response through a process of discussion and consideration, all as purposefully and pertinently opened out by the text."
Another school that has seen the value of these resources is Moriah College. The school's deputy principal, Nicole Grauman, said b kinder is a "rich and authentic program" that helps educators embed the explicit teachings of well-being into all aspects of teaching.
"The b kinder initiative offers learning activities that provoke our students to ask questions, to ponder and explore, to stretch themselves and to see things from another's perspective," Grauman said.
"We need to empower our children with a tool-set of skills and strategies to help them develop an enriched sense of wellbeing, belonging and self-esteem. The b kinder program offers learning activities that provoke our students to ask questions, to ponder and explore, to stretch themselves and to see things from another's perspective."