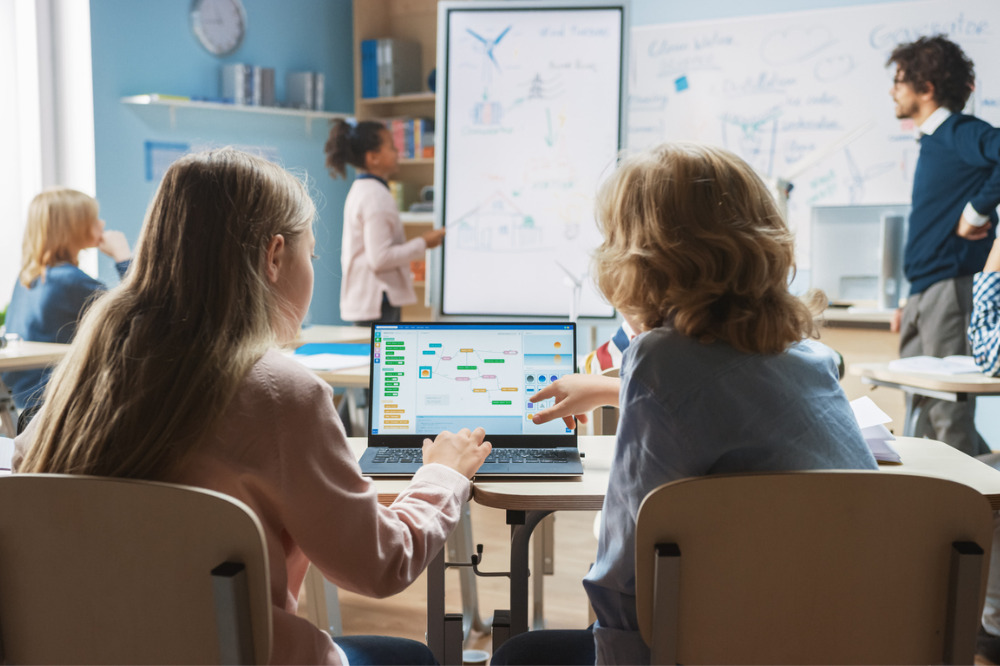 While COVID-19 has kicked off a digital revolution in classrooms, Australia still has room to grow when it comes to tech-driven education.
However, some pioneering schools are demonstrating that when used the right way, digital technology can significantly boost students' learning outcomes, inspiring and motivating them well beyond the constraints of the classroom.
Phil Gaut, Senior Director of Display, and Brand Memory, Samsung Electronics Australia, has seen this first-hand.
He says that since the Covid-19 pandemic, schools across Australia have integrated technology into their classrooms at a record pace. However, despite this widespread digital transformation of education, positive learning outcomes are hinged upon having the right type of tech in the classroom.
"It's no secret that students learn best when they can collaborate and engage with their peers and teachers, and having access to the right technology not only enables, but enhances that experience to create an engaging learning environment," Gaut told The Educator.
"School leaders and key decision makers must not remain complacent when it comes to evolving the technology their school uses. Students require more interactive tools to feel like they are learning as curriculums move towards a more digital offering."
Future ready campus solutions
Gaut said school leaders must look for tools that not only captivate student's but also integrate with leading learning platforms and collaborative tools to provide what feels like a "hands on" experience through a digital medium.
For its part, Samsung offers schools the opportunity to better connect their campus through LED display, mobile, tablets, monitors and interactive displays.
"Our systems and processes connect across various categories enable schools the opportunity to seamlessly integrate their technology across their campus', and assist schools to foster community engagement," he said.
"Essentially, this means streamlining everything from school administrative tasks, operations as well as teaching to optimise the school's performance – everything from enabling a school to operate all their digital displays from one centrally managed location and push communications out across the campus in real time, to teachers being able to seamlessly showcase content from their phone, monitor or tablet onto the large classroom displays and have up to 50 students devices connected at once."
Interactive displays are all the rage
When asked about the most powerful examples of schools using technology for impact in 2023, Gault said solutions such as interactive whiteboards have been making a big difference in classrooms.
"They don't just support teachers' pedagogies — they also help students of all learning styles focus on absorbing the material through a variety of features that recap content and enable seamless collaboration — creating no limits to what can be accomplished in the classroom," he said.
"Whether it's working through activities over video chat or transcribing valuable discussion in real time, digital interactive displays, like Samsung's Flip Pro or the WAC eboard Interactive Display, are providing students and teachers simpler ways to connect, share lessons and assignments, and measure understanding in blended and in-person learning environments."
Focusing on making the technology fast and simple to use, Samsung has redesigned its Interactive Display range purpose built for education, so teachers can get on with teaching to a completely new level of engagement.
"Whether it be through the pen-to-paper writing style, or embedded tools like rulers, protractors, as well as bespoke lesson plans and templates, the programs built into our interactive displays offer a human first offering," Gaut said.
"The biggest opportunity we see is around teachers and students actually knowing how to use the technology to gain the benefits from it."
Gaut said Samsung sees many examples of schools installing interactive displays which then are hard to use or don't integrate well with schools existing infrastructure, and they end up being used in a very limited way.
"Samsung prides itself on simple, intuitive technology and now offer a new range of How-To use videos and training support for schools purchasing their Interactive Displays, to ensure they can integrate into students' daily lessons," he said.
"At the end of the day, it's the tools that enable seamless collaboration, and that integrate with school's existing technology ecosystems that enhance collaboration, boost participation and in turn, build positive student outcomes."
St Joseph's College: a case study
Gaut said the future of K-12 education is "a world where technology and the classroom blend together seamlessly".
"This involves opening classrooms to engage in connected learning and incorporating technologies into the curriculum to facilitate malleable lesson plans, which we've seen through our partnership with St Joseph's College," he said.
"St Joseph's College has transformed the classroom experience for its 120 teachers and 1,000 students after equipping their new cutting-edge building with Samsung's Flip Interactive Displays, which enhance engagement and elevate digital communication throughout the entire school."
Since integrating the displays into their curriculum, the school has seen an uptick in student engagement, with students actively using the display to guide conversations in the classroom.
"Students are even using the tool after school, as they tutor each other using the same methods they saw their teachers use through the interactive display," he said.
"To prepare for this future, principals must invest in easy-to-use tools that encourage and enable students to learn and remain engaged, both inside and outside the classroom."
Gaut said that to achieve this, leaders must be open to adopting methods that go beyond the tech they already use, and experiment with how educational solutions can integrate with their existing curriculum.
"Keeping an open mind and a willingness to incorporate new technologies will be key as edu-tech becomes more sophisticated and inter-connected."