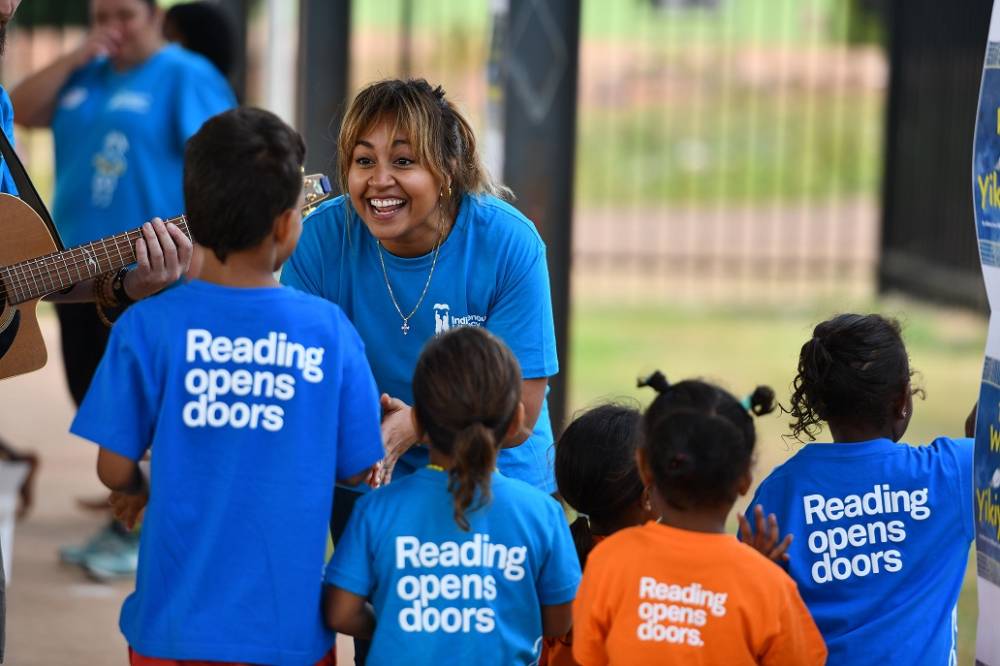 Today, 8 September, marks International Literacy Day 2021, an important annual event that highlights literacy and the importance of reading and writing around the world. However, last week commemorated another key literacy event much closer to home.
Wednesday 1 September marked Indigenous Literacy Day 2021, a day where the success of Indigenous children's literacy outcomes is recognised and celebrated.
The annual celebration features Aboriginal languages, stories and culture as a reminder of the importance of a connection to language, heritage and literacy for Indigenous communities.
This years' theme was Celebrating Stories and Language, which saw some of Australia's most recognised Indigenous celebrities come together (virtually) to show how Stories and Language have contributed to a rich and cultural history that every Australian can be proud of.
In addition to being a four-time ARIA accredited Platinum selling popstar, Jessica Mauboy is also an ambassador for the Indigenous Literacy Foundation. Mauboy recently made a guest appearance for Indigenous Literacy Day in collaboration with the Sydney Opera House, taking participants on a virtual flight to the Tiwi Islands to join local children at the islands swimming hole, and on a hunt for mussels in the mangroves.
Below, The Educator speaks to Mauboy about her own education journey growing up, her recent guest appearance on Indigenous Literacy Day and the importance of promoting Stories and Language to young people.
TE: Who were your role models as a young girl, and were there any school teachers who you believe influenced your success?
JM: Thank you for inviting me to be a part of this inspiring community. I have so much respect and admiration for all the teachers and educators out there who inspire and teach every day, and truly make a positive difference in the world. I send big thanks to them all for being inspiring mentors to future generations. My role models as a young girl growing up in Darwin were and still are my parents. They instilled in me the core values I carry today and continue to build on. The values of family and looking after each other and working hard for what you want and to always help others in any way possible. These values are so important to me and have shaped me into the woman I am today. My primary school music teacher, Darwin singing instructor and coach Judy Weepers, also played a huge part in my music career in my early days and was a mentor to me. Judy Weepers ran the choir at the Wulagi Primary School. At the time I was too young to join the choir, but she saw something in me and invited me to choir practice. Her constant encouragement and teachings gave me the confidence to learn and explore music and challenged me to really push myself and see what I was capable of. Judy Weepers has had such a positive impact on my life, and I thank her dearly for being an incredible mentor to me and to the many music students she has coached over the years, enriching all our lives with the love of music.
TE: There were two animations illustrating kriol languages as part of Indigenous Literacy Day. Can you tell us a bit more about this and its value to Indigenous children?
JM: The annual celebration of Indigenous Literacy Day (ILD), respects and features Indigenous languages, stories, people, and culture. It is an opportunity to share and capture the voice and hearts of Aboriginal and Torres Strait Islander children, Elders, authors, community organisations and individuals from across the country through wonderful stories that link First Nations peoples to family, Country and community. It's an opportunity to show how stories build identity, confidence, and provide children with a foundation for lifelong learning. There were stories in languages such as Kriol, Tiwi and Arabana that were showcased on the day. There were the two beautiful animations illustrating Kriol language from books made by remote community authors and illustrators published by the Indigenous Literacy Foundation Yakai! Beibigel! (Oh no, baby girl!) and Tudei en longtaim (Now and then). English is not always the first language for many children in remote communities so having stories that reflect a child's culture is important, so they have a comfortable environment to grow and learn with confidence. A lot of research has shown that children learn best in their own language with books and stories that reflect themselves and their culture. When they can identify and see themselves depicted in a story it instils in them a sense of self-worth and belonging and the value of diversity. It is also really important that these languages are put in stories and books so that these languages and culture will keep thriving for future generations.
TE: What do you believe are some of the most inspiring aspects of promoting Stories and Language to young people in the context of literacy and connection to culture?
JM: Being an ambassador for the Indigenous Literacy Foundation, it is truly an honour to be able to work with the incredible team and celebrate literacy to help support reconciliation, social justice, truth telling and equity for First Nations peoples. Celebrating and sharing the diversity of stories and language highlights the voices of the many diverse communities that share these stories allowing us to shine a light on the beauty of this diversity and how it has created a rich and cultural history for all of us to be very proud of. It's important that these stories are put into books and shared so they are truthfully documented and accessible for future generations. Children have a connection with their culture and ancestors growing up, which can help in each child's personal growth into adulthood in finding their own identity and self-worth through their cultural roots.
The Sydney Opera House's free digital event for Indigenous Literacy Day will be available as an on-demand video until 6 December. Viewers can access this via the Sydney Opera House website. Anyone with an existing link from the Indigenous Literacy Day session will also be able to watch as many times as they'd like, on-demand until 6 December.