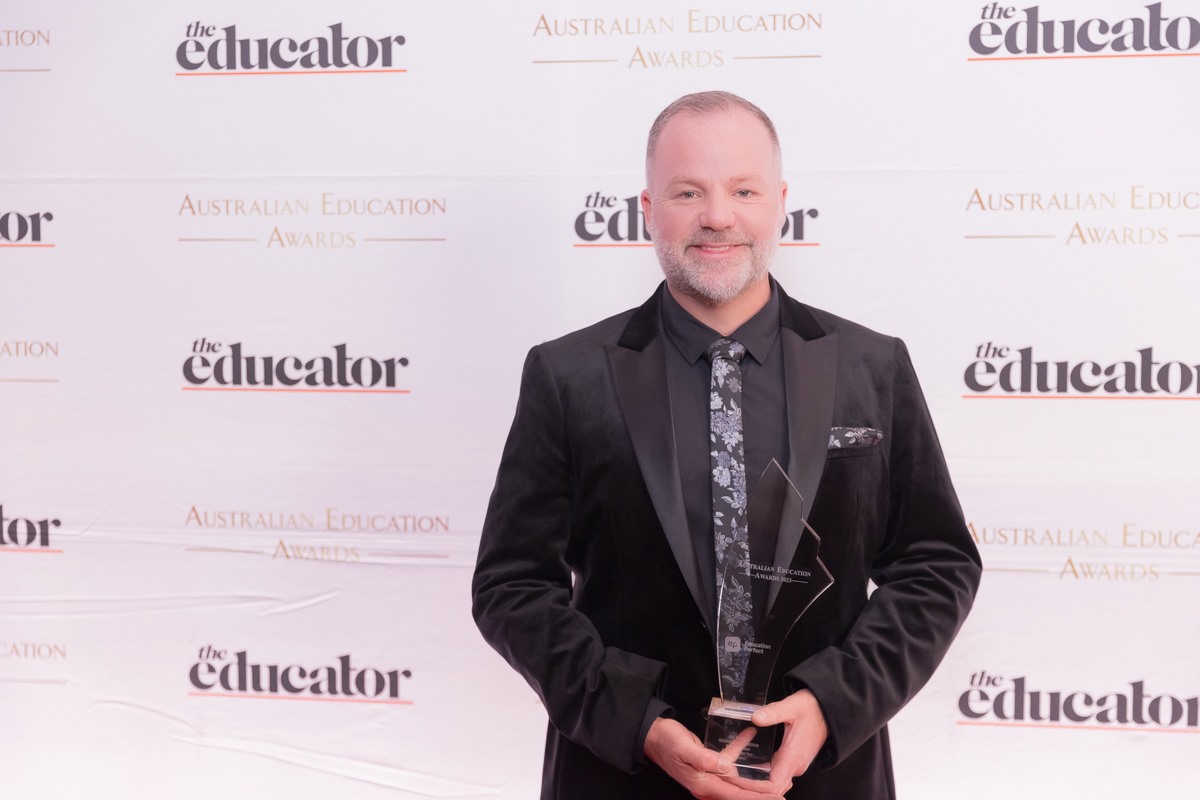 In the heart of Logan City's disadvantaged Kingston suburb, one school is standing as a beacon of hope. Kingston State School, with a diverse student population hailing from 60 different cultures and grappling with significant societal challenges, has witnessed remarkable transformation under the steadfast leadership of principal Trent Crowley.
Awarded the 2022 Schools Plus Commonwealth Bank Teaching Fellowship, this educational stalwart has driven significant improvements in academic outcomes and student wellbeing. Now, in an ambitious collaboration with QLD Health and The Bryan Foundation, the school prepares to unveil Queensland's pioneering integrated health hub, FamilyLinQ, in October 2023.
On Friday 11 August, Crowley was named NRL School Ambassador Program Primary School Principal of the Year in the Government school category at the Australian Education Awards 2023.
When asked about the philosophy that underpinned his leadership at Kingston State School, Cowley said relationships always came first.
"This underpins all that I do as a leader in schools," Cowley told The Educator. "For me, the most crucial part of leading in schools is to form productive, meaningful relationships with students, staff, parents and the wider community."
Cowley said taking the time to genuinely invest in people builds trust – a critical thread in the tapestry of Kingston State School's culture.
"When we create a culture of trust, then we can move forward together as a unified organisation. For me, it is crucial to be present, in the classroom, playground, sporting and cultural events, taking the time to invest in school culture is paramount in fostering meaningful relationships and trust."
Indeed, this focus has enabled strong academic and wellbeing outcomes across the school's diverse student body. To sustain this, Cowley and his leadership team developed a simple but effective Annual Implementation Plan.
"We focused on three things: improving reading, writing and wellbeing," Cowley explained. "Through ensuring we were taking care of the wellbeing of our students and our community. This enabled us to make considerable gains in our approaches to improving literacy across the school."
Cowley said the school then re-structured part of its leadership team, freeing up the Deputy Principals to act as instructional leaders in classrooms.
"We had a relentless focus on improvement and constantly challenged our teachers to differentiate their teaching to cater to the diverse learners in their classrooms."
Under Cowley's leadership, the school saw a 22% surge in English achievement data, plummeting suspension rates, and an uplifting shift in staff morale. The biggest contributing factors to this success, said Cowley, were the implementation of targeted programs backed by a strong evidence base.
"We implemented Dr Michael Heggerty's Phonemic Awareness program across the school. We also had targeted 'quick writes' that got our students writing daily. We used Lyn Sharratt's "Clarity" as our guiding principles for our work around planning and case management of our students," he said.
"We looked for alternatives to suspensions where possible. We began introducing restorative conversations and looked for early intervention programs where possible to support 'at risk' students. We focused on celebrating culture and looked for ways to engage our most dis-engaged students. By investing in our staff and community, school culture improves and in-turn, morale lifts."
In his first two terms at Mabel Park SHS, Cowley said his main focus has been on getting to know the team.
"I have prioritised being present. I make an effort to attend as many sporting events as I can. I ensure I attend multicultural celebrations, Arts events and other extra-curricular activities," he said. "I have also ensured the staff that I do not want to 'change' everything and that I respect the tireless work they have put in over the years. I want to 'value add' where I can."
Cowley said Mabel Park SHS currently has a focus on quality teaching and learning and are working alongside its teaching staff to ensure the school is delivering engaging lessons.
"From my time at Kingston SS, I learnt that being present is crucial. I ensure I am in classrooms, in the playground and spending time investing in the amazing people at Mabel Park SHS."