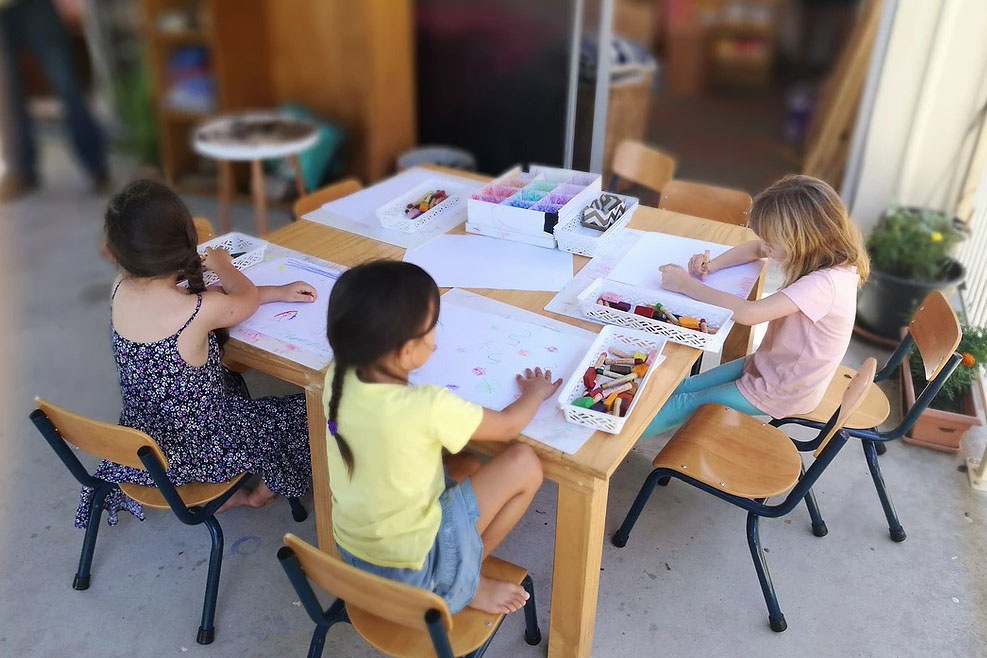 This month, thousands of Queensland families embarking on the important decision of where to start their child to Prep next year.
While this is by no means an easy decision at the best of times, the COVID-19 pandemic has meant that many schools have cancelled their usual events, including planned open days, which allow families to window shop a 'right fit' for their child.
However, some schools have come up with a creative way of helping parents make an informed choice for their child.
One of them is Birali Steiner School principal, Chris Jack, who re-recreated an Open Day at Caboolture Hub over the weekend, with another one to follow on 24 October.
"With the curtailing of Open Days, we have initiated an information session at the local Library displaying student work, musical presentations and information on Steiner Education and Birali Steiner School," Jack told The Educator.
The school ensures that every Primary School cohort will ideally have the same teacher right through until the end of primary school – something that Jack says benefits students greatly amid the uncertainty created by the COVID-19 pandemic.
In a Steiner Middle/High School, classes are usually assigned a class guardian that works pastorally with the students through the high school years while they are taught by specialist teachers. The Class Teacher period in Steiner Schools sees the Class 1 teacher move up to Class two the following year right through to Class 6,7 or 8.
"This builds a very strong social/emotional intelligence and awareness. As the author of everything that happens in the primary school classroom the class teacher has a natural authority over the students," Jack explained.
"Young students in particular want to look up to their teacher. The class teacher commitment means that relationships must be worked on developed, and deepened".
Jack said another important factor is that the teacher needs to learn a new curriculum each year which, as the learning leader, provides a significant and positive role model.
"There is also the opportunity for a richer relationship with the teacher and the class community sharing the wonderful educational journey together," he said.
"The class teacher experience in the primary school is a significant distinction from most other schooling systems and one which is well worth further investigation".
Strengthening parent engagement
Birali Steiner School has also been rolling out other measures to connect with, and engage, its parent community.
"Parent engagement has been shown to improve student outcomes. At the Birali Steiner School we run parent education sessions each term covering such topics as resilience, painting, pastels, child development, storytelling and self-care," Jack said.
"Parents also run a weekly craft group supplying all the materials and know-how for all levels. Term four projects include felt making, whittling, leatherwork and Christmas Decorations".
Jack said the craft group also make items for the Annual Birali Creative Spirit Fair, which engages all the parents and builds a strong sense of community.
The school also recently engaged in a literacy project involving other local schools and childcare centres providing books for children.
"This project was government supported as the local community is in a low SES area. As part of this programme the school ran a storytelling evening inviting the wider community," Jack said.
"As it was pre-COVID we also served soup. Bush dances have also been offered by the school which has connected us to the local community".
'An all-round education'
Jack said the benefits of a Steiner education focus on developing children's intellectual, artistic, and practical skills in an integrated and holistic manner.
"We are preparing students for jobs that don't even exist yet. This is why we provide an all-round education, so they have the skills and knowledge they'll need to thrive in the future," he said.
Famous alumni who have benefitted from a Steiner education around the globe include leading politicians, musicians, business titans, artists and actors.
"One reason why Steiner graduates have been so exceptionally successful in their chosen professions is because of the core critical thinking skills they develop at a young age," he said.
"It is this ability to tackle any problem which sees them live, happy, well-rounded adult lives."