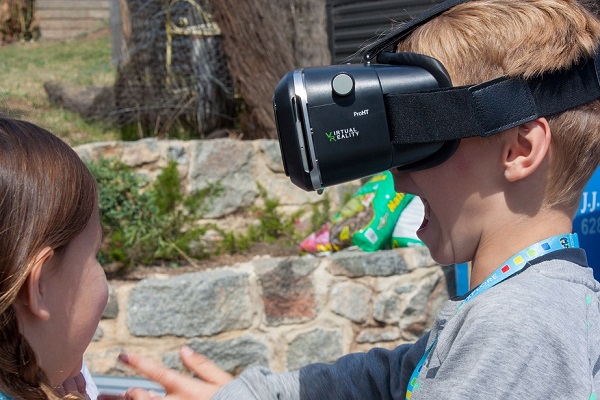 As of today, there are 118 days before the Kindergarten class of 2021 will pull on their backpacks and begin their new journey at 'big school'.
For some, the experience will be exciting and fun, but for others this will be a nerve-racking transition.
However, such anxieties can be soothed, depending on the quality of a school's transition program.
At Snowy Mountains Grammar School (SMGS), a team of leadership, teaching and administration staff found an innovative way to provide its future learners with an educational, meaningful and memorable transition program despite the current climate around COVID-19.
The school has now combined its virtual and physical 'Let's Explore' initiative to create a hybrid program that that is as close as possible to an actual on-campus experience.
It includes Virtual Reality (VR) Kindergarten experiences where each "explorer" will have the opportunity to experience a literacy and numeracy lesson, specialist classes (art, music, STEM, German, gross motor skills) and story time using immersive 360 degree virtual reality video.
"When it comes to a child transitioning from Kindergarten to primary school, the most significant challenge is whether they're developmentally school-ready," SMGS' Director of Junior School, Heidi Shvetsoff, told The Educator.
"However, other key challenges that have emerged as a result of COVID-19 restrictions are familiarisation with the learning environment, teachers, future peers and the general expectations of our School".
Shvetsoff said that when a child attends the SMGS' physical Let's Explore program, staff observe their social interactions, speech development, pre-writing skills, potential educational knowledge, self-regulation, fine and gross motor development.
"This allows us to identify any areas of concern and communicate these with their parent/carers," she explained.
"It is also an invaluable opportunity for our staff to get to know our future learners so they can further personalise the start of each child's learning journey at SMGS".
Shvetsoff said there are still key interactive components that cannot occur with the revised restrictions, and this is where the program's VR element is important.
"This enables the school's future learners to join the current K/1 cohort in some of their lessons using immersive 360 degree video, simulating the social aspect of Kindergarten and building familiarity with the SMGS' learning environment," she said.
"SeeSaw and video conferencing foster connections between the teacher and parent/carer, while the instructional videos and the Let's Explore online portal not only develop key school-readiness skills, but also build connections between the children and their future teachers".
SMGS recently blended the virtual and physical programs to create a truly hybrid program, which will begin with the three-week virtual experience, leading up to the school's four-session on-campus experience.
Shvetsoff said that through each week of the virtual component, the school's 'Little Explorers' will receive a mail-delivered personalised package that contains 3D goggles and materials to complete the self-paced activities that align with the instructional videos from the school's Kindergarten and specialist teaching staff.
"This also includes a series of VR Kindergarten experiences where each child can experience a literacy and numeracy lesson, and some of our specialist lessons with our current K/1 cohort," she said.
"Our Little Explorers will then come onto campus familiar with our learning environment and staff. This will enable more authentic observations of children as they enter our learning environment already feeling comfortable and relaxed enough to be themselves".