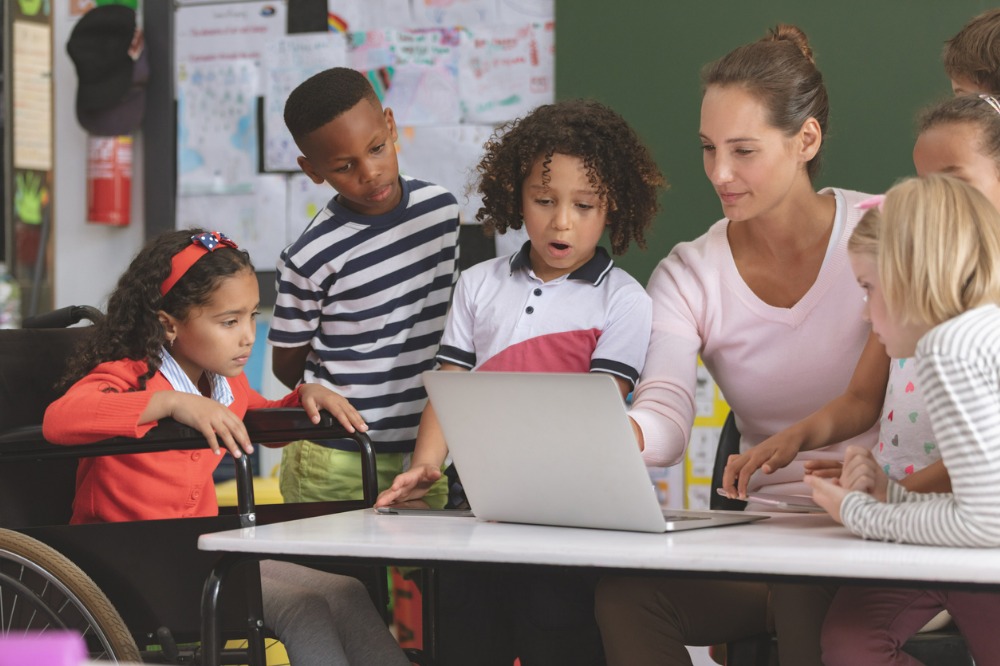 When the NSW Government announced a staggered return to school, many school staff, students and parents breathed a collective sigh of relief.
After all, the challenges of juggling remote learning during a global pandemic are as numerous as they are complex, and for parents and carers of children with a disability, they have been overwhelming.
Education departments and health systems have attempted to balance the need for a return to face-to-face teaching and to endeavour to ensure that this return is a safe as possible. This is both to assist student wellbeing and mental health, but also minimise the stress and impact on parents and families, especially those with children with special and complex needs.
Matthew Johnson, president of the Australian Special Education Principals Association, said that whilst it is understood that students and young people are not severely impacted by Covid, they are able to spread the virus and ensuring staff and broader school community safety must be a high priority.
"Teachers will rightly be very anxious about contracting the virus at work and taking it home to their own families," Johnson told The Educator.
"A great challenge is emerging for our schools and their communities."
Johnson said the very people charged with supporting this complex and staged return to face-to-face schooling are the very teachers and leaders in schools who are balancing their own wellbeing needs.
"There needs to be an appreciation of the stress and workload that teachers have had to manage over the last 18 months, and there needs to be support in place to ensure this is addressed," he said.
"We can no longer just expect our teachers and support staff to just continue to roll with change after change without there being a significant impact on their own wellbeing."
Johnson said school leaders will need additional supports, the flexibility to make the appropriate decisions for their school and to be trusted as students start to return to face-to-face classes.
"Along with the already heightened precautions and practices, the ability to have staff fully vaccinated, the possibility of rapid testing for schools and other precautions must be a priority," he said.
"Many parents of students who are vulnerable may well consider keeping their child at home, but we need to have best practice health processes and supports in place for those other vulnerable students who will return."
One of Johnson's major concerns is that some of the most important lessons gained during the pandemic may be lost by the time schools return.
"There have been so many learning opportunities and new lenses to view how we work and deliver education, that once we do return to 'normal', I fear that many of these hard learned lessons and opportunities will be forgotten, or at worst, ignored," he said.
"We have a real chance to look at what the best of face-to-face and the best of remote learning has to offer into the future. As history has taught us many times, crisis is a place where many opportunities are born."
Dr David Roy is a lecturer at the University of Newcastle who works closely with disability advocacy groups. He lectures in education and work on disability and inclusion, writing, teaching, doing research and supporting policy.
He is concerned that children with a disability may be excluded from returning, as it is deemed too difficult for provisions to be in place.
"Any school or system who chooses this is stating those they do not allow back are not as worthy a human being as others," Dr Roy told The Educator.
"This form of discrimination which already is apparent in many schools [from all systems] must no longer be tolerated or we have not learned the lessons from the last 18 months."
Dr Roy said that the provision must be made in face-to-face classes for deaf and hard of hearing students who rely on mouth movements to fully understand verbal dialogue.
"Indeed we 'lip read' to an extent in our day-to day conversations," he said.
"Therefore, careful use of masks needs to be applied. We must ensure children and staff are vaccinated, like pre-schools, to ensure the most vulnerable are protected as are the families and contacts of all children and staff. No jab, no go."
Dr Roy said the remote learning experiment has also been recognised as more successful for some learners than face-to-ace and this should be made available to those families who prefer it.
"Distance education should no longer have limited places and systemic barriers," he said.
"Allow all to partake who want to. We may even see some home-schooling families choose to return to the public system."
"The only way out of the COVID crisis has been through the scientists and the creativity of individuals in applying knowledge."
Dr Roy said a growing body of research shows that now is the time for policy makers to invest fully in education.
According to the Australian Education Union's latest 'State of Our Schools' survey, nine out of ten public school principals report having to access funds from other areas of school budgets to make up for significant shortfalls in Commonwealth funding for students with disability.
According to the survey results, 93% of public primary school principals and 87% of public secondary school principals use funds from other budget areas to cover funding shortfalls for students with disability.
Driving this worrying issue is data showing more than half (62%) of public schools do not have enough resources to meet the needs of students with disability.
"There will be future human pandemic and other world-wide disasters both man-made, or natural. Only through a creative, educated population will we survive," Dr Roy said.
"We need our children to be literate, empathetic, and creative with depth of knowledge."
Dr Roy said focussing only on literacy and numeracy will not do this.
"We need children to be polymaths, having a breadth as well as depth of knowledge," he said.
"Part of the key to this is recognising the role the Creative Arts has in this, stretching child in hard academic skills as well as the 'soft' skills that are key to the future."